A Tennessee girl is recovering from a tragic utility task vehicle accident during which she saved her sister, but lost her hand.
Chloe Monroe, 14, was driving the UTV on July 4 when the tires slipped on some loose gravel and flipped with her and her 4-year-old sister on board. Chloe told WKRN-TV that she was not speeding, and when the vehicle flipped, her leg was trapped beneath it and chemicals from the gasoline were burning her back.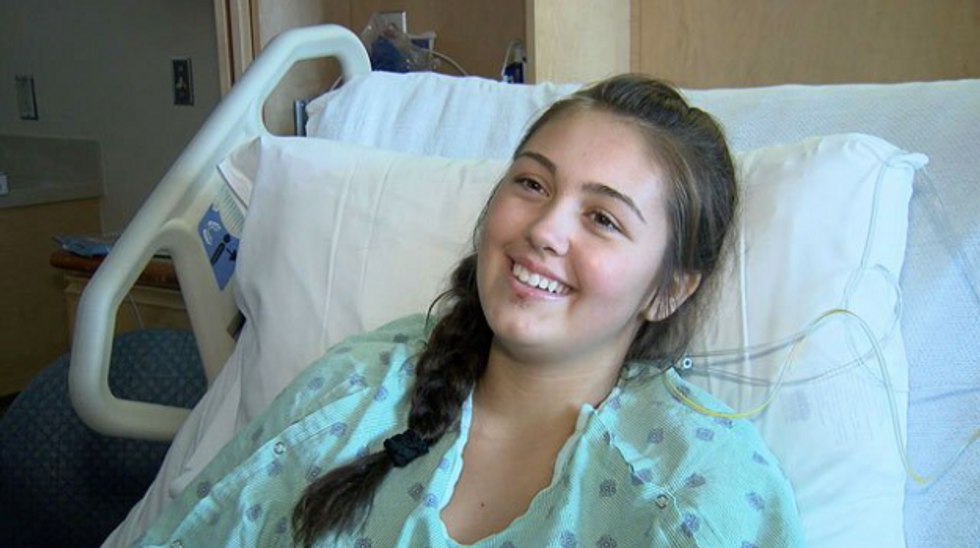 Chloe McGee Monroe, 14, lost her left hand when the UTV she was driving flipped. During the accident, Chloe saved her 4-year-old sister from the vehicle. (Image source: WKRN)
Still, Chloe remained calm and unbuckled her dangling sister from the vehicle so that she could crawl out. That's when she noticed her left hand — her dominant hand — was missing.
"I looked down and I was like, 'Oh my gosh, my arm is missing,'" she said.
It was her sister, Shyloh, who found her severed hand and said, "Here sissy, here's your hand."
Chloe, who is a beauty queen and a dancer at Riverside High School in Tennessee, told WKRN that she called 911, but doctors were unable to save her hand. She has already undergone four surgeries, with more in her future.
"I know that God was with me and everything, if it wasn't for him I probably wouldn't have been here," she said.
"It's a journey, but its going to be a positive one I hope," Jennifer Monroe, the girls' mother told WKRN. "I'm so grateful they're OK, because it could have been an entirely different situation."
A GoFundMe page has been set up to help with the medical and travel expenses for the Monroe family.
"Chloe is such a remarkable young lady with such courage and determination I have no doubt that she will not only pass this test, but she will be an example to other's that struggle with these type injuries," the page, created by Paula Cordle, reads. "If you can not afford to donate prayers would be appreciated to help during this long journey ahead."
(H/T: WKRN-TV)