A Missouri man who was executed Tuesday for sexually assaulting and killing a 19-year-old woman in 2001 left behind a message to inmates who remain on death row.
"For those who remain on death row, understand that everyone is going to die," David Zink, 55, wrote before being executed. "Statistically speaking, we have a much easier death than most."
"So I encourage you to embrace it and celebrate our true liberation before society figures it out and condemns us to life without parole and we too will die a lingering death," he added.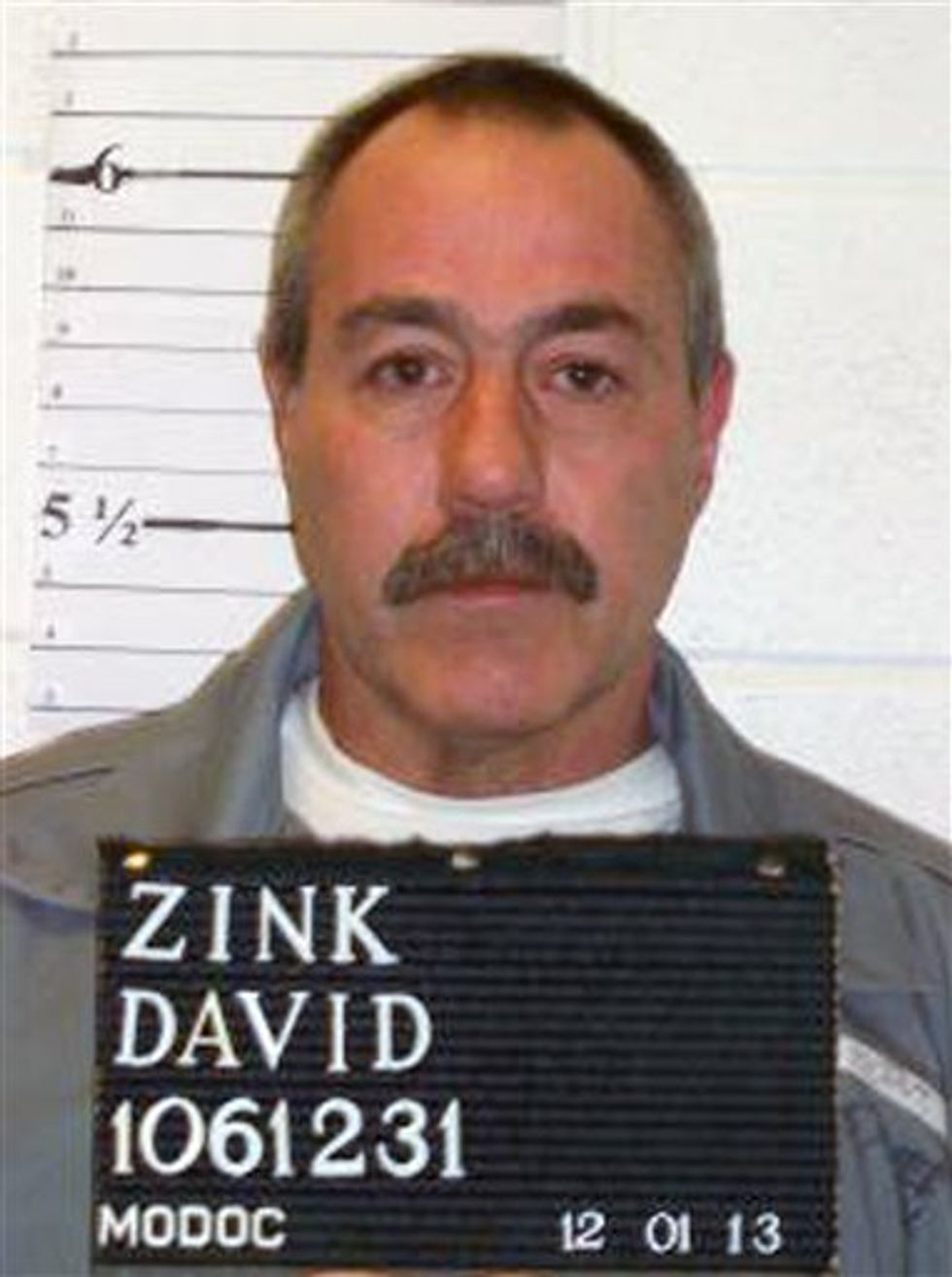 Missouri Department of Corrections
Zink, 55, was put to death at a state prison near Bonne Terre, south of St. Louis, hours after the nation's high court rebuffed his last appeals and Gov. Jay Nixon rejected his clemency request. Corrections Department spokesman Mike O'Connell said the lethal injection began at 7:33 p.m. and Zink was pronounced dead at 7:41 p.m.
In his final statement, he also apologized to the family of Amanda Morton — along with his own friends and family who he said he disappointed.
"I can't imagine the pain and anguish one experiences when they learn that someone has killed a loved one, and I offer my sincerest apology to Amanda Morton's family and friends for my actions. I hope my execution brings them the peace and satisfaction they seek," he wrote.
"I also have to apologize to the second set of victims, my family and friends, that had the unfortunate circumstance of developing emotions which will now cause them pain and suffering upon my execution," Zink added.
Authorities said Zink abducted Morton in 2001 after hitting her car from behind on an Interstate 44 exit ramp a mile from her Strafford home. Morton was driving home after visiting a friend.
Just months before the slaying, Zink had been released from a Texas prison after serving 20 years on rape, abduction and escape charges. Fearing that his drunken fender-bender with Morton could violate his parole and send him back to prison, Zink abducted Morton, taking her to a motel.
Zink, after being arrested at his parents' home, led authorities to Morton's buried body in a cemetery, confessing matter-of-factly and at times laughing on videotape that he had tied her to a tree there and told her to look up. When the bewildered Morton begrudgingly glanced skyward, Zink said, he snapped her neck, choked her with his hands and a rope, and stuffed her mouth with mud and leaves.
Worried that Morton might regain consciousness, Zink admitted, he used a knife to sever her spinal cord at the neck and covered her body with leaves before retrieving from his home a shovel he used to bury her.
An autopsy showed Morton had eight broken ribs and 50 to 100 blunt-force injuries. She also had been sexually assaulted, with DNA evidence linked to Zink found on her body.
The Associated Press contributed to this report.
—
Follow the author of this story on Twitter and Facebook: