A church that was nearly destroyed by fighting in the Syrian city of Homs was the scene of many smiles when it became the place chosen to celebrate the wedding of a young couple.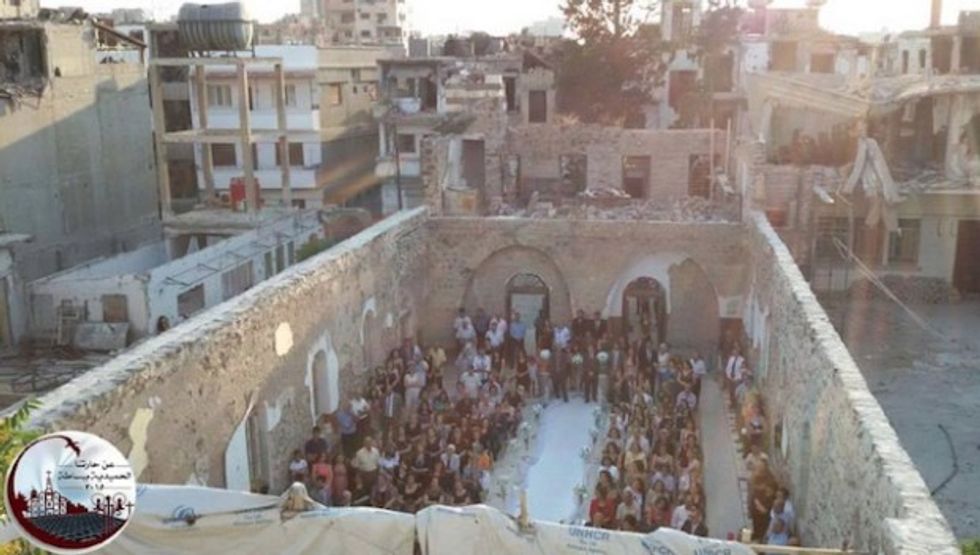 The Syrian church whose roof was blown off was able to host a much more joyful event as Fadi and Rana celebrated their marriage. (Facebook/Al.Hamidiya.Community)
Amid the bombed-out rubble were men in suits and women in pretty dresses, the aisles poignantly decorated with white flower bouquets for the standing-room only ceremony earlier this month.
U can destroy their church but u won't destroy their spirit. First wedding at St George church Hamidieh Homs #Syria pic.twitter.com/QHIoQi0rz9

— Bassem (@BBassem7)

July 13, 2015
Among the guests were Western-dressed women — where elsewhere in the country the Islamic State group has been imposing strict religious strictures including forcing women to cover themselves from head to toe.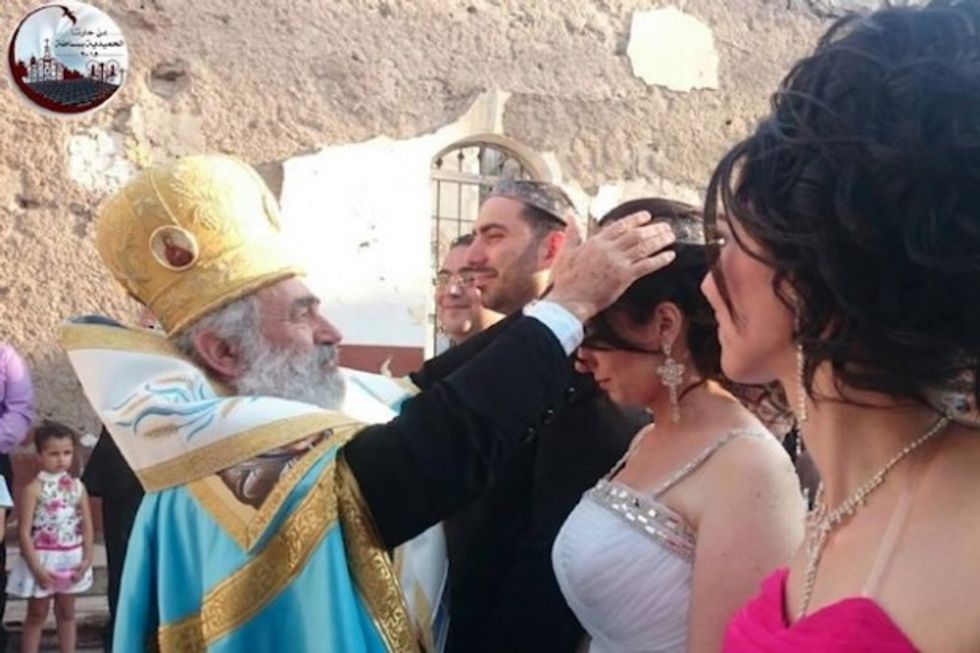 The couple had a traditional Orthodox Christian wedding ceremony in a country where the minority Christian community is under attack by Islamist fighters. (Facebook/Al.Hamidiya.Community)
Photos of the celebration were posted by the St. George's Church in Homs and a neighborhood Facebook page which identified the couple as Fadi and Rana.
The ceremony took place in the city's Christian neighborhood of Hamidiyah.
TheBlaze was unable to authenticate the photos which were shared online by Syria watchers active on social media.
Congrats Fadi and Rana on your wedding. #Syria #Hamidieh #Homs pic.twitter.com/1MCkiX6mpW

— Bassem (@BBassem7) July 14, 2015
In May, Syrian government troops regained control of the embattled city, parts of which were previously held by rebels.
"The ceremony became a silver lining in a city of ruins," observed the Middle Eastern website Al Bawaba.