The woman who spotted a barnacle-covered, WWII-era explosive on a Florida beach at first thought it was a piece of driftwood.
"She walked by it earlier and she honestly thought it was a log," Denise Taylor, a resident of St. Pete Beach, told the Tampa Bay Times after speaking with the woman who spotted what was identified as a flash bomb.
UPDATE - HCSO Bomb Team & McDill AFB disposal of WW2 military ordinance on St Pete Beach. See photo of similar device pic.twitter.com/mqPUe6qcKw

— Larry McKinnon (@LarryMcHCSO) July 19, 2015
Authorities closed a large area on the beach Sunday and decided to detonate what was determined to be a 4-foot-long, M122 photoflash bomb.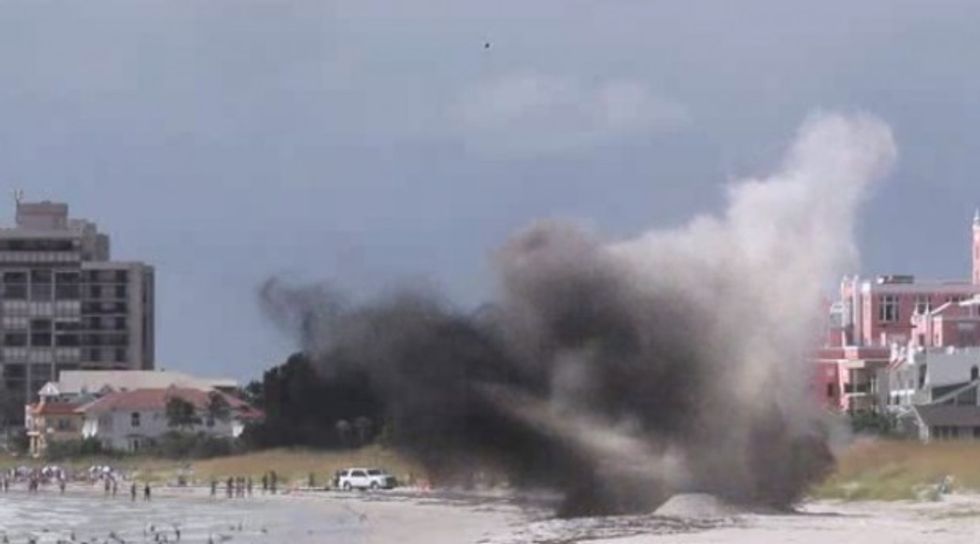 Image source: Tampa Bay Times
The flare was found Sunday morning and was detonated by the MacDill Air Force Base Explosives Ordinance Disposal Team and the Hillsborough County Sheriff's Department Bomb Squad in the early evening.
Watch the footage in the Times' report:
"Nothing ever happens out here. It's so crazy," Katie Hellier told the Times of the eventful evening.
According to MIT, a photoflash bomb's intention is to "provide illumination for aerial night photography." "The Library of Congress World War II Companion" book described such devices as being used for aerial reconnaissance photography and noted that at their peak intensity they could have 500 million candlepower, "a level of brightness that made it dangerous to look at [...] as it exploded."
The Times reported that this flash bomb specifically had candlepower of 45 million.
Prior to its detonation three sea turtles' nests were moved from the area, the newspaper reported.
Watch WPTV-TV's report: