Chances are you've probably been on both the giving and receiving end of an accidental "pocket dial."
Though most of the time, all that's heard on the receiving end of such an unintentional phone call is the swishing of a person walking or some unintelligible background noise, occasionally, you might pick up on a conversation the person is having.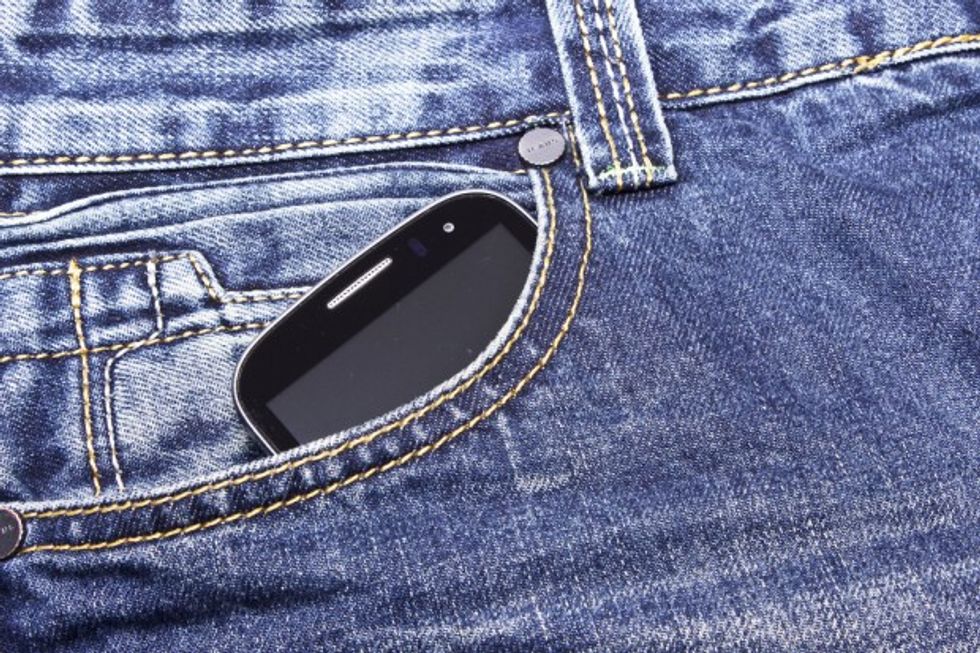 Photo credit: Shutterstock
After a few "hellos," it's polite to hang up when you realize the call was a mistake instead of continuing to listen in.
But an appeals court just ruled that you shouldn't expect what's heard on accidental "butt dials" to be private.
Here's more on the case from the Cincinnati Enquirer:
The U.S. Sixth Circuit Court of Appeals in Cincinnati ruled that U.S. Circuit Court Judge David Bunning was correct in dismissing the case of Jim Huff, who accidentally dialed Carol Spaw, a secretary at the Cincinnati/Northern Kentucky International Airport in October 2013.

Spaw overheard the entire 91-minute call, on which Huff discussed how to either demote or dismiss CVG chief executive officer Candace McGraw with former airport board vice chairman Larry Savage. McGraw is Spaw's supervisor.

Spaw acknowledged taking notes and recording part of the call, which later included a conversation between Huff, the founder of a well-known local real estate agency, and his wife Bert Huff in the couple's hotel room. Bert Huff also served as an airport board member and chairwoman prior to her husband's term.
According to the judge's published opinion, Spaw said "hello" several times but continued to listen to the conversation, which she then decided to report on what she recorded to the airport board.
The Huff's initially brought a suit against Spaw, saying that her listening to their conversation violated Title III of the Omnibus Crime Control and Safe Street Act of 1968, but the judge in that case ruled the "Huffs lacked a reasonable expectation that their conversations would not be intercepted, which is a prerequisite for protection under Title III." The Huff's appealed this decision, and the appeals court both upheld and reversed part of it this week.
"James Huff's statements do not qualify as oral communications for Title III purposes because he exposed them to Spaw when he pocket-dialed her, but Bertha Huff's statements do qualify because she cannot be held responsible for her husband's pocket-dial," the appeals court's opinion stated. "While Spaw intercepted Bertha Huff's oral communications, the question remains as to whether she did so intentionally through use of a device. Accordingly, we AFFIRM the district court's judgment as to James Huff, REVERSE the district court's judgment as to Bertha Huff, and REMAND for further consideration consistent with this opinion."
The Enquirer reported that the Huff's attorney, Mark Arnzen, who was also a former airport board member who resigned along with Savage and Jim Huff from the board in 2014, said the court got it right in recognizing that "Mrs. Huff had a reasonable expectation of privacy."
"It has been Mrs. Huff's position all along that Mrs. Spaw violated her rights by listening to the call, recording it, having that recording enhanced and then distributing it to a third party," Arnzen said, also telling the newspaper that the couple planned to continue pursuing legal action.
Spaw's lawyer Jon Allison also told the Enquirer he and his client were pleased with the court's decision.
"We're very pleased that the court found that James Huff couldn't even make an argument because his communications are not even protected by the statute," Allison said. "The court did rule that Bertha Huff could at least make an argument that her communications [were] protected by statute ... but we fully expect to prevail on that issue as well."