Over five months ago, cancer patient Ann Trachtenberg was about to start her chemotherapy treatments when she jokingly talked about wanting the University of Wisconsin marching band to memorialize her final dose of chemo. Trachtenberg's niece heard the comment, and without telling her aunt, started making inquiries.
Fast forward to this week and Trachtenberg's final treatment. As she walked out of the front door of the University of Wisconsin Carbone Cancer Canter, with her daughter Lindsey by her side, she was surprised by a group of cheering friends, family and the University of Wisconsin Marching Band.
Tears, cheers and some rousing band music followed.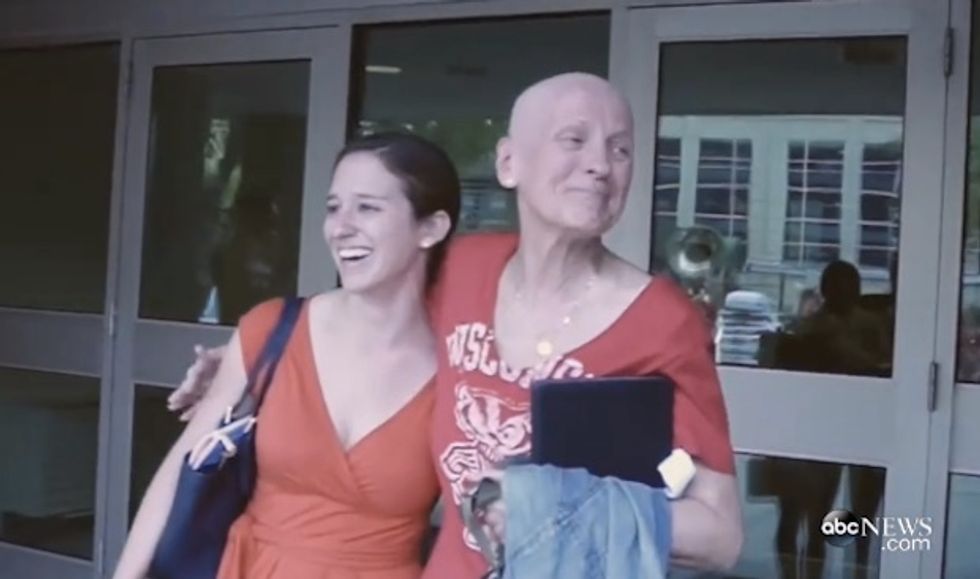 Image source: ABC News
After the story hit social media, Ann's daughter shared her appreciation in a Facebook comment, "Thank you to the UW Carbone Center for taking great care of my mom, to the UW marching band for providing the perfect celebratory soundtrack, to my amazing cousin for all she has done over the past few months, to our family and friends who have provided support in many ways, and to all of you for your kind and supportive comments here!"
The emotional moment was captured on video and posted on Facebook by the Badger Band.
--
Follow Mike Opelka (@Stuntbrain) on Twitter.