New video shows the heroic action taken by police and others earlier this month that just may have saved one woman's life.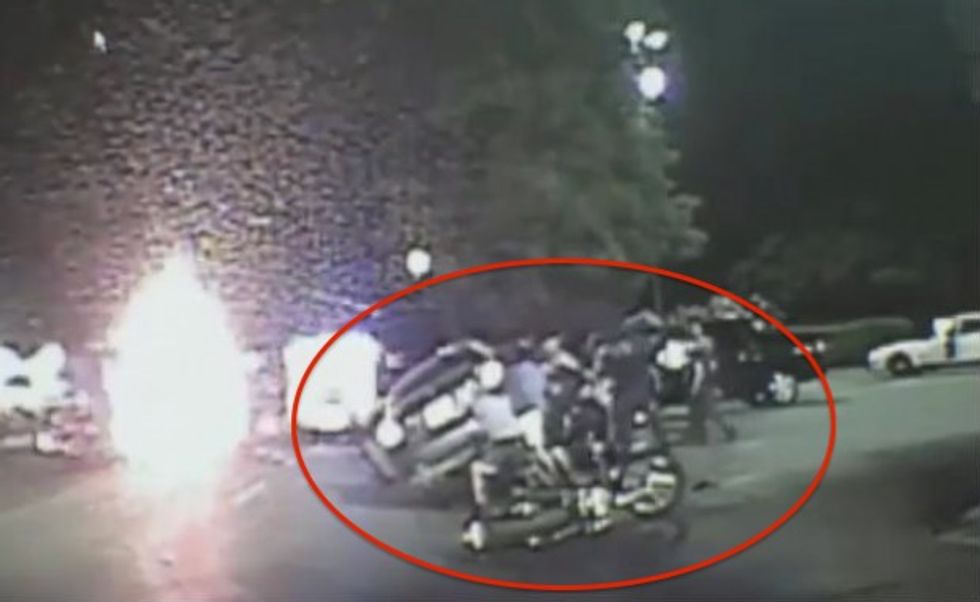 Image source: KTVT-TV
Police in Dallas showed up to the scene of a motorcycle crash July 9 where they found the woman who had been driving the motorcycle trapped beneath a car, gasping for every breath. It took officers only about 30 seconds to get there after receiving the 911 call, KTVT-TV reported.
Witnesses did all they could to help before police arrived, but their attempts were unsuccessful.
The first responders tried using a jack to lift the car at first, but after realizing that wasn't going to work police officers, firefighters and witnesses grabbed hold of the vehicle and amazingly lifted the car off the ground, allowing the woman to escape from underneath.
The woman was taken to a hospital, but according to KTVT-TV she did not suffer any injuries.
MUST SEE VIDEO: Dallas police, firefighters, and bystanders LIFT A CAR to free a woman trapped underneath! #heroes http://cbsloc.al/1Mnr4Ca

Posted by CBS DFW on Thursday, July 23, 2015
Also watch this amazing surveillance footage:
(H/T: KTVT-TV)
–
Follow Jon Street (@JonStreet) on Twitter