An Indiana dad apparently punished his teenage daughter this week by posting videos of her wearing a sign that announces she's a thief.
The cardboard sign affixed around her neck with twine read: "My name is Abby Mills & I am a LIAR & a THEIF [sic]! I've stolen from my parents, brothers & sister. Aunts & uncles. I even stole my 9-yr-old cousin's Christmas presents."
Gary Mills' Facebook page featured three videos of his daughter wearing the sign, all of which he narrated.
In the first clip, Mills is very angry. (Content warning: One profanity it uttered):
"Indiana does not have a program that allows teens to see what's inside of a jail cell ... to keep 'em out of trouble," Mills said. "You can call it a little tough love or a little tough justice. This is what she's gonna be doing today. So she can be embarrassed! So everybody knows what it's like! She'll understand, I hope, and stop doing the stupid s**t that she does. So we're down here in front of the Wayne County Courthouse, and she's gonna be walking up and down the street today — with this sign on her! She's gonna be standin' on the corner, the whole nine yards."
He asked viewers to share the video "so everybody in the world will know my daughter's a thief and I'm sick and tired of it!"
The angry dad also took aim at authorities who he said don't do enough for problem juveniles.
"My mother always told me that I'm gonna have a child that's 10 times worse than me. Well, here she is," Mills added. "Maybe this will teach her to keep her sticky fingers off other people's property."
Toward the end of the clip, Mills told his daughter — whose head was looking at the ground the entire time — to look at him: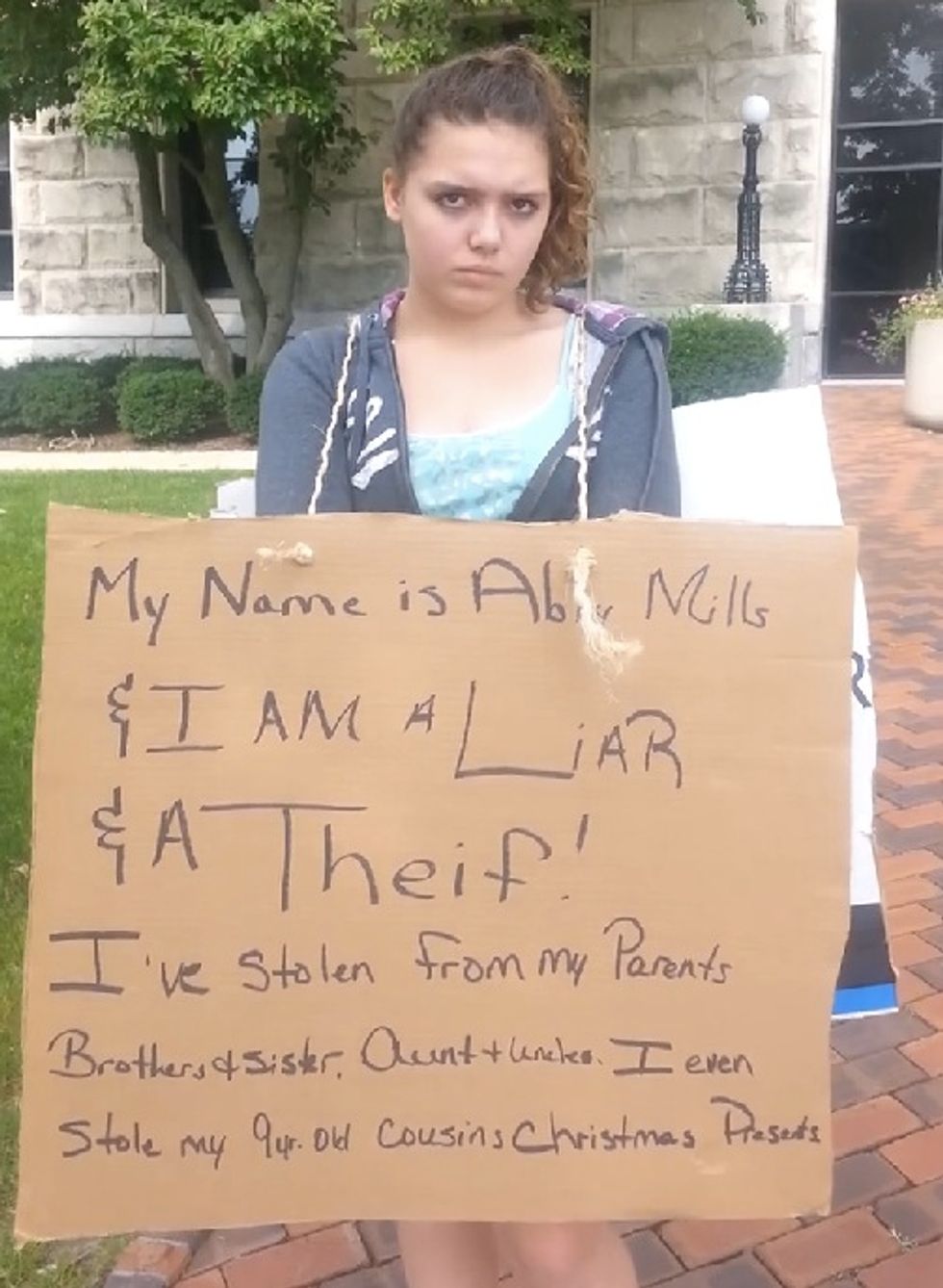 Image source: Facebook
The second of Mills' clips of his daughter featured her standing in front of the Wayne County Sheriff's Correctional Center. In the clip, Mills said he hoped to get a jail official to speak with his daughter about where her life was headed:
"This has all got to stop," Mills said.
In his third video, Mills' mood seemed to change. The camera still trained on his daughter, he said she had just spent time speaking with sheriffs and police.
"I don't want to see my girl get locked up," he said. "If it takes my last breath to keep her from gettin' locked up, that's what it's gonna take. She's gotta understand that I mean business, and this is my last straw before she gets put into the system."
Mills underscored his desire to see her "scared straight."
After asking his daughter how she was feeling and if she'd steal again, Mills had this to say to her: "I love you, I'm always gonna love you ... I'm your father and I'm never gonna give up on you. I just want you to understand that."
Mills mentioned that someone called child protective services on him — presumably in regard to his daughter wearing the sign or the videos or both — but he added that his daughter ended up apologizing for her behavior.
In addition, Mills commented that she "also told me thank u," which he said led him to believe his punishment "opened her eyes to what the point of the matter is."
—
Follow Dave Urbanski (@DaveVUrbanski) on Twitter