Louisiana Gov. Bobby Jindal pushed back against a reporter who asked about gun control during a Friday press conference on the Lafayette, Louisiana, movie theater shooting that left three people dead, including the shooter.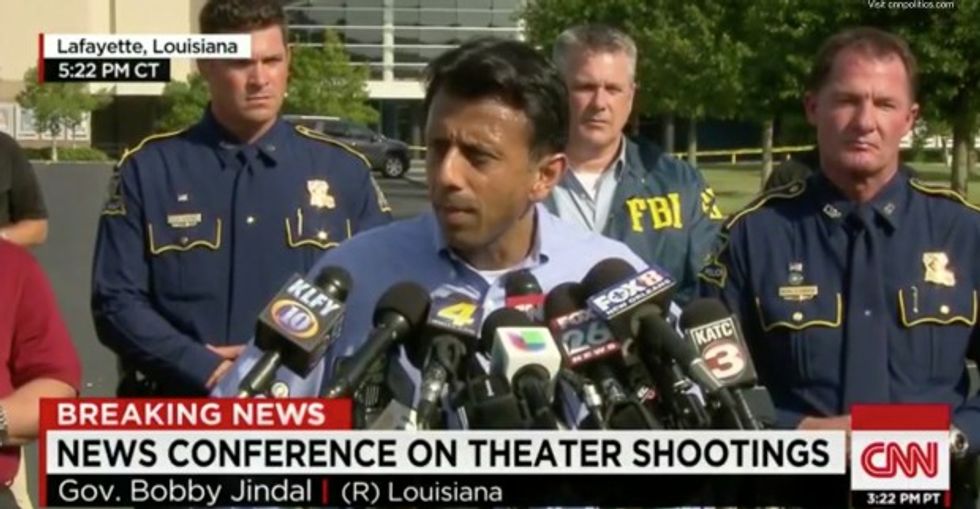 CNN screengrab
Jindal told the reporter it's inappropriate to interject politics and discuss gun control so soon after the tragedy.
"Now is not the time," he said. "Let us bury our dead, let us mourn."
He added, "I'll talk policy and politics in a couple of days."
Watch the exchange at around the 10:30 mark below:

Broadcast live streaming video on Ustream
The Republican governor described the "methodical" manner in which the gunman carried out the shooting as "barbaric."
But he also spoke of the acts of heroism seen during the shooting.
.@BobbyJindal on #LafayetteShooting: "Good and love will triumph over evil" http://t.co/tRQRmIiGSv http://t.co/Yn3LxCDIDA

— CNN Politics (@CNNPolitics) July 24, 2015
Lafayette Police Chief Jim Craft later said the theater gunman fired 20 rounds, shooting one person four times. There are still five victims in the hospital, four of which are stable and one person that's in critical condition, police confirmed.
It was also revealed the deceased shooter, John Russel Houser, 59, purchased a .40 caliber semi-automatic handgun legally at an Alabama pawn shop in February 2014.
---