Charles Haley had some harsh words for new recruits of the San Francisco 49ers — a team whose roster has been riddled with players frequently criticized for being unable to stay out of trouble.
Haley, a venerable defensive end for the Dallas Cowboys and the 49ers in the 1990's, spoke to the new rookie class of his former team as part of a mentorship program in May.
"As far as the rookies, and I know they probably got mad, but I said, 'Why don't you all act like the white guys? You never see them in the paper getting high or hitting people. Why don't you act like that?' They all looked at me crazy," Haley told the San Jose Mercury News of his talk with the new players.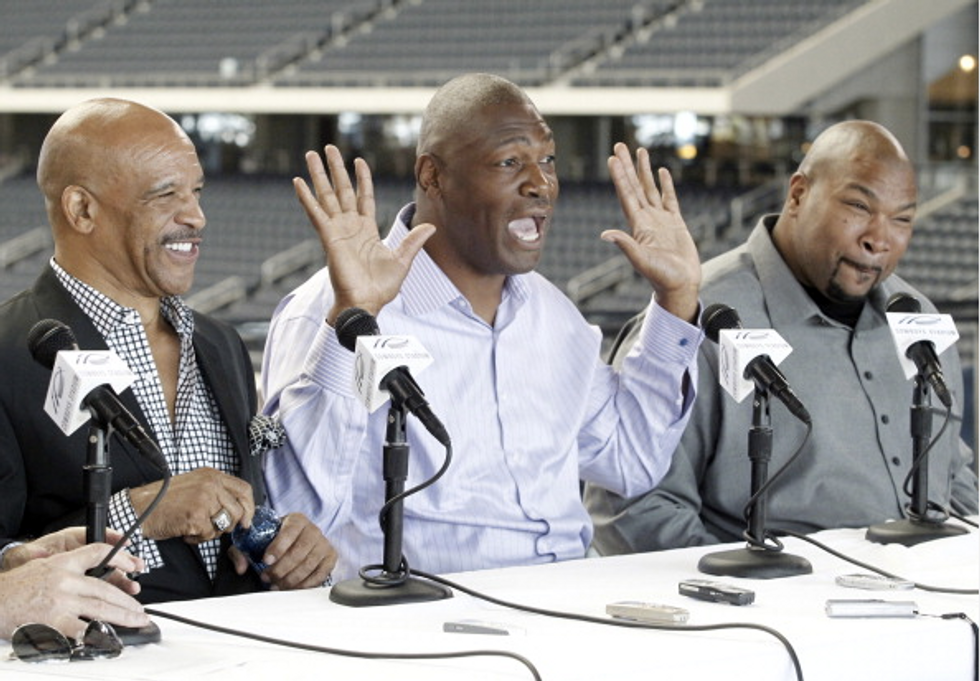 (Left to Right) Former Dallas Cowboys Drew Pearson, Charles Haley and Larry Allen attend a press conference announcing their entrance into the Cowboys 'Ring of Honor' in Arlington, Texas, Friday, August 19, 2011. (Ron Jenkins/Fort Worth Star-Telegram/MCT via Getty Images)
Haley was diagnosed with bipolar disorder in 2002 and told the newspaper that he's been mentoring young players for both the 49ers and the Cowboys as he prepares to be inducted into the Pro Football Hall of Fame.
"I just did it for the shock value of it," Haley said of his controversial comments. "The hardest thing is these guys, they have an attention span of a 5-year-old. I'm not the most gentle and kind person to sit there and deal with that crap. I'm a little more confrontational. I think I got my point across."
Haley, a five-time Super Bowl champion, said the young players need to have role models, much like he did growing up.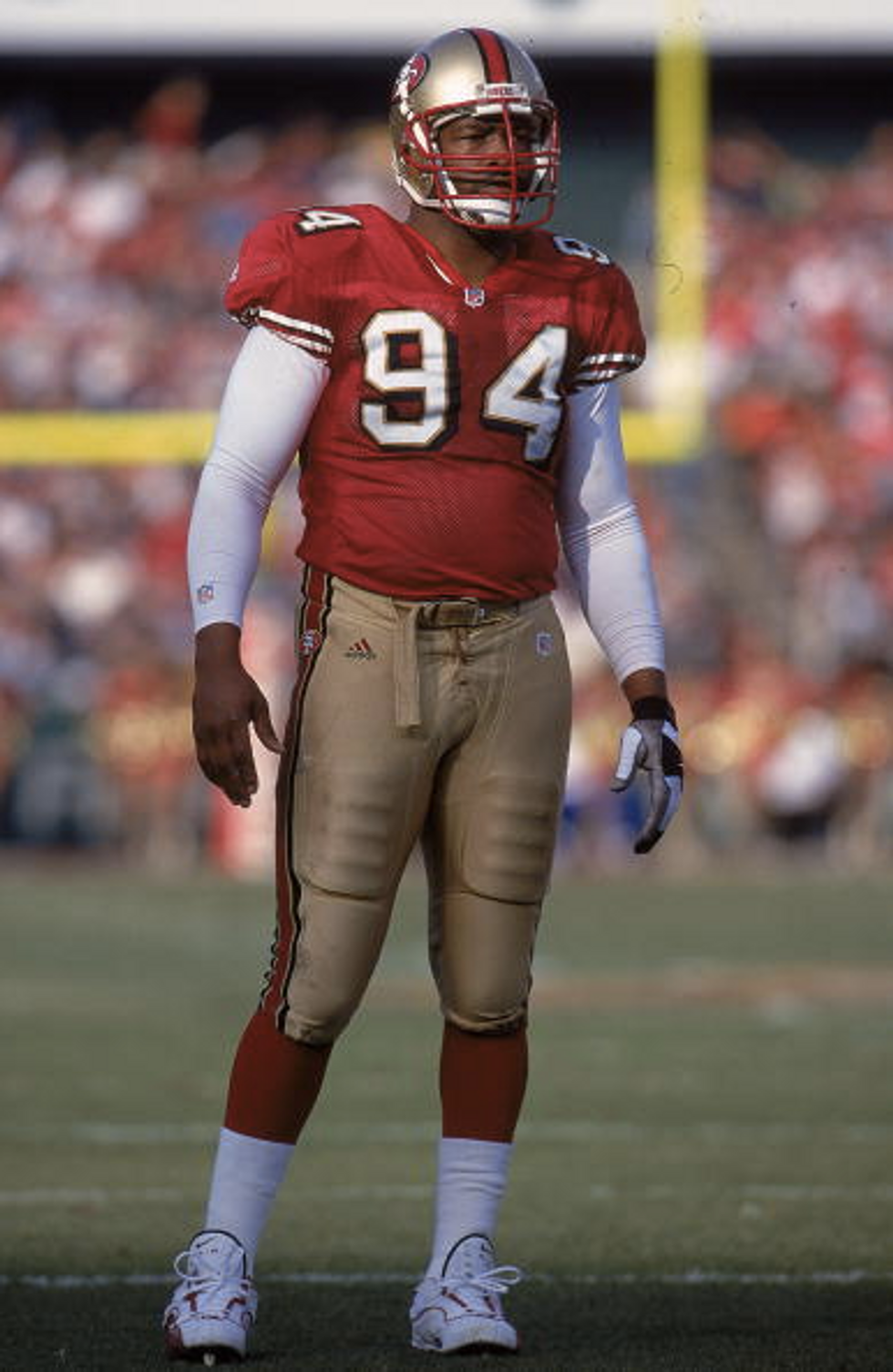 12 Dec 1999: Charles Haley #94 of the San Francisco 49ers looks on from the field during the game against the Atlanta Falcons at 3 Comm Park in San Francisco, California. The 49ers defeated the Falcons 26-7. Mandatory Credit: Tom Hauck /Allsport
"You've got to have people that stand for something, until you're able to lead yourself," he said.
But the 49ers' latest player to find himself in trouble with the law is white. In March Bruce Miller pleaded no contest to disturbing the peace after he was arrested for destroying his ex-fiance's cell phone. The woman also initially told police that Miller had abused her and pushed her, but police said she showed no outward signs of injury and declined medical attention. In a later interview with police, Miller's ex-fiance denied there was physical altercation during the incident, according to the San Francisco Chronicle.
Writing for Sporting News, Rana Cash called Haley's advice "a shallow, short-sighted insult, regardless of race."
Haley's comments drew the ire of several on social media as well.
Wow. Racial identity as performance. Charles Haley told 49ers rookies to 'act like the white guys' http://t.co/MXdHf0H3mp? #3650

— Dr. Mike Milford (@DrMikeMilfordAU) July 24, 2015
Charles haley is the white mans dog players n the 90s was worser than new school players

— SERVIN&SWERVIN (@haroldpdagreat) July 24, 2015
@BetterRivals Charles Haley Tells Rookies "Act Like white guys" I hope He doesn't mean Bruce Miller White guys. Cell Phones are expensive.

— Jeffy!!!!!! (@jeffy20head) July 24, 2015
http://t.co/oqqU4OBNZ0 @49ers Next time: preview the message. @CharlesHaley94 Stoopid comment. Next time: speak like a smart guy

— Len Elmore (@LenElmore) July 24, 2015
http://t.co/jxu7bNZIji #StupidComments too many hits to the head can make you sound stupid.

— Carlos Carballo (@kar_by_yo) July 24, 2015
Who cares what @ESPN_Colin said. @JoeyBats19 should rip Charles Haley a new one for telling @NFL rookies to "act like the white guys".

— Brad Simpson (@BradSimpson322) July 24, 2015
Charles Haley told 49er rookies to act like White guys. Where the media uproar? Oh wait I forgot since he's black so its ok. Double standard

— Chizzie Lovell (@chizman69) July 25, 2015