As her Ford Explorer careened off the side of the highway and began to flip multiple times, Arlene Barnum wondered with every hit — each one harder than before — if it would be her last.
Barnum was on her way back from a rally in Birmingham, Alabama, where she and her passenger, Anthony Hervey, joined a group of strangers in an attempt to save a Confederate memorial in the town's Linn Park. She was his ride to and from the rally, having been asked to pick him up and drop him back off in Mississippi as she traveled to and from Oklahoma. Practically strangers themselves, the pair of black traveling companions were only acquaintances for approximately 24-hours before a tragic accident claimed Hervey's life.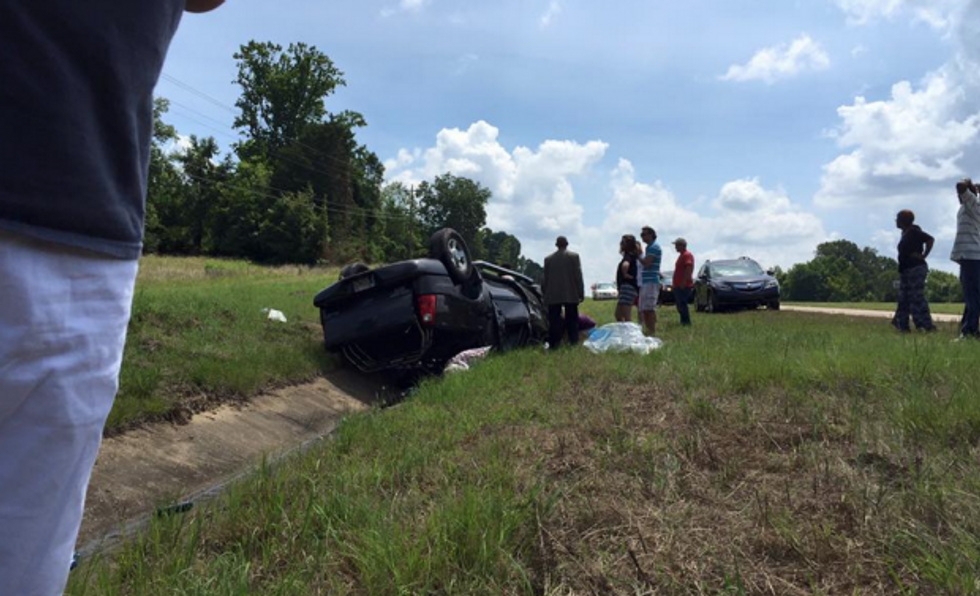 Arlene Barnum snapped this photo after she survived a tragic car accident that claimed the life of her travel companion. (Image via Arlene Barnum/Facebook)
Speaking to TheBlaze, with her fractured left foot propped up to alleviate some of the swelling, limbs and neck still sore, bruised and cut up, Barnum recalled the harrowing details of the July 19 accident — an event that she refers to as an incident more so than an accident.
Hervey, she said, was a proud defender of the Confederate flag in his hometown of Oxford, Mississippi. The author of a pro-Confederate flag book and speaker at many rallies, Hervey's goal of making sure that black Confederates were not wiped out of history did not sit well with everyone. Barnum said he told her, during the time they were driving together, of the repercussions of his activism — bricks thrown into this house, his home being broken into and that time he was physically assaulted.
"No one has ever done it to me, I couldn't feel what he was saying," she said of the treatment he had received. "I had not lived the life that he lived, based on where he lived."
Because of that, she had removed the makeshift flag pole that hoisted the Confederate flag from her vehicle as the two, both descendants of Confederate veterans, made their way to Oxford.
Barnum said she wasn't sure how long they were being followed, but it wasn't until after they made a pit stop for some fried chicken that she became aware of the other vehicle.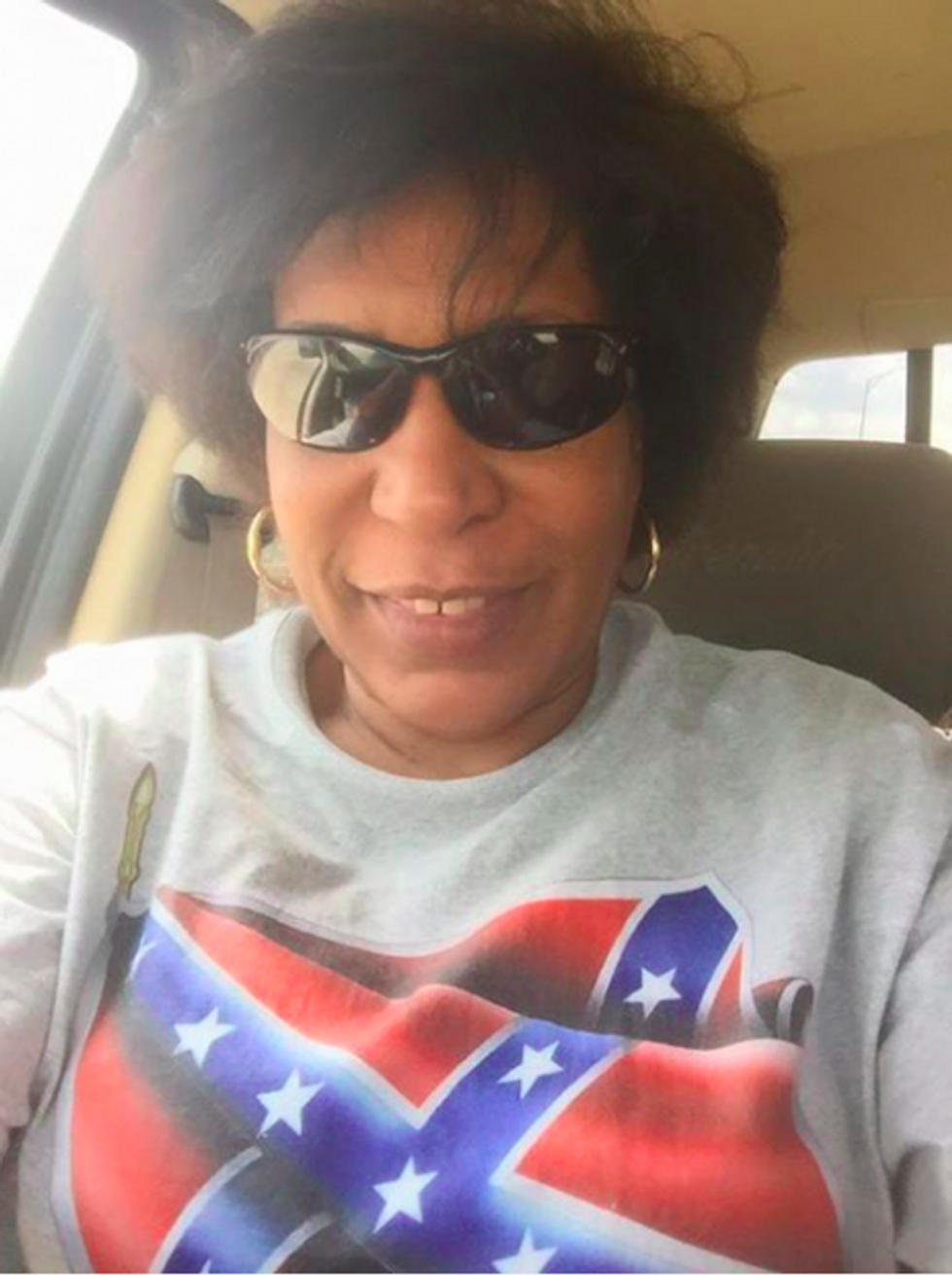 Arlene Barnum uploaded this photo to her Facebook page when she was en route to Birmingham, Alabama. (Photo via Arlene Barnum/Facebook)
She recalled that she was on Facebook on her iPhone when she heard Hervey say "hell no" — the last words she'd hear him say — and felt the vehicle begin to speed up. On the driver's side, she could see a silver or grey car with "no more than three" black passengers approach their vehicle.
"[Hervey] took off like he was trying to outrun them, he was taking flight. They caught up with us, and that's when they were on the passenger side, and they moved closer to my door, and that's when Mr. Hervey swerved into the ditch, and he tried to get back on the road," she shakily recounted. "The vehicle was out of control, and the vehicle just started tumbling into the ditch on the right hand side."
"I couldn't tell you how many times, but it was a lot and with each roll that it hit in the ditch, I thought it was going to be my very last. I felt like I was going to die, and as each hit got harder, I didn't know if I was going to die with that hit or that hit or that hit," Barnum said. "And then the vehicle got real dark inside. I couldn't tell if it was smoke or dust, and I asked Mr. Hervey to reach the key in the ignition where I had a pocket knife to cut himself lose because the seatbelt was very tight."
Hervey never responded. He never reached for the keys in the ignition.
Barnum said she couldn't get to the ignition to get the keys herself and tried dialing zero, but her phone wasn't working properly. She said she tried to scream for help, but she said her voice wasn't "carrying out" of the vehicle. 
And then suddenly there were people. Barnum recalled strangers calling out to her, telling her they needed to get them out as they could smell gas emitting from the vehicle. Unable to escape through her window, she followed the sound of them knocking on the side of the SUV where she was able to wave her hands and have the strangers pull her out of the car and help her away from the vehicle to wait for the EMTs.
"I felt a hand grabbing me, just pulling me out," Barnum recalled. "I was trying to be independent and walk on my own, and I couldn't, and they said 'that's alright, we got you.' I'm not used to having people helping me like that."
Barnum was taken to the hospital, where she was treated for a fractured foot and other injuries. Hervey, 49, was pronounced dead at the scene.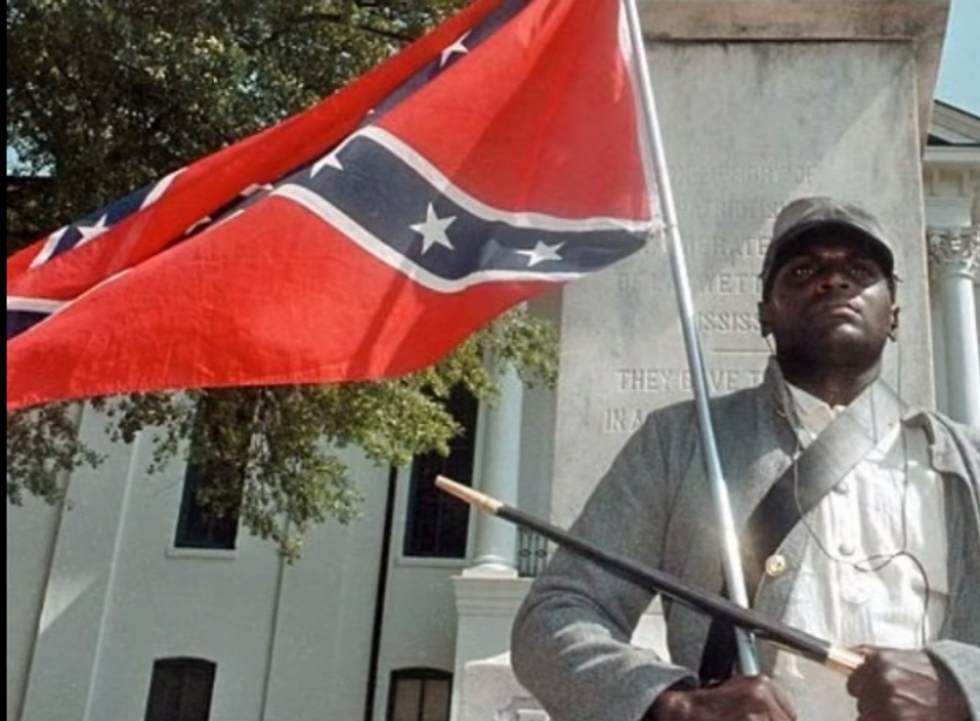 Anthony Hervey, 49, died in a car accident last week after a passenger in the vehicle said he lost control as another car tried to run them off the road. (Image source: YouTube)
"I don't know if they knew Mr. Hervey or not," Barnum said of the people in the other vehicle. "But those guys looked like they were angry."
Barnum said that even though they didn't have any Confederate memorabilia on the outside of their car, she did recall Hervey having a rebel tattoo, speculating that the occupants of the other car could have noticed while they were getting their chicken.
She said she doesn't think she could necessarily pick those people out of a crowd but does recall that they were younger black men. She said she heard another witness came forward to Mississippi state police to report the car yet hasn't received an update from police.
"We want them caught," Barnum said, adding that she spoke with Hervey's wife on the phone yesterday when the recently widowed woman called to give her the details of the funeral to be held Sunday, August 2.
"Mississippi had taken so much from her and taken her husband from her, it was the last straw, and she's moving away," Barnum said. "She's going to leave the state of Mississippi and is going to have [Hervey] cremated so that no one would mess with his remains."
Barnum did not wish to disclose where his wife was planning to live next. A Go Fund Me page has been set up to help alleviate some of the funeral costs.
Mississippi Highway Patrol spokesman Johnny Poulos told the Associated Press last week that no other details of the accident will be available until accident reconstruction experts have had a chance to review the evidence.
Poulos did not respond to multiple requests for comment from TheBlaze.
Arlene Barnum poses for photo with Anthony Hervey (far left) and other pro-Confederate flag activists in Alabama. (Image via Arlene Barnum/Facebook)
But despite the horrific accident, Barnum said she's going to continue standing up for the Confederate flag. She described herself as a conservative and a Republican, a person who used to be supportive of the "Black Lives Matter" movement until she said they began to support animosity and vandalism of Confederate war memorials.
"It would make Mr. Hervey's death in vain, it would make all that I've done for naught," she said. "I don't want to be a martyr. I don't want to be dead because of it, but I don't want to be locked up in the community where I live."
At the rally in Birmingham, before the accident, she said she burned her NAACP card, a video of which Hervey shared on his Facebook page on the day of the accident.
"I want the racial division to stop," Barnum said. "I don't want it to further infiltrate into the south."
Barnum said she didn't become very active in the pro-Confederate flag movement until after she saw South Carolina's Gov. Nikki Haley call for its removal from state grounds and saw the vandalism of Confederate memorials ensue across the country — including the social media trend that encourages people to rip down Confederate flags or stickers from people's private property.
Since the accident, Barnum said her life has been changed irrevocably, including her spiritual life. 
"I believed in God [before the accident], but when you start hanging out with certain people, you start doing things on your own, a free thinker," she said. "After this incident, I was praying. It turned me into a praying woman. It turned me into a Christian woman. I'm not going to backslide again."
She said she called out God's name instinctively as the car rolled, and she's been praying every day since.
Byron Thomas, an outspoken black college student in South Carolina, understands the threats Hervey received for his support of the Confederate flag. In 2011, while attending the University of South Carolina Beaufort, he won a battle with his school officials in his fight to keep the Confederate flag up in his dorm room.
Thomas still defends his support of the Confederate flag, even throughout the contentious battle in South Carolina over whether or not to remove it from Capitol grounds after police say a 21-year-old fatally shot nine members of a historically black church, and told TheBlaze he has received threats himself.
"I just gotta stay positive and always know that God has me here for a reason much bigger than just to voice my opinion on the Confederate flag," Thomas said. "I'm not here to tell anyone to like it or hate it, because I respect everyone's opinion as an American, and I'd like people to do their own research on the matter. I'm just giving my personal opinion on how I see it, but I will not be afraid because I've done nothing wrong nor have I disrespected anyone."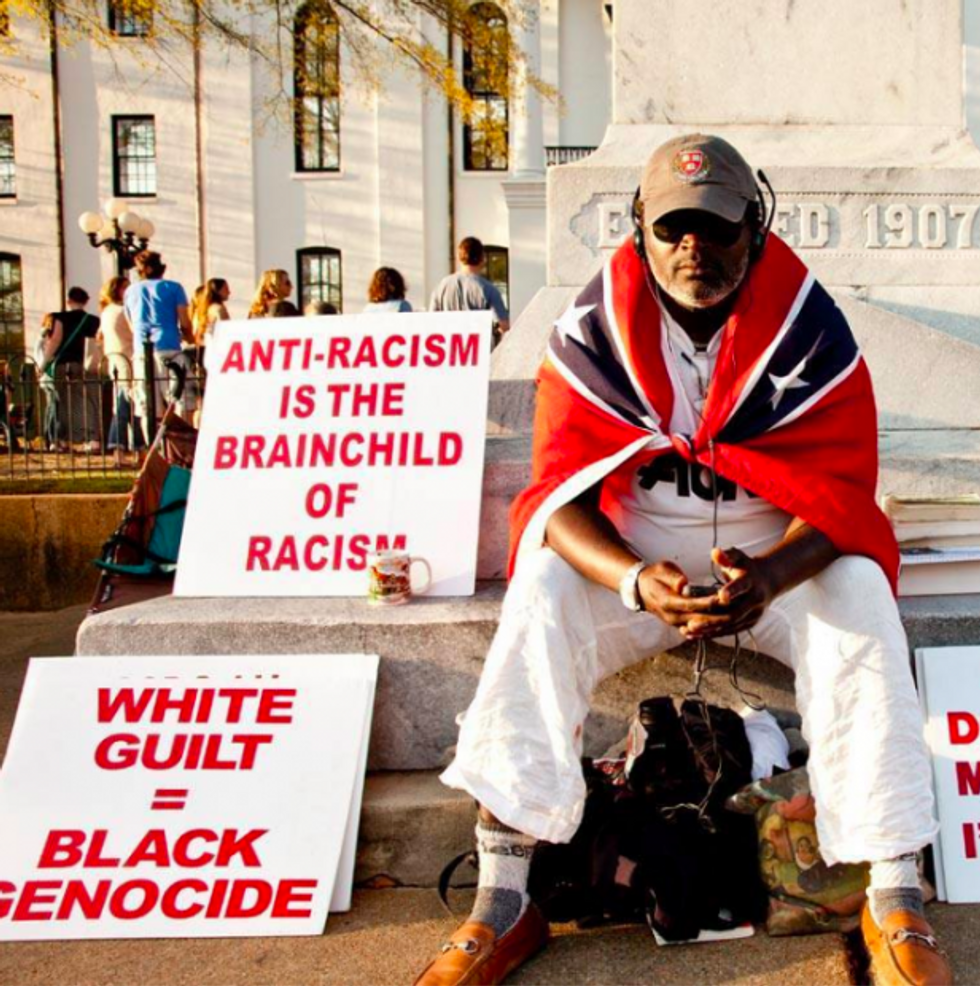 Before his death, Anthony Hervey, 49, spoke around the world in defense of the Confederate flag and black people who fought for the Confederacy. (Image via Anthony Hervey/Facebook)
According to Business Insider, the Sons of Confederate Veterans — the group largely responsible for bringing Barnum clothes to the hospital, putting her up in a hotel in Mississippi when she was discharged from the hospital and escorting her back to her home in Oklahoma — has requested a federal investigation of Hervey's death. The group described the man as a friend who was killed because of his race and beliefs.
The report said Hervey was known around Oxford for donning a grey Confederate uniform and sitting outside Confederate memorials while waving the battle flag. He has spoken to groups and rallies in the United States as well as Europe.
Watch Hervey's final speech below: