Few evangelical figures in recent memory have sparked as much theological debate as has Rob Bell, the author, speaker and former pastor of Mars Hill Bible Church in Grand Rapids, Michigan, who ignited furor when his 2011 book "Love Wins" questioned traditional theological constructs surrounding heaven, hell and the Christian gospel.
Bell, who resigned from Mars Hill following intense controversy and is currently traveling around America on his "Everything Is Spiritual" speaking tour, recently shared his views on The Church Boys podcast, discussing everything from his support of same-sex marriage to his claim that anyone who speaks about the afterlife is merely spouting uncorroborated theories.
[sharequote align="center"]"The people who talk the most about hell...seem to talk the least about the very hells on Earth."[/sharequote]
"We are speculating," he said of definitive discussions surrounding heaven and hell. "No one knows."
Bell did say that the idea that God would burn people in a fiery hell for all of eternity for rejecting him during their life on Earth seems at odds with the Almighty's absolute love for mankind — and he had a message for those who spend a lot of time focusing on hell.
"The people who talk the most about hell when you die seem to talk the least about the very hells on Earth right now — and we have hells on Earth," Bell said. "We have urban schools that are falling apart, we have people starving, we have rampant abuse of the environment, we have literally millions of people struggling with suicidal thoughts."
Listen to Bell talk about heaven, hell and the gospel below (interview starts at the 37:00 mark):
When asked if it's possible to reach heaven without a faith in Jesus Christ — a common claim in evangelical and Christian circles, more broadly, Bell dove deep into his explanation.
"Well, what's interesting is what the New Testament writers kept saying is, like, one of them just writes, 'He holds all things together.' So, they spoke of a universal Christ — a Christ consciousness that holds all people together, that all people are already present in," he said. "So, are there people who have never heard of Jesus? Of course there are."
But Bell rejected the notion that individuals who haven't heard about Christ would be punished for not believing in him.
[sharequote align="center"]'They spoke of a universal Christ — a Christ consciousness that holds all people together."[/sharequote]
"At the heart of the Jesus message is a trust that there is a universal grace and love greater than any one tradition," he continued. "And then, when you look at the Christian tradition and how Christians have never exactly agreed on how you get in, or what you have to do, or what you have to say, you have to leave way more room for the mystery of God's love."
When asked, though, what happens when someone has had plenty of opportunities to learn about and accept Christ, but has repeatedly rejected him, Bell said that the early Christian church believed that God allowed people as much time as needed to ensure that they accepted him.
"In the early church, it was commonly believed when they speculated about the afterlife that however long it took for God's love to win somebody over, then that's just how long it would take — that God was patient, and that God just wears people down," Bell said. "The idea that, 'Hey, you only get a few choices and then its over man, and forever you're going to burn' — that just seems to go against the fundamental movement of God's love in the world."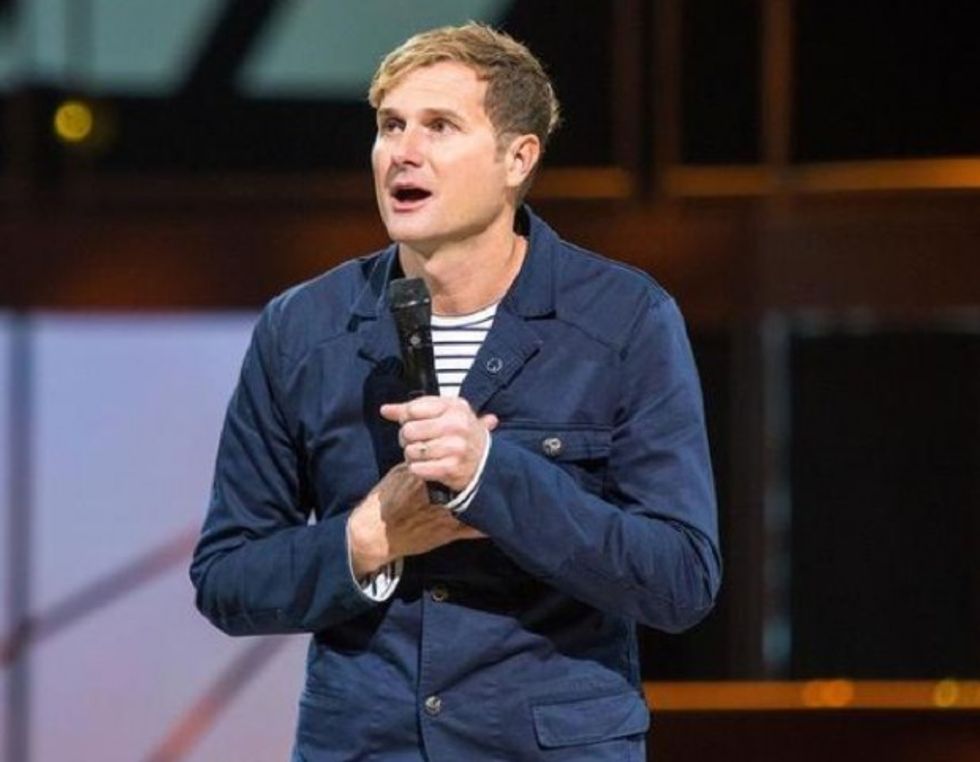 Rob Bell speaks at Oprah's The Life You Want Weekend on November 8, 2014 in Seattle, Washington. (Suzi Pratt/FilmMagic)
In the spirit of speculating about the afterlife, though, Bell was open to the notion that people could end up choosing to still be hard-hearted, vindictive and nasty even after their deaths — and that this decision could separate them from God in what would be likened to a "hell."
"I would assume that that option is there," he said, adding at another point that he doesn't see hell being discussed fervently in the Old and New Testaments, and that Jesus appears to be referring to a physical location when he speaks of it. "When people build large theologies about a bunch of people going somewhere and they use the word 'hell' — where did they get that?"
[sharequote align="center"]"You have to leave way more room for the mystery of God's love."[/sharequote]
As for sharing God with others, rather than randomly throwing the gospel at people, Bell said that Christians would be best suited to form a relationship with people, to journey with them and to get to know them personally, encouraging humility in the process.
"At the heart of the Christian tradition is this idea of incarnation, the divine and the human in the same place and that you are growing in your awareness of the divine presence in all people, in all places, in all things and you walk with people and you love them, you try to be a good neighbor," he said. "I think a bit more humility and a bit more joining people in their story, and actually knowing who you're talking to is much better than pamphlets shoved in faces and sort of accosting people with some announcement when you don't know a thing about them."
Bell, who continues to speak and write about spirituality, said that he is "having more fun than ever" and that he's taking the time to process and value the sacredness of each moment in life.
"There's a joy and a depth to this moment that's really where the life is, and for so many we were taught to run fast and we ran fast and we didn't ask better questions like, 'What kind of life do I want to have?'" Bell said.
The debate over Bell and his theology continues, as some question the former pastor's devotion to the Bible, though he maintains that he believes the holy book, which was "written by people," is "extremely inspired."
"It was written by real people, in real places, at real times and it reflects evolving human consciousness, so the people who wrote the Bible were writing from a particular period of time," he said. "They had opinions, they had biases, they had views, they had agendas ... they selectively gathered together certain stories, certain images, certain metaphors, because they wanted the readers to see particular things."