Shaunna Broadway, like any other day, dropped her children off at daycare Friday and went to work. When she picked them up though, she noticed something horribly wrong.
According to KOTV-TV, the boy's daycare, Happiness Is A Learning Center in Vinta, Oklahoma, had taken its charges to a local water park for the day and ran out of sunscreen. Broadway's boys were sunburned when she picked them up Friday evening and it only got worse from there.
"He started to started to complain of chest pains and not being able to breathe and his chest started swelling," Broadway told the news station of her oldest boy, Conner Harvey.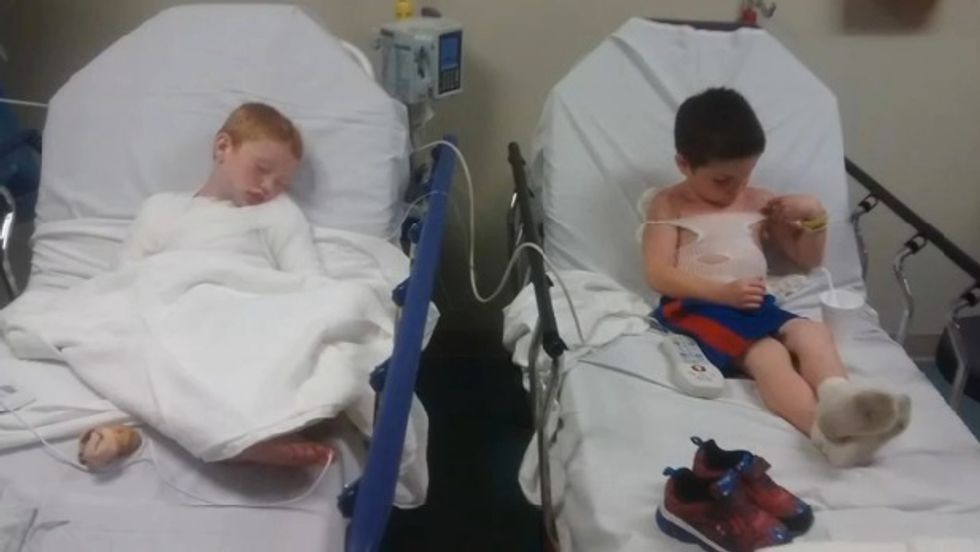 Shaunna Broadway says a local daycare did not put sunscreen on her two boys but told them to keep their shirts on at a local water park. The boys did not keep their shirts on and became severely sunburned as a result. The mother says it was still the daycare's responsibility to keep her children safe. (Image source: KOTV-TV)
The single mom took her boys to Hillcrest Medical Center Burn Unit in Tulsa, which quickly decided to helicopter the boys to Shriner's Hospital in Texas, which has more expertise in burns. KOTV reported that Conner and his younger brother, Tray Wells, are being treated for second- and third-degree burns at the hospital.
"To think that a kid could get that burned in the care of a daycare, I have no words," Broadway told the news station. "It's just a lot because it's just me. I'm trying to be strong for them."
The boy's aunt, Amanda Harvey, shared the graphic extent of the burns on her Facebook page.
"The white stuff is Silvadene cream," Broadway told Buzzfeed. "What you can't see is that there are a bunch of tiny blisters forming on his skin underneath the cream, which is why it looks like that."
A relative of the boys started a GoFundMe campaign and saw their original page pulled because the photo of the burns was deemed to graphic.
"That should give you an idea of the seriousness of the burns," Jerry Broadway wrote on the new GoFundMe page.
On the campaign page, Jerry Broadway elaborated that on Friday when the boys were at the water park, temperatures reached close to 110 degrees. He went on to explain that the boy's mother recently started a new job and will have to take a significant amount of time off to care for her children.
"No child should have to endure this pain, especially due to the negligence of their caretakers. No Mother should have to watch her children suffer so much," Jerry Broadway wrote, hoping to raise $10,000 for the family. "We want to make sure that her entire focus is on her boys. We don't want her to be burdened financially while she deals with this horror."
In the mean time, Shaunna Broadway wants Happiness Is A Learning Center to own up to its mistake.
"Whether it was intentional or not intentional, they were supposed to take care of them, and they did not — and that's the bottom line," she told KOTV.
"Right's right, and wrong's wrong, and there's no excuse for this," the mother added. "I'm a single parent, and I do all I can. I work Monday through Friday, and they have to go to daycare. I don't have the luxury to just have somebody that I can just have watch them outside daycare."
Watch KOTV's report, which also includes video footage of the boys in pain in the hospital:
According to KOTV, the Department of Human Services and the Vinta Police Department are investigating the situation. The Tulsa Frontier reported that the daycare has received 19 citations from DHS within the last 10 months, most for "noncompliances" such as not having a "no smoking" sign posted. Another citation was for having too many children in too small of a space.
The daycare would not comment to the Tulsa Frontier or KOTV on this latest case.
Buzzfeed reported that Shaunna Broadway filed a police report and is finding an attorney.
The mother did not immediately respond to TheBlaze's request for comment.
(H/T: Daily Mail)
—
Front page image via KOTV-TV.