Liberal groups favoring gun control are targeting former Florida Gov. Jeb Bush for supporting a "Stand Your Ground" law that received near unanimous bipartisan support in the state's legislature.
Though 24 states now have the law, Florida was the first state to adopt the law with Bush's signature in 2005.
The Center for American Progress report titled, "Jeb Bush's License to Kill," says since the law was enacted, "justifiable" murder rates have increased in the state, and disproportionately affected minorities.
"Defendants who raised a Stand Your Ground defense [in Florida] were 24 percent more likely to avoid criminal liability for a homicide if they killed a black victim," the report states.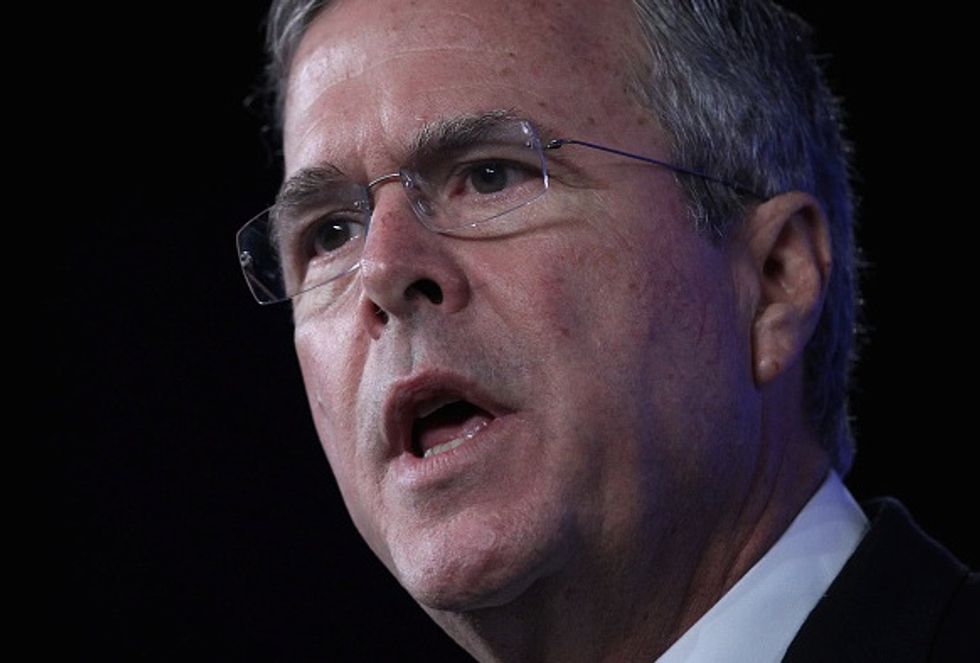 (Alex Wong/Getty Images) 
Participating in the report was the liberal group Color of Change.
"These laws were stirred by corporate special interest that make the rest of us less save," said Rashad Robinson, executive director of Color of Change, during a press conference call Wednesday. "People want to know, what can we do to make sure black lives matter."
Bush is a leading candidate for the Republican presidential nomination. The report was timed to be released ahead of Bush's Friday speech to the National Urban League, a civil rights group.
"In pioneering 'Stand Your Ground' in Florida, Gov. Bush set in motion a wave of similar legislation in states across the country that has had an undeniable negative impact on public safety and has a shocking racial disparity in its application," said Chelsea Parsons, vice president of guns and crime policy at the Center for American Progress Action Fund.
In 2005, the Florida state Senate voted 39-0 for the law, and the House voted 94-20 in favor of the law. A year later, 21 states adopted similar laws, some signed by Democratic governors such as Jennifer Granholm of Michigan, who has said she regrets signing the law.
The National Rifle Association defends these laws across the country and dismisses the report.
"This is nothing more than a baseless political attack by a liberal group that favors gun control and anti-Second Amendment candidates for public office," NRA spokeswoman Jennifer Baker told TheBlaze of the CAP report. "Stand your ground laws ensure law-abiding citizens can defend themselves and their families against violent criminals without fear of being treated like a criminal. More states than ever have enacted Stand Your Ground Laws and the nation's murder rate has declined to an all-time low."
The National Rifle Association cites economist John Lott, who wrote: "Blacks may make up just 16.6 percent of Florida's population, but they account for over 31 percent of the state's defendants invoking a Stand Your Ground defense. Black defendants who invoke this statute to justify their actions are acquitted 8 percent more frequently than whites who use that same defense."
The Center for American Progress report used deceptive statistics, said Erich Pratt, spokesman for Gun Owners of America.
"While the actual number of murders did rise, the murder rate has actually declined. This is the typical kind of deception that anti-gunners use, where they ignore the rise in population and simply report on raw homicide figures, to make it seem like citizens are now in greater danger," Pratt told TheBlaze. "Moreover, CAP makes a big deal about the initial spike in Florida's murder rate after the passage of Stand Your Ground. But they ignore the fact that murder rates were rising generally throughout the country between 2004-2007."