The Görtz Haus Gallery, a one-stop wedding venue, restaurant and flower shop that Betty and Dick Odgaard have run for the past 13 years in Grimes, Iowa, is slated for official closure on July 31, following intense controversy over the Christian owners' refusal to host a gay wedding.
The decision to close their doors follows a contentious legal battle stemming from the Odgaards' turning away of Lee Stafford and his fiancé Jared Ellars in 2013 — a decision that resulted in a $5,000 settlement payout to the same-sex couple.
The Odgaards have since launched God's Original Design Ministry, a 501(c)(3) organization that will post billboards across the U.S. in an effort to defend traditional marriage as an institution that is comprised of only one man and one woman.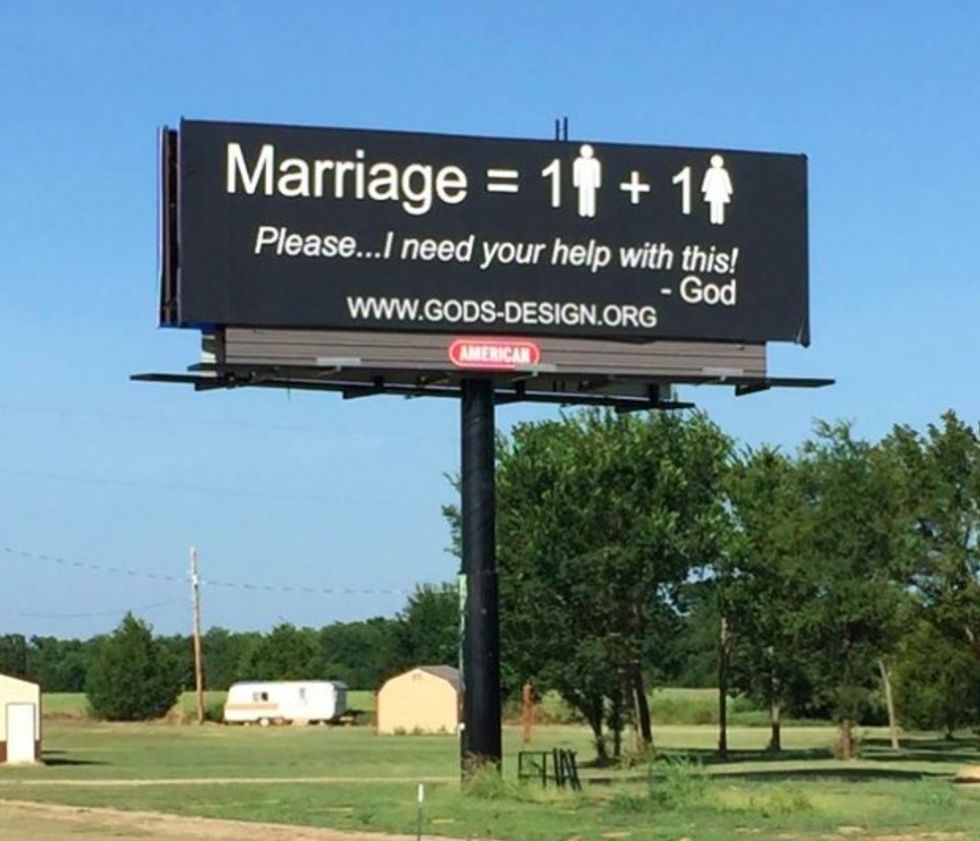 God's Original Design Ministry
They unveiled their first billboard in Durant, Oklahoma, on July 24 — a 14-foot-by-48-foot placard with a message that reads, "Marriage =" and then an image of a man, a plus sign and a picture of a woman. A quote under those images is attributed to God and says, "Please...I need your help with this."
The Odgaards hope to raise enough money to be able to place 999 additional messages across America.
"It has become very obvious that many people of faith have wondered from the word, and/or are deeply confused with this issue," Betty Odgaard told TheBlaze on Wednesday. "With that, the primary objective our mission with these billboards is to spark 'drive-time epiphanies." In other words, to remind the faithful of the truth."
With their shop just days away from closing, the couple plan to focus on their new-found ministry. As for the building in which Görtz Haus Gallery is located, a church will likely start renting there — a plan that the Odgaards revealed earlier this summer.
"If all goes as planned it will be a church again — and as it so happens, the church we attend," she said back in June. "Ain't [God] awesome?"
Before announcing their closure, they had recently decided to stop hosting all wedding ceremonies rather than abide by a government mandate that they accommodate same-sex ceremonies; the remaining business activity, though, wasn't enough to keep the doors open.
"Our case had everything to do with our closing. Once we could no longer host weddings it was only a matter of time," Betty Odgaard told TheBlaze last month. "The lunch business had already decreased substantially due to boycotts and all the slander and black eye now on Görtz Haus."
Listen to Betty and Dick Odgaard discuss their struggles during an April episode of "The Church Boys" (interview starts at the 36:00 mark):
She said that recent staffing issues were the final straw, giving her and her husband, Dick, "the final nudge" to make the heart-wrenching decision to close up shop.
"The writing has been on the wall for quite some time and we hung on as long as we could," she said. "This day had to come but it's just so hard to say this is it, it's over."