SACRAMENTO, Calif. (TheBlaze/AP) -- California residents as a whole not only met the mandate to reduce water use by 25 percent while the state endures a historic drought, but, overall, they exceeded it.
According to the State Water Resources Control Board, nearly two-thirds of the 411 local agencies hit or nearly reached savings targets, averaging a 27 percent reduction in June — the warmest June on record — compared to 2013 data.
"Californians understand the severity of the drought and they are taking action, as shown by the numbers released today," Felicia Marcus, chair of the board, said in a statement. "We didn't know if the positive showing in May was due in part to cooler temperatures. This report shows that residents knew they had to keep conserving even during the summer heat and they kept the sprinklers off more than they would in a normal year."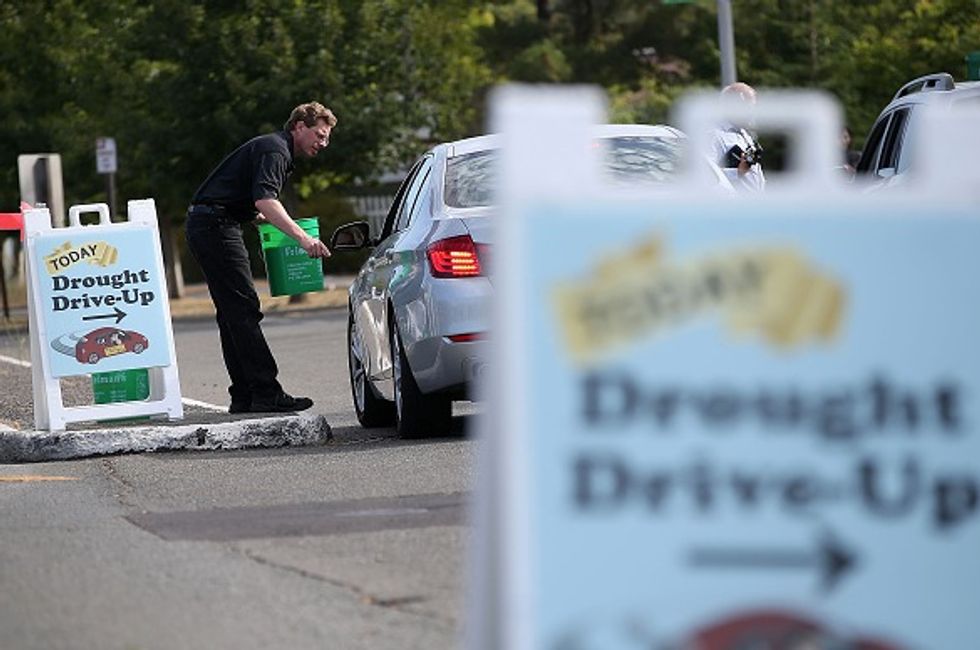 Ed Casey with Friedman's Home Improvement hands out a bucket filled with water conservation tools and literature during the Sonoma County Water Agency 'Drought Drive Up' event on July 22, 2015 in Sonoma, California. As Californians endure a fourth straight year of severe drought, the Sonoma County Water Agency held a 'Drought Drive Up' event where they handed out water conservation literature and water saving tools like low flow showerheads and aerators. (Justin Sullivan/Getty Images)
But the state isn't necessarily hailing this as a complete victory. Now, it says, it's time to get stragglers in line and make sure people who have already been saving keep it up.
In the coming weeks, state regulators will review the conservation programs of communities missing their marks and will draft intervention plans for the worst performers.
They have the power to levy big penalties but stress that fines don't create water in the fourth year of drought.
"Our first goal is to sit down and say what's up. We'll save the really big fines for the most egregious cases," Marcus said.
Gov. Jerry Brown ordered a 25 percent statewide reduction in urban water use compared to 2013, giving communities nine months to hit assigned conservation targets between 4 and 36 percent.
Some that are falling short welcomed the state's help and said it won't have to pry the hoses out of their cold, wet hands.
"We're doing the best we can. I'm not sure what else we can do," said Hanford Public Works Director Lou Camara, whose city fell 18 percentage points short of its 28 percent savings goal.
Hanford, a Central Valley community of 57,000 people, limits lawn watering to twice a week, as the state recommends, and has issued dozens of penalties for water waste. Trees at parks and schools have died because of reduced watering. A newly hired water officer begins night patrols next week.
Max Gomberg, a scientist with the water board, said the state reviews will assess the extent of water use restrictions, budgets for conservation programs, grass removal rebates, and the number of water waste inspectors.
Before issuing fines, the board may order communities to conduct an audit of water delivery systems for leaks, place additional limits on watering lawns, or take other measures.
The 16 agencies that could face state-mandated conservation measures serve 1 million Californians. The agencies doing well, including San Jose, San Diego and San Francisco, serve 27 million.
Summer is the peak water use season, but some communities want more time to test new conservation measures.
The Coachella Valley Water District, serving wealthy desert communities, imposed drought penalties on water bills in July to dissuade high consumption. It says its customers have ripped out nearly 3 million square feet of grass to make way for drought-tolerant landscaping.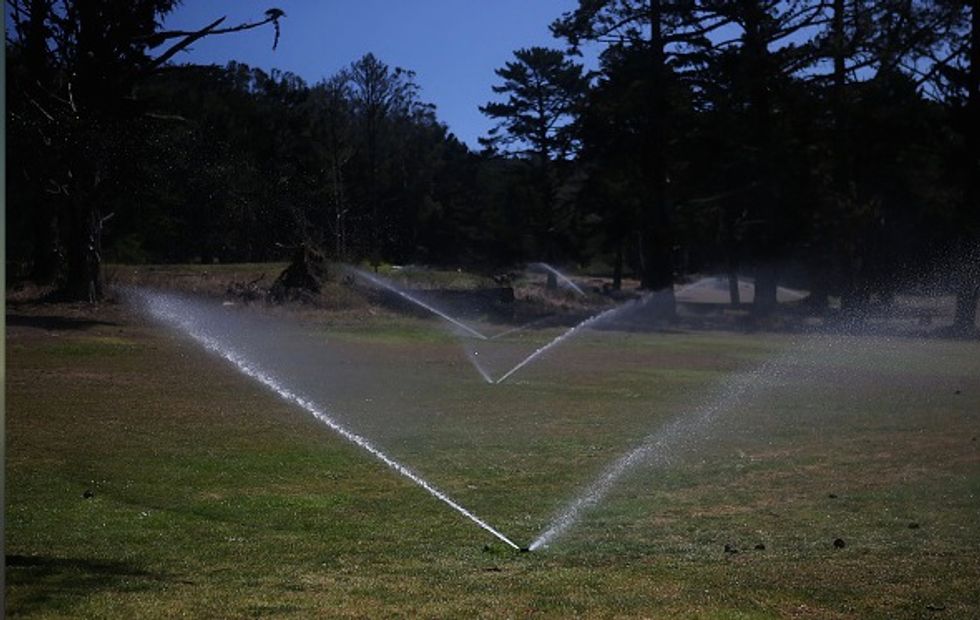 Sprinklers water grass on a fairway at a golf course on July 27, 2015 in San Francisco, California. As California pushes through its fourth year of severe drought, golf courses across the state are struggling to keep their fairways and greens watered. A statewide mandatory 25 percent reduction in water use has given some of the California's golf courses no choice than to stop watering areas of their courses that don't see as much use as others. Areas in front of tee boxes and sections of fairways are being watered less and left to turn brown. (Justin Sullivan/Getty Images)
Meanwhile, California's separate effort to reduce the number of farmers diverting water from rivers and streams for crops is facing court challenges.
A Sacramento County judge indicated at a Thursday hearing that she would side with the state's new approach to warning of insufficient supplies after she ruled that earlier notices violated farmers' rights.