A Minnesota mother was arrested after police say she drove away, intoxicated, with her eight-year-old child clinging to the car.
A teen neighbor said Rena Mae Giancherio, 46, drove away from her house Monday at around 3:30 p.m. while her daughter hung on to the outside of the vehicle, apparently in an attempt to stop her from driving drunk.
"I went over to check on her and her knees are all cut up, she's on the curb just crying, and the mom is already gone, just drove off, she didn't stop or look down," Terry Heller told KARE-TV.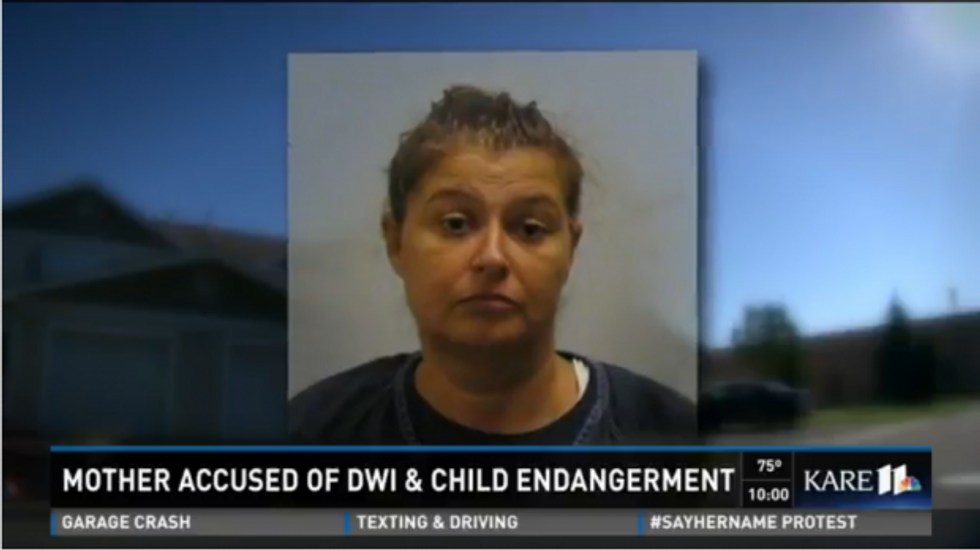 Image source: KARE-TV
Police officers said the girl told them she was trying to get inside of the car, but Giancherio had locked the doors.
When police caught up with Giancherio, she had a blood alcohol content that was nearly four times the legal limit. She also initially denied that her daughter fell from the vehicle, police said.
Police said they could smell a strong odor of alcohol emitting from Giancherio, who had bloodshot, red and watery eyes. She also allegedly didn't know what time of day it was and didn't make sense when she spoke.
"I was super shocked and I was not only surprised that she drove but drove with her kid hanging onto the truck with all these other kids in the neighborhood, this is a family oriented neighborhood, so there are lots of kids. She could have endangered any one of their lives, not just her own daughter's," Heller's mother, who called 911, told KARE. "Hopefully she gets the help she needs and can be a better parent out of this."
Giancherio was charged with criminal vehicular operation, child endangerment and third-degree DWI. KARE reported that she did post bail and was at her residence Friday evening but declined to speak with reporters.