A Marine veteran, with a purple heart decal on his vehicle, found a surprising note tucked under his windshield wiper as he was out doing some grocery shopping.
"I see you have a Purple Heart sticker and Iraq veteran sticker," the handwritten note read. "It's too bad that you were only wounded, the world would be better if you were killed. All of you Islamaphobes vets deserve to die!"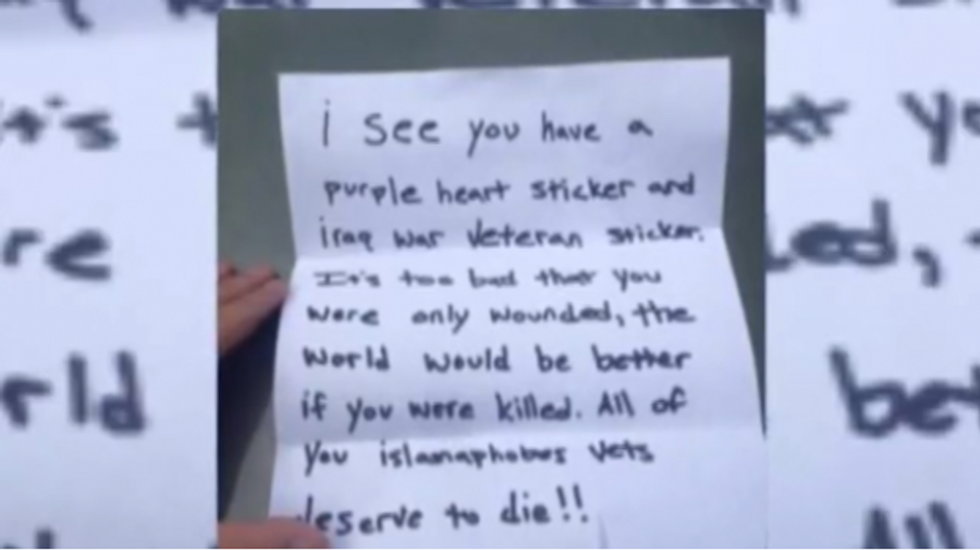 Image source: WTEN-TV
Police told WTEN-TV that they've seen notes like this one pop up all across the state. And while it is illegal to put notes underneath someone's windshield, Lt. Steven Stockdale from the Warren County Sheriff's Office said his biggest concern is that someone thought it would be okay to write such a message.
"Communication these days has gotten very easy for people who want to stay anonymous," he told WTEN. "And it takes a lot more courage to strap on an 80 pound pack and go to the Middle East and fight for your country than it does to scribble on a note and leave it cowardly behind on somebody's windshield."
According to the Washington Free Beacon, the veteran did not wish to speak to reporters, but did admit that he dismissed the note and laughed it off.
However, others in Queensbury, New York spoke out to condemn it.
"Makes me sick to my stomach," Navy veteran Robert LaPrairie told WTEN. "To me, it's an act of terrorism really."
"It's just shocking," Ann Lanoir said. "It's just ignorant. That's the way I feel. I feel like some punk wrote it."
Stockdale said when he sees notes such as this one, he immediately assesses if there's any possible criminality.