A Kentucky sheriff has made a bold move in the renovations he's giving his department's fleet of police cars.
On the back bottom bumper of the cruisers, in all capital letters, reads a message: "IN GOD WE TRUST."
"You can't trust the stock market, you can't trust banks, you can't trust Washington, but you can trust God, you can always trust God," Sheriff Keith Cooper told WSAZ-TV.
Cooper is standing firm in his decision to adorn the back of the police cruisers with that message of faith, despite the protests of some — seemingly only from outside of the Greenup County community — who say that he is violating the separation of church and state.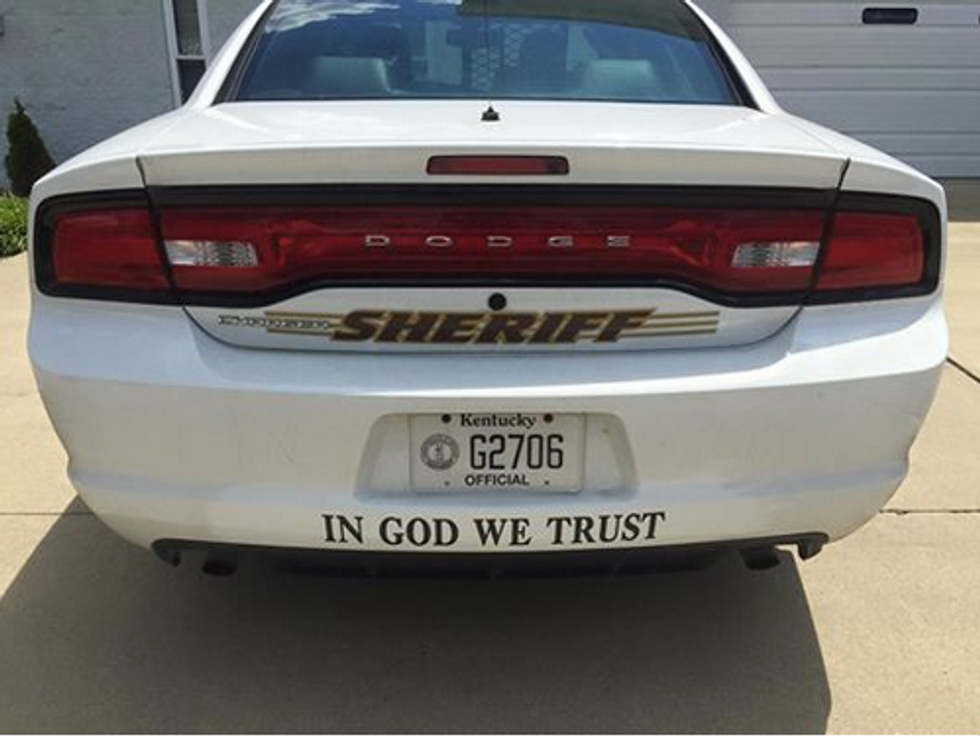 Image via Greenup Co. Sheriff's Office/Facebook
"About all I can say to them is good luck on judgment day," Cooper said.
When WSAZ-TV asked what he would do if someone told him to take the message off, he said he'd tell them that they could "kiss [his] ass."
But the news station reported that they could not find a single person on the street in the county who opposed Cooper's decision, and evidence from the Greenup County Sheriff's Department's Facebook page supports that. The majority of the comments on a photo of a cruiser with the motto is overwhelmingly in support of the message.
"I am a new resident to Greenup County and am glad to see the Sheriff taking this stand," Gary Stoddard wrote on the page. "For those offended by 'IN GOD WE TRUST' it is on our money as well so if you believe this strongly you might want to stop using it."
"So proud of all our law enforcement people and especially Sheriff Cooper and his deputies," Mary Bentley wrote.
Cooper told WSAZ-TV that he hopes other police departments will follow suit and begin to outfit their cars with the same message of faith even though he's seen some of the backlash other forces have faced when they did do so. In July, a Missouri police department announced its decision to outfit its vehicles with the same words. The Stone County Sheriff's Office also incorporates a Bible verse on its website.
"I would've done it before, but I never realized that was something that we could do," Cooper said.
About 20 cars will be outfitted with the message, costing approximately $160. Cooper said that money will come from drug forfeitures, not taxpayer dollars. While some cars already have the message, not all yet do.
Set to retire in three years, Cooper says the message will remain for at least that long.
---