Malaysia's transport minister said Thursday a Malaysian team at the French territory of Reunion Island collected other plane debris including a window and some aluminum foil.
While Liow Tiong Lai said he could not confirm they belong to Malaysian Airlines Flight 370, which went missing on March 8, 2014 with 239 people on board, he said he "only ascertain that it's plane debris." The debris has been sent to French authorities conducting analysis.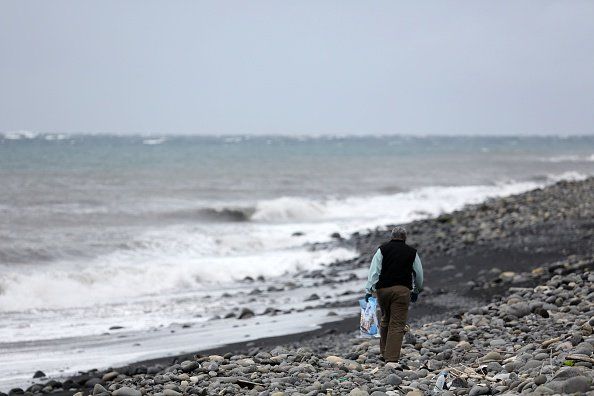 A Malaysian expert looks for debris from the ill-fated Malaysia Airlines flight MH370 on a beach in Saint-Andre de la Reunion, on the French Reunion Island in the Indian Ocean, on August 4, 2015. (RICHARD BOUHET/AFP/Getty Images)
On the other hand, Prime Minister Najib Razak said Wednesday a wing fragment found on the same beach just last week was "conclusively confirmed" by a team of experts to be from the missing aircraft.
Family members of people on the aircraft expressed frustration as they felt the prime minster's statement contradicted the message from authorities in France, the U.S. and Australia, who have stopped short of full confirmation.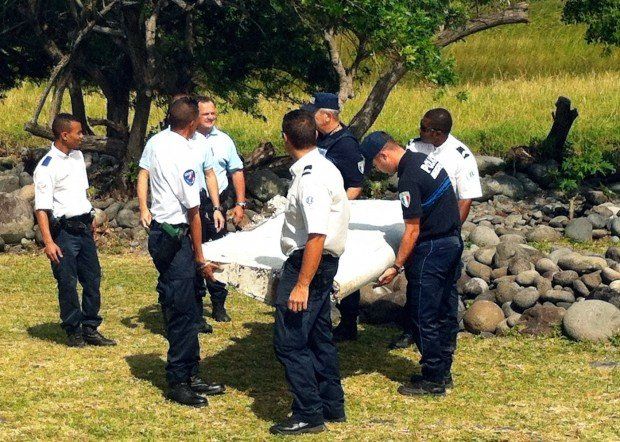 Police carry a piece of debris from an unidentified aircraft found in the coastal area of Saint-Andre de la Reunion, in the east of the French Indian Ocean island of La Reunion, on July 29, 2015. (YANNICK PITOU/AFP/Getty Images)
The conflicting comments raised questions about why Malaysia had seemingly gone rogue with its announcement and infuriated many families of those on board the plane, who have waited more than 500 days for concrete clues into the fates of their loved ones. Dai Shuqin, the sister of one of the passengers, was among about a dozen Chinese relatives who held a demonstration outside Malaysia Airlines' offices in Beijing.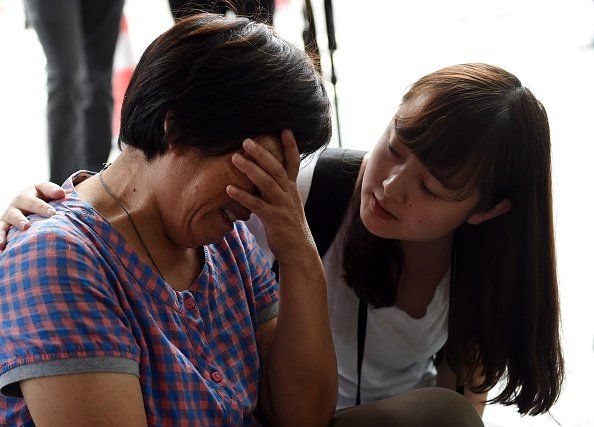 A relative of a passenger on missing Malaysia Airlines MH370, is consoled by a journalist outside the Malaysia Airlines' office in Beijing on August 6, 2015. Chinese relatives of passengers aboard missing flight MH370 expressed anger and disbelief on August 6 after Malaysia's prime minister said wreckage found on a French Indian Ocean island was from the plane. (GREG BAKER/AFP/Getty Images)
"France is being cautious about it, but Malaysia is desperate to put an end to this case and run away from all responsibilities," she said.
At a news conference in Paris, Deputy Prosecutor Serge Mackowiak declined to confirm that the debris belonged to Flight 370, though he said there were strong indications that it did.
"The very strong conjectures are to be confirmed by complementary analysis that will begin tomorrow morning," Mackowiak said. "The experts are conducting their work as fast as they can in order to give complete and reliable information as quickly as possible."
Liow reiterated Najib's comments and said differences with other countries amounted to "a choice of words."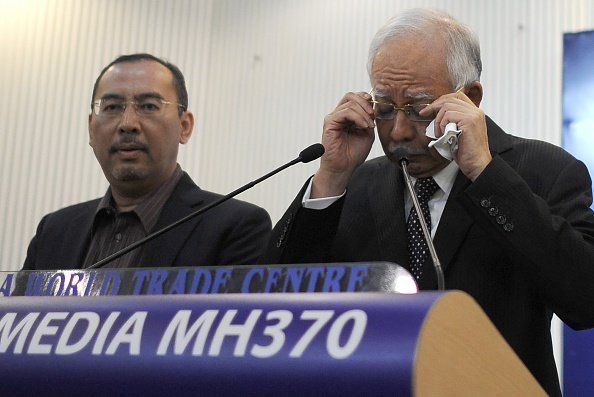 This picture taken early on August 6, 2015 shows Malaysias Prime Minister Najib Razak (R) adjusting his glasses before delivering a statement during a press conference on the missing Malaysia Airlines flight MH370, days after the discovery of a washed-up plane part at Saint-Andre, French Indian Ocean island of La Reunion, in Kuala Lumpur. Debris found on a remote island a week ago is from flight MH370, Malaysia's prime minister said August 6, confirming that the plane which mysteriously disappeared 17 months ago met a tragic end in the Indian Ocean. (MOHD RASFAN/AFP/Getty Images)
"They want to continue with additional tests. We respect their decision," Liow said of the French. "From our first observation, the color tone and all maintenance records that we have, we know. Our records show that it's the same as MH370."
He said there are "many other technical details that I do not have to reveal" but that confirm the part is from Flight 370.
Watch the reaction from some family members at the news:
U.S. Secretary of State John Kerry, who is in Malaysia for meetings with Southeast Asian counterparts, issued comments on the latest information about the mysterious plane disappearance as well.
He said the U.S. hopes that the debris that was discovered on Reunion Island — if it is found to be conclusively from the aircraft — will help to bring some sense of closure.
He said perhaps even more reliable information that can be tracked from the sea currents may narrow the area of search.
He also commended the French authorities and other international experts for their diligence in the analysis of the wing as well as in the ongoing search.
—
The Associated Press contributed to this report.