Appearing on "The O'Reilly Factor" Monday night, Ann Coulter said the key to Donald Trump's buzz is one topic: immigration.
"The voters keep saying, 'We don't want any more immigration,'" Coulter said on Fox News. "That's why Trump is so popular. So pick it up, Republicans."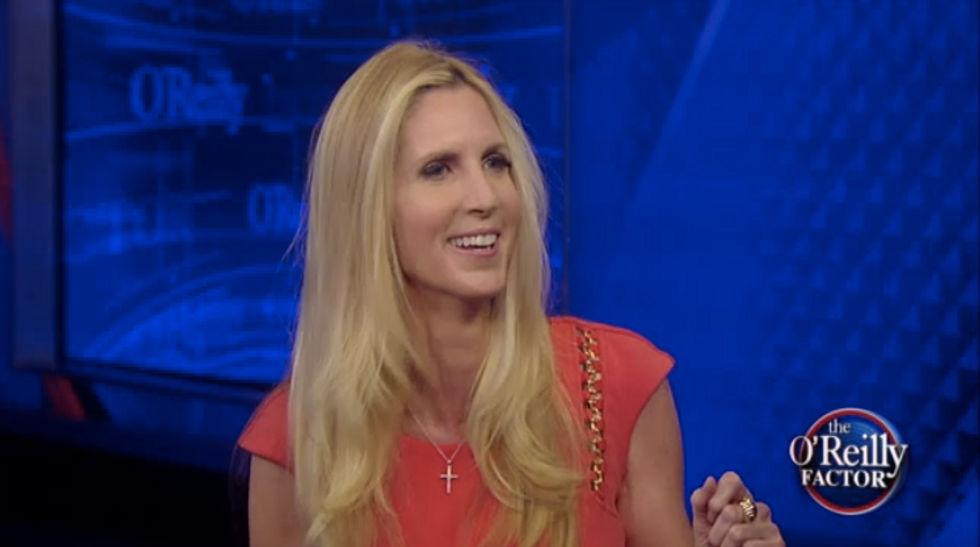 Image source: Fox News
"This is a Republican Party being run for the business interests in America, not for the people," she continued. "This is why people are voting for Trump, and it doesn't matter what he says."
Coulter said that to fix two other key issues — the economy and national security — the country needs to "stop dumping 30 million poverty-stricken people on America" and went on to say that immigrants, both legal and illegal, are taking away low-wage jobs from Americans, especially black teenagers.
As for national security, Coulter pointed to the shooting in Chattanooga and the Boston Marathon bombing and said the country needs to stop allowing terrorists to immigrate to the U.S. and becoming citizens.
As Trump's popularity continues to remain steady — the latest NBC poll still has him ahead of the pack — Coulter said he's "more than an island" and that the "polls are meaningful here."
"This is incredible what Donald Trump is doing. He has an army behind him and the fact that he's not controlled by the Chamber of Commerce, I think most people are thinking as an advantage, not as a disadvantage," she said
Coulter also slammed Kentucky Sen. Rand Paul's stance on illegal immigration — especially his referring to illegal immigrants as "undocumented citizens" — and accused him of "selling out the base."