On the heels of a New York Times report on members of the Islamic State claiming the Koran supports their rape of captured women and girls from Iraq and Syria, CNN host Chris Cuomo spoke Friday to Dr. Qanta Ahmed, author of "In the Land of Invisible Women," about the issue.
"This feeds the impression that these Muslims are animals, savages, and their faith makes them that way," Cuomo said. "And it feeds an impression of what Islam is. What is your response to that?"
"This is Islamism at work ... Islamism is totalitarianism," Ahmed replied sharply.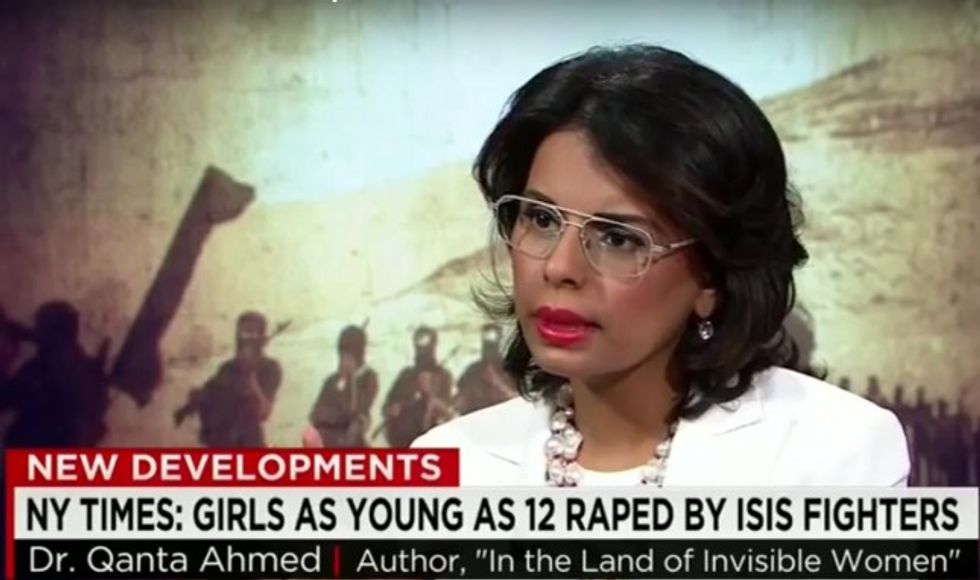 Image source: CNN/YouTube
"Sometimes that's hard to understand," she continued. "Totalitarianism means absolute domination of the self. These Islamists are dominating to extinction girls and women. It's very calculated. Number one, it destroys the individual ... An entire people is being emasculated. They're being separated from their men. And women and girls are lost forever. Sixty percent of Yazidis are abducted and remain in disappearance."
Cuomo then replied that Ahmed's response helped to "shine a light" on why the Islamic State "needs to be stopped."
Watch the segment via CNN below:
Here's an excerpt from the New York Times piece:
Claiming the Quran's support, the Islamic State codifies sex slavery in conquered regions of Iraq and Syria and uses the practice as a recruiting tool.

In the moments before he raped the 12-year-old girl, the Islamic State fighter took the time to explain that what he was about to do was not a sin. Because the preteen girl practiced a religion other than Islam, the Quran not only gave him the right to rape her — it condoned and encouraged it, he insisted.

He bound her hands and gagged her. Then he knelt beside the bed and prostrated himself in prayer before getting on top of her.

When it was over, he knelt to pray again, bookending the rape with acts of religious devotion.
Read the full story here.
—
Follow Dave Urbanski (@DaveVUrbanski) on Twitter