CHICAGO (TheBlaze/AP) — A U.S. Army parachutist died Sunday after suffering severe injuries from an accident during a stunt at the Chicago Air & Water Show, the Cook County medical examiner's office said.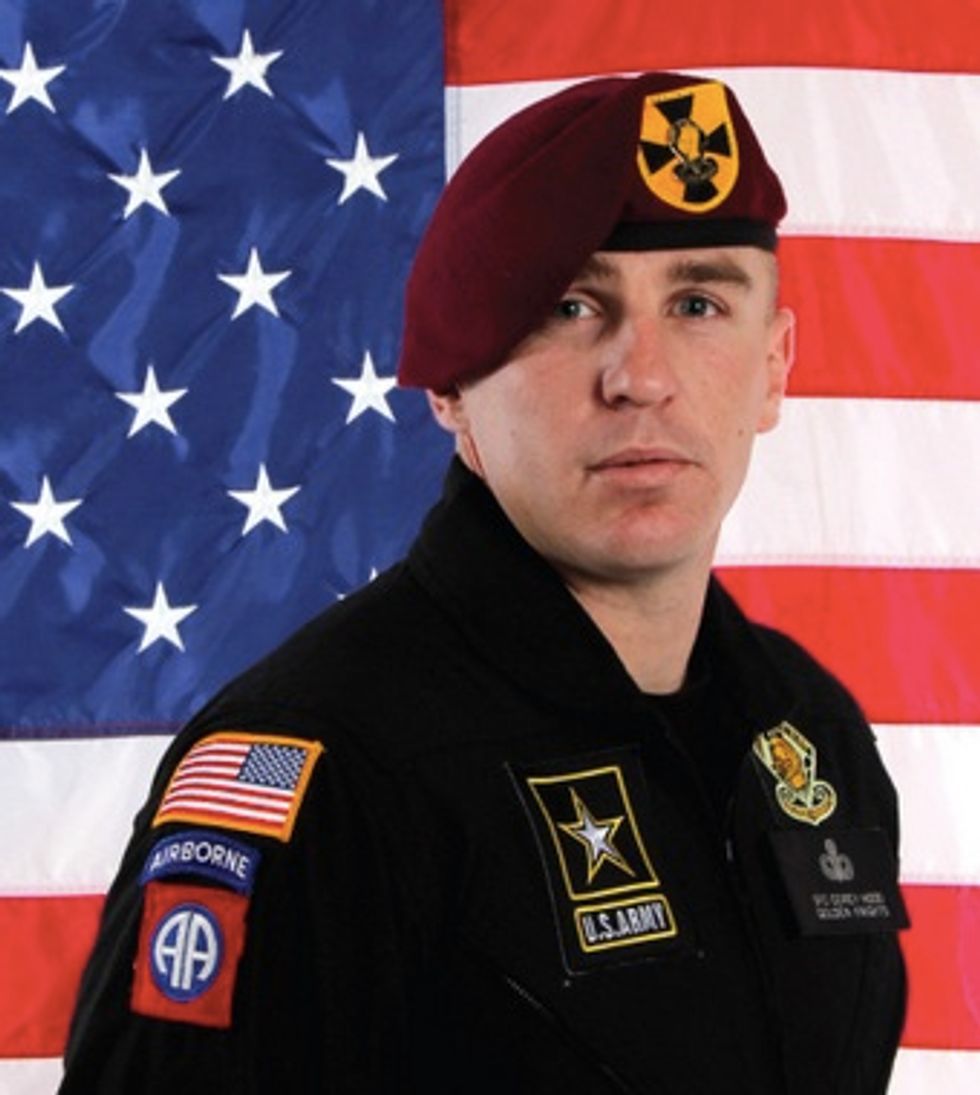 Sgt. First Class Corey Hood (Image source: U.S. Army)
Corey Hood, 32, was pronounced dead just after 4 p.m. Sunday at Northwestern Memorial Hospital in Chicago, said Mario Johnson, a medical examiner's investigator.
The Army Golden Knights and Navy Leap Frogs parachute teams were performing what is known as a "bomb burst" Saturday when the collision occurred, a Golden Knights spokeswoman Donna Dixon said Saturday. During the stunt, parachutists fall with red smoke trailing from packs and then separate, creating a colorful visual in the sky.
Dixon didn't return a message seeking comment Sunday afternoon.
Hood was a sergeant first class who served five tours of duty in Iraq and Afghanistan during his 10 years in the Army, according to his bio. He also received two Bronze Stars and two Meritorious Service Medals and recorded more than 500 freefall jumps since 2010. He hailed from Cincinnati, Ohio.
Spectator Heather Mendenhall told the Chicago Tribune Saturday that she was watching the show from a rooftop and saw one of the parachutists strike the roof of a high-rise building next door with his feet and then fall — his parachute trailing behind him.
"His legs caught the tip of the roof, and then he fell over. It was horrible," she told the newspaper. She said he looked unconscious as he hit the roof.
The other parachutist was found on North Avenue Beach, near the main viewing area for the show, Fire Department spokesman Juan Hernandez said Saturday. Dixon added on Saturday that the man is a member of the Navy Leap Frogs, and that he broke his leg and was expected to be released.
The annual two-day air show draws millions of people to Chicago's Lake Michigan shoreline. Headliners include the U.S. Navy Blue Angels.
Members of the Navy team are active-duty personnel drawn from forces including the Navy SEALs. Specialists such as the Army and Navy jumpers can reach speeds of up to 180 mph during freefall by pulling their arms to their sides. They typically open their parachutes at around 5,000 feet, joining their canopies together in formation and setting off smoke grenades to send red smoke trailing behind them.
The following report aired before Hood died:
—
Follow Dave Urbanski (@DaveVUrbanski) on Twitter