Glenn Beck asked Republican presidential candidate Marco Rubio point-blank on Monday, "Do you regret being part of the Gang of Eight?"
The Florida senator worked with the bipartisan group to pass comprehensive immigration reform in 2013, but many conservatives, including Beck, objected to the legislation because it granted legalization to millions of illegals before securing the border.
At the time, Beck went so far as to call Rubio a "dirtbag" who is "not on our side," telling listeners he doesn't trust Rubio "for a second." He also tore into Rubio's tax plan earlier this year, calling it an "absolute jobs killer."
But Rubio stood by his actions while speaking on Beck's radio program, saying he wouldn't use the word "regret" in describing his participation in the Gang of Eight.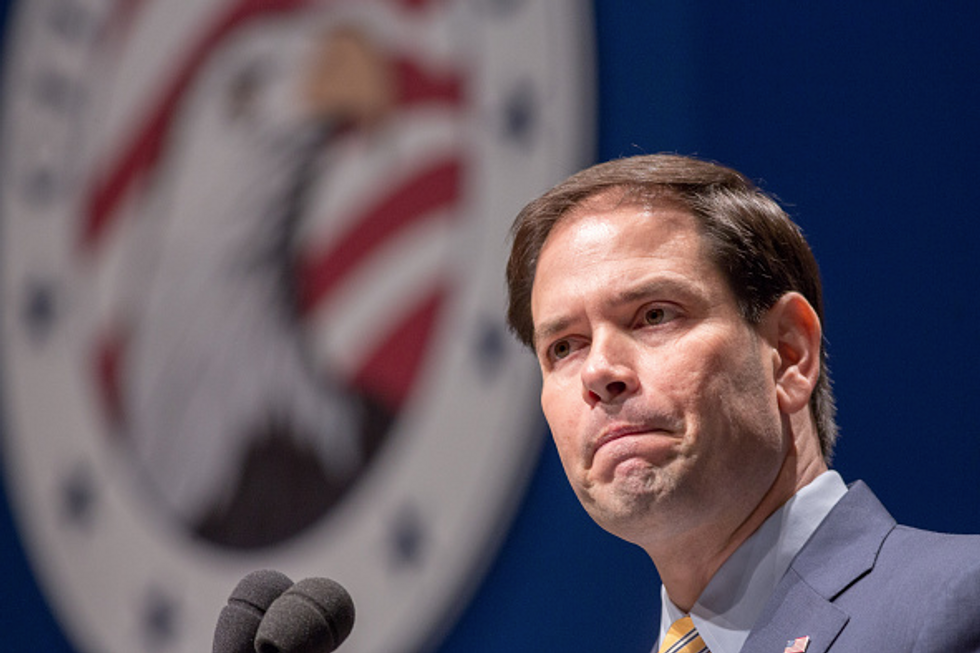 GREENVILLE, SC - MAY 09: Republican Presidential candidate U.S. Sen. Marco Rubio (R-FL) speaks during the Freedom Summit on May 9, 2015 in Greenville, South Carolina. Rubio joined eleven other potential candidates in addressing the event hosted by conservative group Citizens United. (Photo by Richard)
"I would say that we learned lessons about reality of where we stand as a country on that issue," Rubio said. "We're not going to make any progress as long as Barack Obama is president. We're not going to solve immigration. And we're not going to be able to do it in one massive piece of legislation. And the reason being is, people just don't trust the government will ever do even what the law says. You can pass a law that promises to build a fence. People will say, 'They'll never build it.'"
Beck noted that America has passed that law, and the wall hasn't been built.
"Not only have they passed the law, but then they don't fund it," Rubio said. "The lesson I took from all that is, you're going to have to do it. You can't pass a law that says it will do it. You're going to have to do it. And once people see that you've done it and illegal immigration is under control, then I think they'll be willing to talk about what we do next."
"Whether people like it or not, that is the way it is," Rubio concluded. "And anyone who doesn't accept it is simply deluding themselves or they're lying."
The full episode of The Glenn Beck Program, along with many other live-streaming shows and thousands of hours of on-demand content, is available on just about any digital device. Click here to watch every Glenn Beck episode from the past 30 days for just $1!