An innovative robot-company owned by Google recently revealed some of the impressive updates to one of its futuristic humanoid robots.
Boston Dynamics, which is the same company behind the cheetah robot that can run and jump over obstacles, revealed in a recent video how its bipedal robot Atlas could go for a run in the woods, a pretty complicated task considering the rough terrain it had to navigate and balance upon.
"Our focus is on balance and dynamics and working a little bit the way people and animals do where you move quickly in order to keep yourself stabilized," Boston Dynamics Founder Marc Raiber said in the video.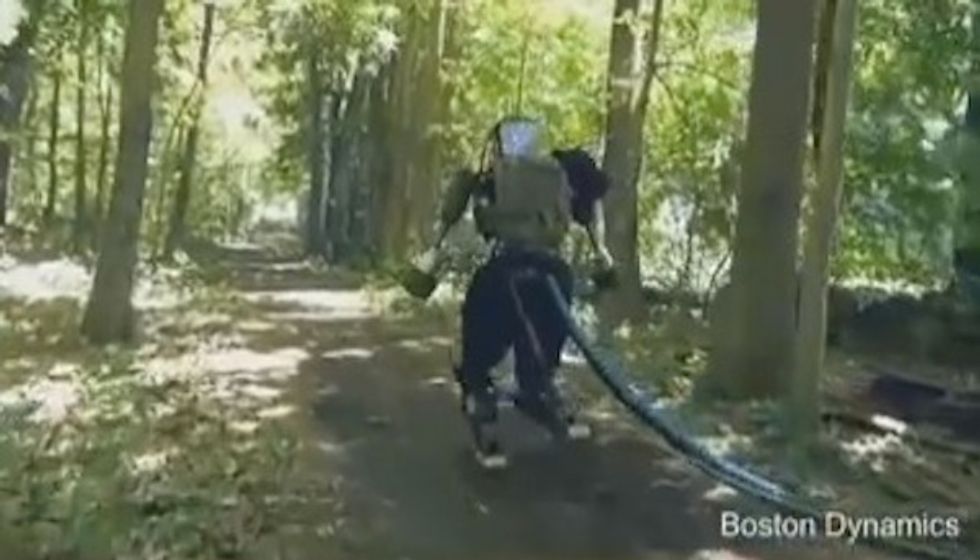 Atlas, a humanoid robot by Boston Dynamics, which is owned by Google, goes for a walk and a run in the woods. (Image source: YouTube)
"We're interested in getting this robot out in the world," Raiber continued during a presentation for MIT's Fab Foundation. "Out in the world is just a totally different challenge than in the lab. You can't predict what it's going to be like."
Raiber said Atlas has "mobility that's within shooting range of yours," as a video of it picking through bushes and jogging on a woodland trail played next to him.
"I'm not saying it can do everything that you can do but you can imagine that if we keep pushing, we'll get there," he said.
Watch the video:
According to Boston Dynamics' website, Atlas has "28 hydraulically-actuated degrees of freedom, two hands, arms, legs, feet and a torso." Its head features "stereo cameras and a laser range finder." Currently, Atlas is tethered to an electric power supply, but Raiber revealed that they're working on equipping Atlas with an untethered power source.
Boston Dynamics stated on its website that it provided copies of Atlas to the DARPA, the military's research arm, for its 2013 robotics challenge.
In the past, we've also seen how the company's PETMAN robot, another humaniod, can do pushups.
Google acquired Boston Dynamics in 2013.
(H/T: Gizmodo)