UPDATE 12:58 p.m. ET:
–
INDIANAPOLIS (TheBlaze/AP) Federal prosecutors say longtime Subway pitchman Jared Fogle has agreed to plead guilty to engaging in sex acts with minors and receiving child pornography.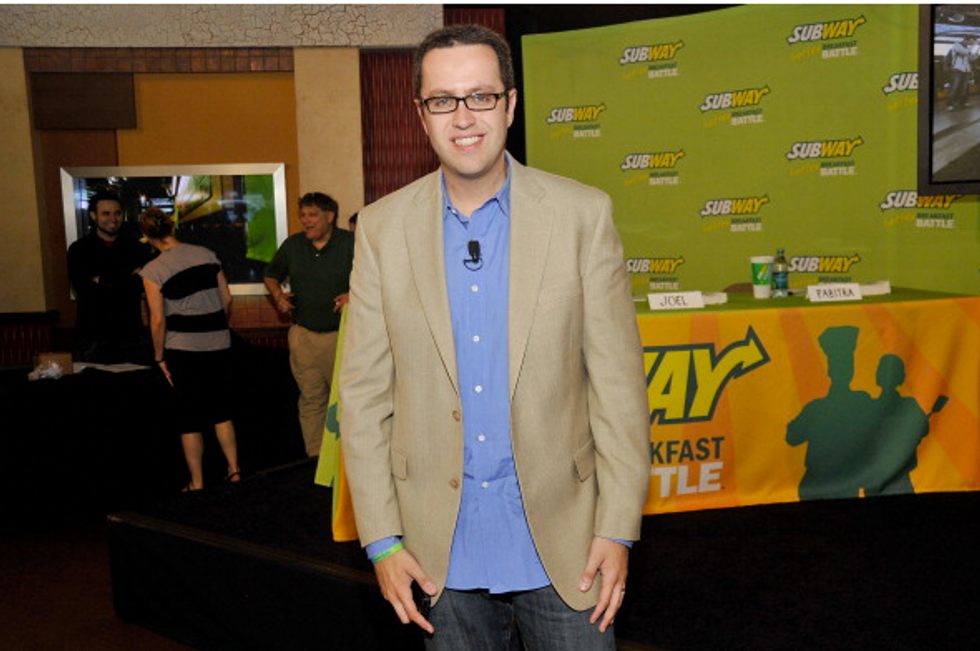 Jared Fogle attends the Better Breakfast Battle at Times Square Studios on May 26, 2011 in New York City. (Photo by Ben Gabbe/Getty Images)
Documents released Wednesday by the U.S. attorney's office in Indianapolis say the 37-year-old will plead guilty to one count of travel to engage in illicit sexual conduct with a minor and one count of distribution and receipt of child pornography.
The agreement filed by prosecutors ahead of an expected court appearance by Fogle says he agrees to: pay $1.4 million in restitution to 14 minor victims, each receiving $100,000, register as a sex offender and undergo treatment for sexual disorders.
It says the government will not recommend a sentence of more than 12½ in prison, while Fogle will not ask for a sentence of less than five years in prison.
Fogle attorney Ron Elberger says he has no comment "at this time."
Subway issued a tweet Tuesday in which it reminded customers that it no longer has a relationship with Fogle. The sandwich chain offered no further comment.
Documents said Russell Taylor, the former director of Fogle's Jared Foundation, recorded minors without their knowledge. He then stored videos and images on his computer and other devices. Multiple hidden cameras recorded the footage, which court documents described as sexually explicit. Court documents said Fogle knew about Taylor's activities regarding the nude videos. He "made comments approving of this activity" and "discussed some of the minors" by name.

"The defendant chose to benefit from production of the nude videos by obtaining access to a significant amount of such material," court documents said. Prosecutors noted that Fogle didn't access all of Taylor's material and noted that if Fogle had reported the activity to authorities, later explicit material would not have been produced.

Court documents also detail alleged sexual encounters involving Fogle and minors. The activity began in 2007 and continued through June 23, 2015, prosecutors said. Fogle "repeatedly engaged in Internet social networking and traveled for the purpose of engaging in commercial sexual activity."
Read the full court document below:
united-states-of-america-vs-jared-fogle.pdf
A news conference is scheduled for Wednesday afternoon.
Federal investigators raided Fogle's Indiana home last month in connection with the case. Taylor, the former director of Fogle's Jared Foundation charity, was arrested on child pornography charges two months before.
Shortly after Taylor's arrest, Fogle said he was "shocked to learn of the disturbing allegations against Mr. Taylor. Effective immediately, the Jared Foundation is severing all ties with Mr. Taylor."
Fogle's wife, Katie Fogle, said in a statement issued Tuesday that she is "extremely shocked and disappointed" by the recent revelations, adding that she plans to divorce.
This is a developing story. Check back for updates.