As the two Republican presidential contenders both held simultaneous town halls less than 20 miles apart, former Florida Gov. Jeb Bush slammed Donald Trump as a candidate who isn't conservative enough to lead Republicans.
Speaking to a crowd small in size compared to that of Trump's gathering down the road, Bush criticized the real estate tycoon's controversial immigration plan as costing too much money to be considered a conservative policy. Trump's plan would cost around $166 billion, experts speculate.
"But when people look at [Trump's] record, it is not a conservative record. Even on immigration ... the language is pretty vitriolic, for sure, but hundreds of billions of dollars of cost to implement his plans is not a conservative plan," Bush said Wednesday.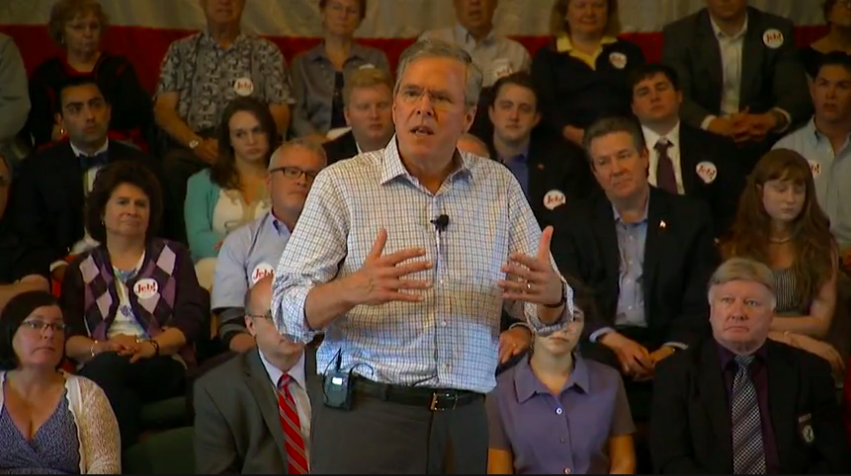 Former Florida Gov. Jeb Bush addresses voters at New Hampshire town hall. (Image source: NBC News)
Bush said that Trump had "talent" with how he's won over the people who are angry, especially at politicians in Washington, D.C.
"Mr. Trump doesn't have a proven conservative record," Bush said. "He was a Democrat longer in the last decade than he was a Republican. He's given more money to Democrats than he's given to Republicans.
Calling it like I see it. @realDonaldTrump is a tax-hiking democrat. https://t.co/mHPByLJagL

— Jeb Bush (@JebBush) August 20, 2015
Roughly 20 miles away at his own town hall — which according to the Washington Post, wasn't even scheduled until after Bush had announced his event — Trump also poked at his Republican competitor. When a man in the crowd jokingly asked if Bush was "sinking to the bottom" of a lake by now, Trump humorously responded with, "these are my people."
"Jeb Bush is a low-energy person," Trump said during a press conference prior to his town hall in Derry, New Hampshire. "For him to get things done is hard."
"Between Common Core, his 'act of love' on immigration and 'skin in the game' with Iraq … I don't see how he's electable. And then on top of that he talks about women's health issues," Trump said.
Wednesday evening was Trump's first town hall as a presidential candidate, which the Washington Post said Trump was "winning" his face-off with Bush. 
"I never saw a town hall with 2,500 people sitting in a theater, but we're going to call it a town hall," Trump said.
The Washington Post said around 150 people turned out for Bush's town hall.
New Public Policy Polling data released Wednesday showed Trump gaining traction among voters, pulling ahead of the rest of the Republican base and gaining ground on Democratic presidential candidate Hillary Clinton in North Carolina.