The infamous underpass in Westwood, Massachusetts, has claimed another victim. This time, an empty truck from a produce company was ripped to shreds trying to squeeze under the 10-foot, 6-inch opening.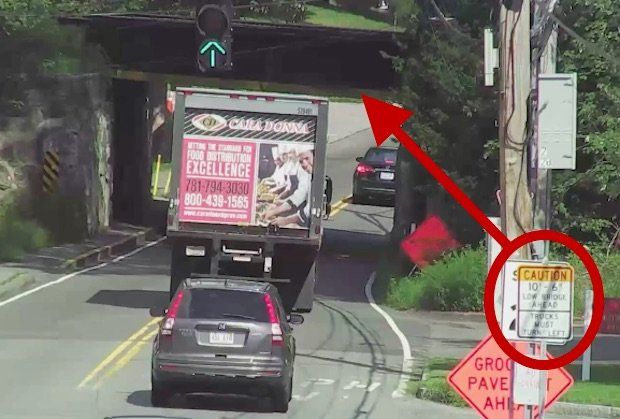 Image source: YouTube
The Massachusetts Bay Transportation Authority owns the bridge and says that, besides posting numerous warning signs, it really can't do much about the situation.
The overpass is notorious. According to one local area news report, 15 similar accidents happened at the same bridge is 2014. One of those wrecks destroyed a truck carrying $100,000 worth of lobster.
Speaking to WCVB-TV, local resident Scott Charlene said the drivers of the trucks all have something in common: "They always get out of their trucks with this bewildered look like, 'What just happened?'"
Watch the latest dramatic collision (happens at the 1:15 mark):
—
Follow Mike Opelka (@Stuntbrain) on Twitter