Traffic congestion nationally reached a new peak last year and is greater than ever before, according to a report by the Texas A&M Transportation Institute and INRIX Inc. Their analysis is based on federal data on the number of cars on the road and on traffic speed data collected by INRIX on 1.3 million miles of urban streets and highways.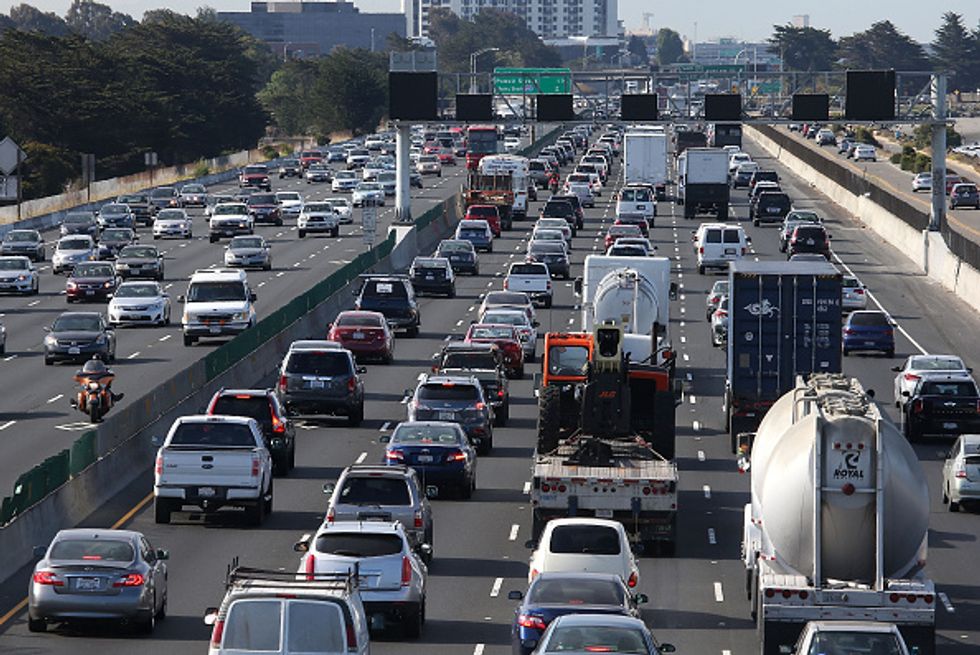 Traffic makes its way along Interstate 80 on July 1, 2015 in Berkeley, California. AAA is projecting that nearly 42 million Americans will travel 50 miles or more over the Fourth of July weekend, the largest number since 2007. (Photo by Justin Sullivan/Getty Images)
The following are urban areas ranked by the average annual extra hours commuters spend in their cars due to delay, together with the cost in lost time and fuel.
1. Washington, D.C.-Virginia-Maryland, 82 hours, $1,834
2. Los Angeles-Long Beach-Anaheim, 80 hours, $1,711
3. San Francisco-Oakland, 78 hours, $1,675
4. New York-Newark, New Jersey-Connecticut, 74 hours, $1,739
5. San Jose, California, 67 hours, $1,422
6. Boston-New Hampshire-Rhode Island, 64 hours, $1,388
7. Seattle, 63 hours, $1,491
8. Chicago-Indiana, 61 hours, $1,445
8. Houston, 61 hours, $1,490
10. Riverside-San Bernardino, California, 59 hours, $1,316
11. Dallas-Fort Worth-Arlington, 53 hours, $1,185
12. Atlanta, 52 hours,$1,130
12. Detroit, 52 hours, $1,183
12. Miami, 52 hours, $1,169
12. Austin, Texas, 52 hours, $1,159
12. Portland, Oregon, 52 hours, $1,273
17. Phoenix-Mesa, 51 hours, $1,201
18. Honolulu, 50 hours, $1,125
19. Bridgeport-Stamford, Connecticut, 49 hours, $1,174
19. Denver-Aurora, 49 hours, $1,101
19. Oklahoma City, 49 hours, $1,110
22. Philadelphia, 48 hours, $1,112
23. Baton Rouge, Louisiana, 47 hours, $1,262
23. Tucson, Arizona, 47 hours, $1,128
23. Baltimore, 47 hours, $1,115
23. Minneapolis-St. Paul, 47 hours, $1,035