© 2023 Blaze Media LLC. All rights reserved.
"We have fond memories of his last visit."
NEW ORLEANS (AP) -- Former President George W. Bush returned Friday to New Orleans - the scene of one of his presidency's lowest points - to tout the region's recovery from the nation's costliest natural disaster on the 10th anniversary of Hurricane Katrina.
He and Laura Bush visited the oldest public school in the city - Warren Easton Charter High School, which was closed for a year because of storm damage and then reopened as a charter school. Bush visited the same school on the storm's first anniversary, and the library foundation of his wife helped rebuild it.
The Bushes met with students and were greeted by New Orleans Mayor Mitch Landrieu and former Louisiana governor Kathleen Blanco, who fought hard to get federal aid during Katrina. Laura Bush wore a purple dress to honor the school's colors.
The school's success is a rare bright spot from what was an extremely trying time for Bush, who was vilified for his administration's lackluster response to the catastrophic storm.
Photo: Getty Images/Joe Raedle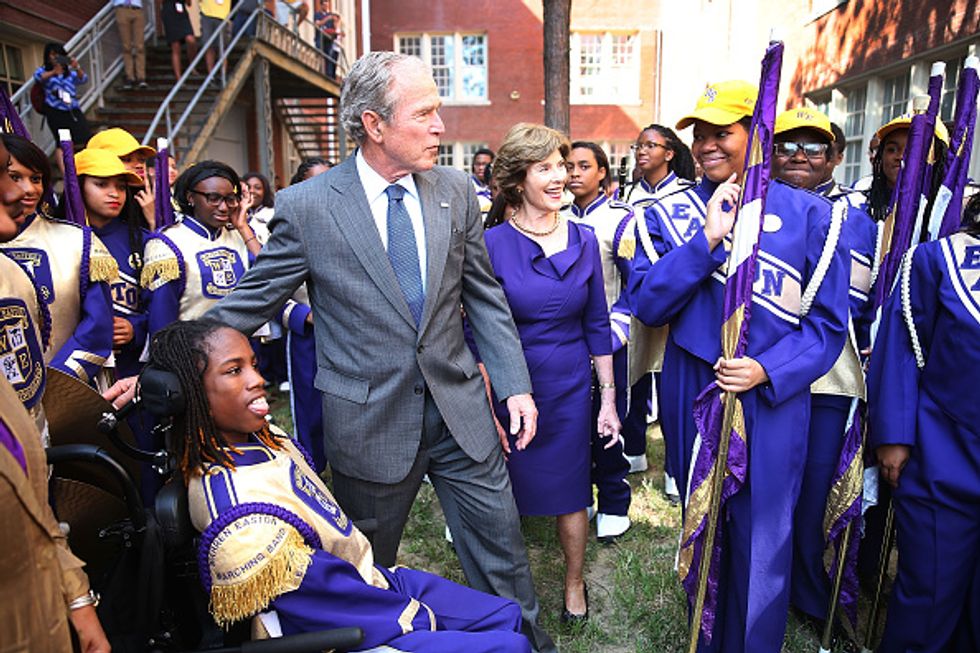 Photo: Getty Images/Joe Raedle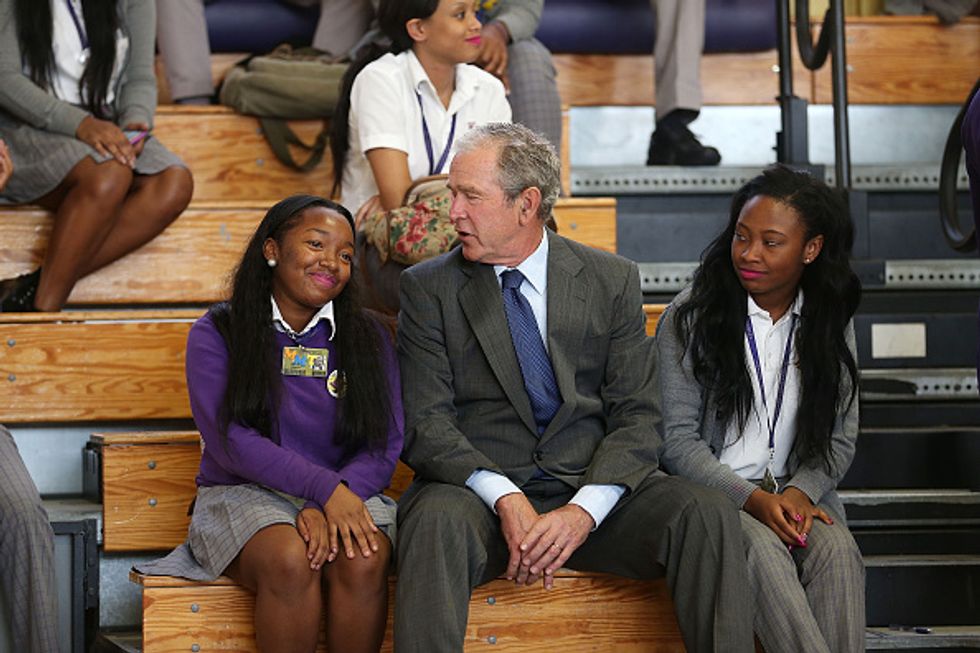 Photo: Getty Images/Joe Raedle
Photo: Getty Images/Joe Raedle
Photo: Getty Images/Joe Raedle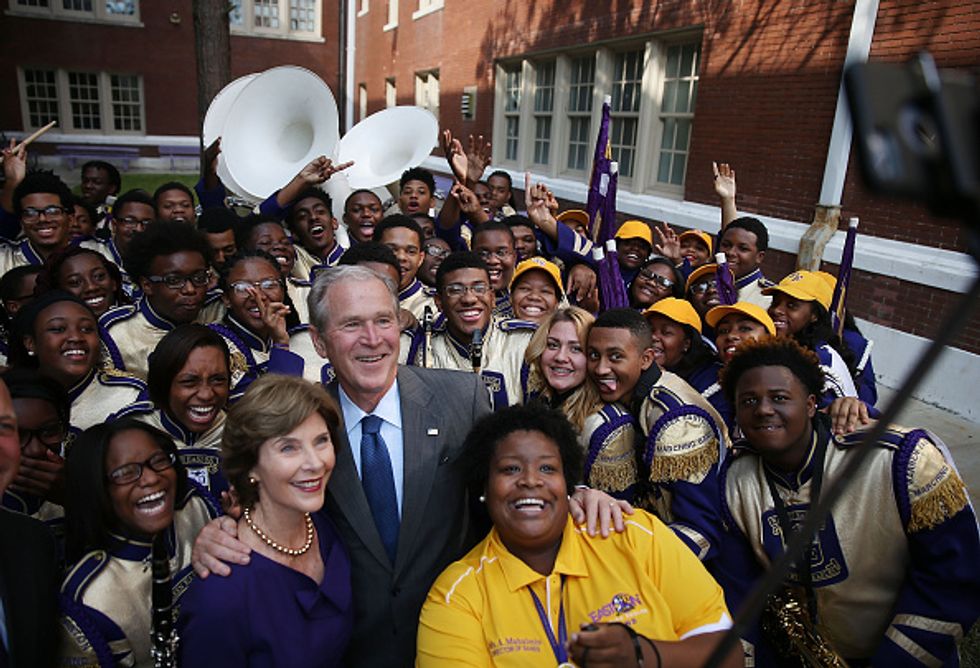 Photo: Getty Images/Joe Raedle
Photo: Getty Images/Joe Raedle
His record was marred by initially flying over New Orleans in Air Force One without touching down to show his support in the flooded city, to his "Heckuva job, Brownie" praise for his Federal Emergency Management Agency director, Michael Brown.
The monster storm set off a "confluence of blunders" that Bush's approval ratings never recovered from, said Douglas Brinkley, a presidential historian at Rice University and author of "The Great Deluge," a detailed account of the first days after Katrina. "That's when I think his presidency started on a downward trend."
Bush and his team were so deeply resented and mocked in New Orleans that Carnival paraders displayed him in effigy for years afterward.
At Warren Easton, at least, Bush could point to a success story.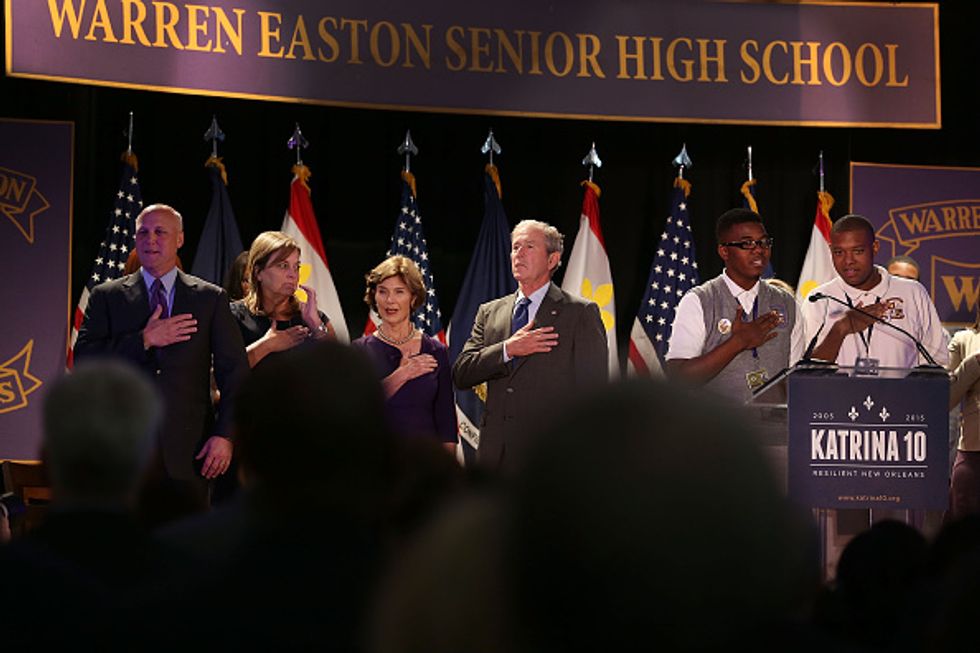 Photo: Getty Images/Joe Raedle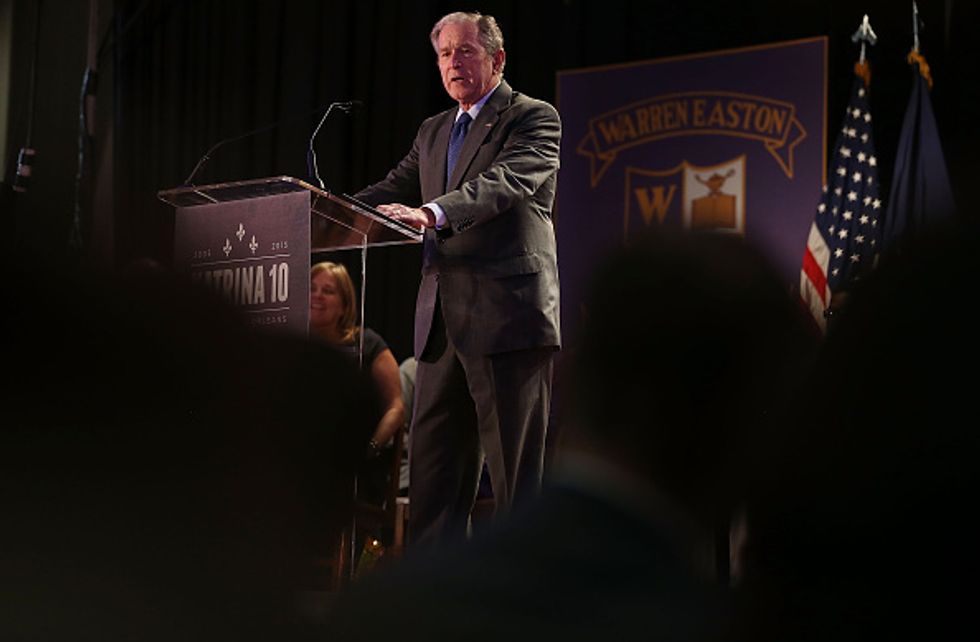 Photo: Getty Images/Joe Raedle
"We have fond memories of his last visit," said Arthur Hardy, a celebrity in New Orleans for his expertise in all things Mardi Gras and Carnival, the city's signature festivity. Hardy graduated from the high school in 1965.
After New Orleans, the Bush family will visit Gulfport, Mississippi, to attend an event with state officials, including Gov. Phil Bryant and former Gov. Haley Barbour, a staunch Bush ally who was governor when Katrina hit.
The event in Mississippi will serve to thank first responders who helped after the hurricane.
Bush has deep ties to the Gulf Coast and New Orleans - both as an eastern Texan and as president. His administration oversaw more than $140 billion in spending to help the region recover from the disaster, his office said.
Bush largely took a hands-off approach, frequently saying that rebuilding was best left to locals. Much of the work was overseen by his appointees, however, and he's made frequent trips to the region since Katrina, his office said.
In 2006, Bush picked Warren Easton as an example of the city's comeback spirit.
The school had been badly flooded and had been facing closure before Bush's visit back then. Nearly every student who attended was considered homeless, living in FEMA trailers or sleeping on couches, school officials said.
Back then, Bush advocated for school reforms, supporting the city's efforts to expand charter schools and break up what was widely seen as a failing neighborhood school model. The old public school system was riddled with broken buildings, failing grades and pervasive corruption.
Since Katrina, New Orleans has become a living experiment for a city-wide charter system, with many schools reporting greater diversity and steady academic gains.
---
Want to leave a tip?
We answer to you. Help keep our content free of advertisers and big tech censorship by leaving a tip today.
more stories
Sign up for the Blaze newsletter
By signing up, you agree to our
Privacy Policy
and
Terms of Use
, and agree to receive content that may sometimes include advertisements. You may opt out at any time.