© 2023 Blaze Media LLC. All rights reserved.
Kentucky Clerk's Lawyer Reveals the Two Options That Would Remedy Her Entire Battle Over Gay Marriage
"To me this has never been a gay or lesbian issue. It is about marriage and God's Word."
An attorney representing Rowan County clerk Kim Davis is defending her continued refusal to grant same-sex marriage licenses despite a judge's orders, explaining that Kentucky officials have two options that could help remedy the contentious situation.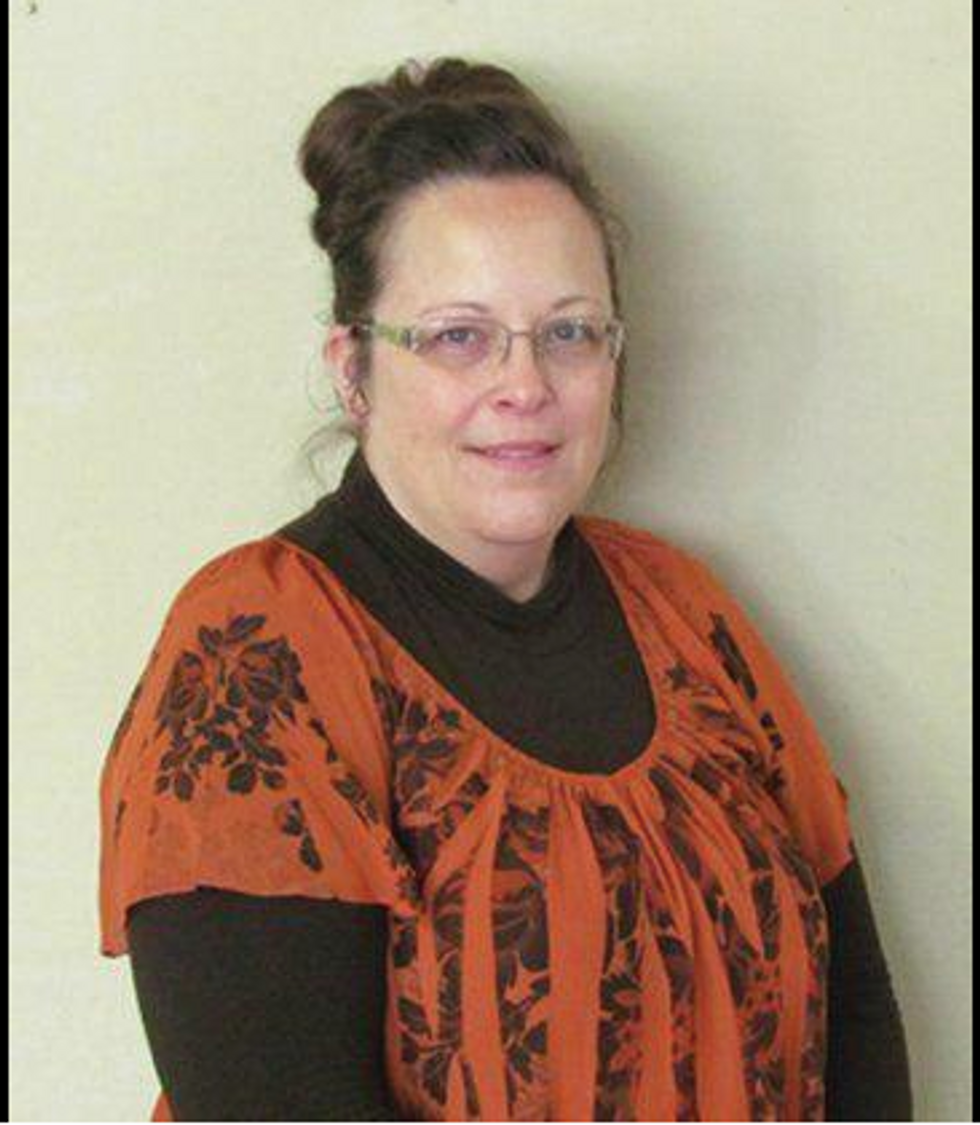 Rowan County Clerk Kim Davis (Image via Twitter)
Mat Staver, founder of the conservative Liberty Counsel, told TheBlaze that one option that would allow Davis — who has been receiving death threats from critics — to hold to her religious views, while also granting gay couples the ability to marry would be to allow the chief executive of Rowan County to grant licenses.
"He can do it in the absence of the clerk and he was willing to do it," Staver said.
The other option is to have Davis' name removed from licenses, as it currently appears on each document — something that she disapproves of in the case of same-sex nuptials, Staver explained.
"She is licensing something with her name on it that licenses something that is a sin and not an appropriate relationship in her Judeo-Christian beliefs," the attorney said.
The governor of Kentucky would need to step in to permit removing Davis' name from the document, Staver explained, noting that no accommodations have been made thus far in the case.
"She didn't sign up for this and now people are wanting to violate her conscience," he said.
Davis is "under a lot of stress," as she faces death threats through email, phone calls and social media, the attorney said. The clerk was recently forced to change her home phone number due to the deluge of angry responses.
"She's getting death threats. People are saying that her home should be burned that she should be raped in front of her husband," Staver said. "She has no ill will toward anybody."
In a statement issued through Liberty Counsel on Tuesday, Davis said that she has been honored to serve as clerk and that she has no plans to step down, despite calls from her critics to do so.
"In addition to my desire to serve the people of Rowan County, I owe my life to Jesus Christ who loves me and gave His life for me," she said. "Following the death of my godly mother-in-law over four years ago, I went to church to fulfill her dying wish. There I heard a message of grace and forgiveness and surrendered my life to Jesus Christ."
Davis continued, "I am not perfect. No one is. But I am forgiven and I love my Lord and must be obedient to Him and to the Word of God."
The clerk said that she never imagined that a day would come in which she would be commanded to violate her Christian beliefs, highlighting her opposition to having her name on the document.
"It is not a light issue for me. It is a Heaven or Hell decision. For me it is a decision of obedience. I have no animosity toward anyone and harbor no ill will," Davis said. "To me this has never been a gay or lesbian issue. It is about marriage and God's Word. It is a matter of religious liberty, which is protected under the First Amendment, the Kentucky Constitution, and in the Kentucky Religious Freedom Restoration Act."
She concluded by refusing to violate her conscience.
Staver said that a contempt hearing is schedule for this Thursday at 11 o'clock, and that it's currently unclear what the end result will be, though the judge holds the right to fine Davis or use jail time as a means to force her hand. But Staver said that firing her isn't an option.
Watch her latest refusal below:
Davis comes out to speak to another couple denied license

Posted by Hillary Thornton WKYT on Tuesday, September 1, 2015
"They couldn't just fire her. She's an elected official," Staver said. "There's options for a recall. I'm sure the people would vote her in rather than vote her out."
Davis' latest refusal comes just one day after the Supreme Court declined to intervene in her case.
Want to leave a tip?
We answer to you. Help keep our content free of advertisers and big tech censorship by leaving a tip today.
more stories
Sign up for the Blaze newsletter
By signing up, you agree to our
Privacy Policy
and
Terms of Use
, and agree to receive content that may sometimes include advertisements. You may opt out at any time.