New evidence has been uncovered by journalists covering the European refugee crisis indicating that some are hiding their nationalities and are claiming to be Syrian to increase their chances at asylum.
A reporter for the Associated Press found identity cards from an array of nations dumped along the Serbia-Hungary border. Those included Pakistani and Bangladeshi identity cards and an Iraqi driver's license.
A border police officer told the AP that there's even more reason to suspect some nationality claims are "fishy."
"You can see that something is fishy when most of those who cross into Serbia enter January first as the date of their birth," border police officer Miroslav Jovic told the AP. "Guess that's the first date that comes to their mind."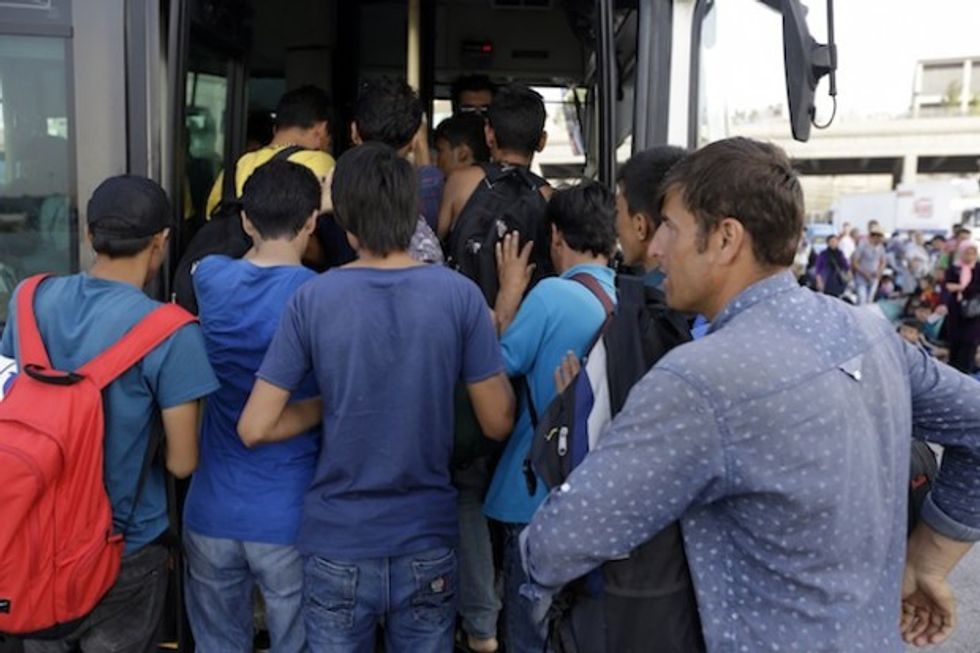 Refugees and migrants get on a bus which transports them to the metro station, after their arrival from the northeastern Greek island of Lesbos to the Athens' port of Piraeus on Monday, Sept. 7, 2015. About 2,500 people arrived with the ferry Eleftherios Venizelos as Frontex, the EU border agency, says more than 340,000 asylum seekers have entered the 28-nation bloc this year, the majority fleeing war and human rights abuses in Syria, Afghanistan, Iraq, Somalia and Eritrea. (AP Photo/Thanassis Stavrakis)
The New Zealand Herald on Monday called the revelations "The big migrant passport scam."
Serbian border police say that 90 percent of the 3,000 daily arrivals from Macedonia claim to be Syrian, but have no identifying documents.
This as German customs officials last week seized mailed packages containing Syrian passports – including some fake ones – they believe are being sold to the migrants.
The trade in fake Syrian passports has also gained momentum in Turkey.
"There are people who are in Turkey now who buy fake Syrian passports because they know Syrians get the right to asylum in all the member states of the European Union," Fabrice Leggeri, the head of Europe's border agency Frontex, told the French radio station Europe 1.
"People who use fake Syrian passports often speak Arabic. They may come from North Africa or the Middle East but they have the profile of economic migrants," he said.
Most war refugees can get asylum in Europe, as compared with economic migrants.
Those who have truly fled the war are worried the migrants claiming to be Syrian will threaten their chance at asylum.
Syrian Kamal Saleh told the AP in Serbia, "Everyone says they are Syrian, even those who are obviously not. … That is not good for us Syrians because of limited number of people who will get the asylum."