A 20-year-old Florida man who claimed to inspire the Garland, Texas, attack was arrested for plotting to bomb a Sept. 11 memorial event in Kansas City, according to a criminal complaint and its supporting affidavit.
U.S. Attorney A. Lee Bentley III announced Thursday that Joshua Ryne Goldberg of Orange Park had been taken into custody for distributing information online on how to create a pressure cooker bomb to be used at a memorial event this weekend marking the 14th anniversary of the 9/11 attacks.
If convicted, Goldberg faces a maximum penalty of 20 years in federal prison.
According to the affidavit in support of the criminal complaint, Goldberg first appeared on law enforcement's radar following the attack on the Texas "draw Muhammad" event in May.
Using an alias of "Australi Witness," the 20-year-old allegedly wrote in a post that he was an Islamic State supporter and was the individual who inspired the Garland attack. The affidavit noted that one of the attackers retweeted him ahead of the attack.
An FBI confidential human source was assigned to exchange online messages with Goldberg starting in July. Over the course of the investigation, the informant was advised on how to create a pressure cooker bomb and fill it with nails, metal and other items dipped into rat poison.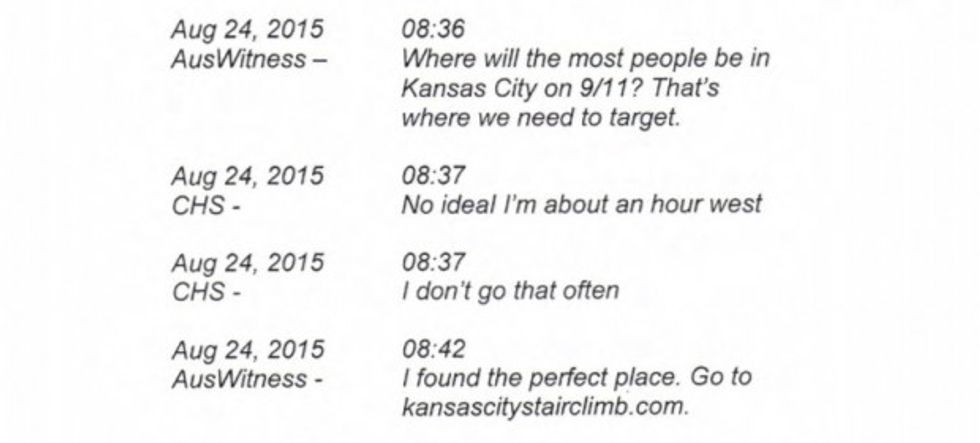 Image source: Justice Department
According to the Justice Department, Goldberg advised the informant to target the Kansas City Stair Climb, an event where firefighters and community members climb stairs to honor first responders who died on 9/11.
Goldberg advised the informant to place the bomb "near the crowd," according an online conversation included in the affidavit.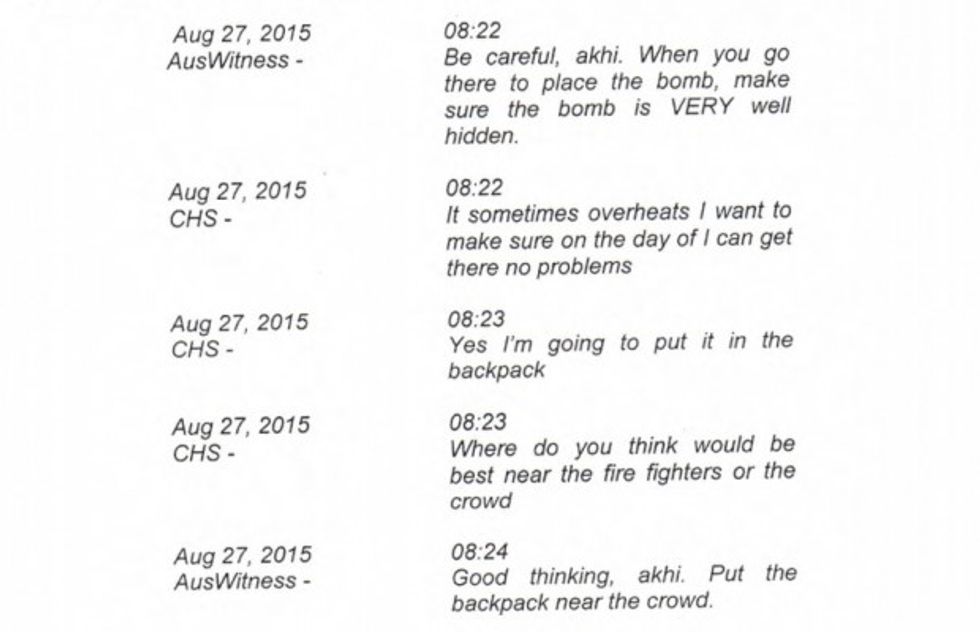 Image source: Justice Department
Authorities were ultimately able to identify Goldberg using records provided by Twitter, Google, Comcast and Yahoo.
When confronted in a raid by the FBI Joint Terrorism Task Force, Goldberg took credit for the online "Australi Witness" accounts and conceded that he provided information on how to create bomb, the affidavit said. The 20-year-old also admitted he instructed the informant to place the bomb at a 9/11 memorial in Kansas City.
However, according to the affidavit, Goldberg provided varying statements to law enforcement about his motive. Goldberg told the FBI that he thought the individual he was advising would either kill himself creating the bomb or, if he did not, that he would alert police before it was detonated and, thus, come out a hero.
A statement from the Justice Department said the case is being investigated by the FBI's Joint Terrorism Task Force and the Clay County Sheriff's Office.
—
Follow the author of this story on Twitter and Facebook: