Images posted on Twitter purport to show letters written by British school children praising Al Qaeda's Syria affiliate the Nusra Front.
According to the research organizations Site Intelligence Group and the Middle East Media Research Institute, someone claiming to be a U.K.-based Koran teacher posted pictures on Twitter of the students' letters heaping praise on the jihadists, referring to them as "heroes" and "role models."
The British newspaper The Sun reported that the letters are believed to have been written at an after-school Koran class.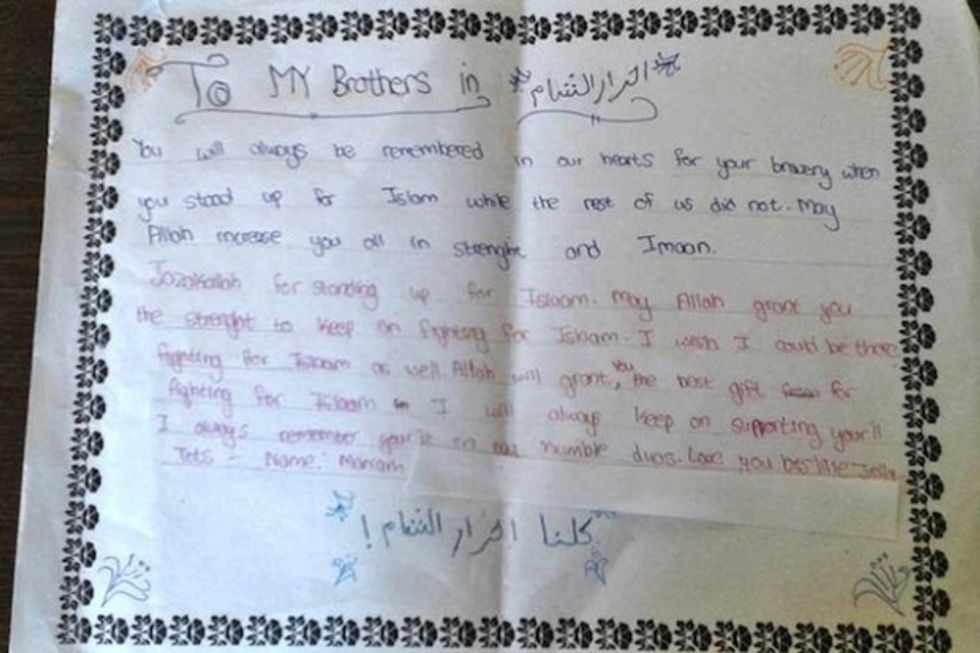 One of the letters posted on Twitter purporting to show letters from British school girls praising jihadist fighters in Syria. (Image source: Twitter)
One child wrote to the fighters, "You will always be remembered in our hearts for your bravery when you stood up for Islam while the rest of us do not."
"I wish I could be there fighting for Islam," the child added.
Another child referred to the jihadists as "diamonds among stones."
One letter was signed with a red finger-painted hand print.
Radical teacher 'brainwashed' primary kids into writing letters to jihadis in Syria http://t.co/aQQfO9xyHS pic.twitter.com/AlI7esh3nO

— The Sun (@TheSun) September 12, 2015
The reported teacher posted the letters - apparently penned by little girls - using the now deactivated Twitter handle @irhabiyya_18, which in Arabic means "terrorist_18."
The teacher tweeted, "lil kids put their heads together to 'post' letters to the muhajideen."
"Please encourage these lil enthusiastic daughters of this ummah...they eagerly awaiting a response," the Twitter user wrote.
Britain's Daily Mail reported that the alleged teacher has in the past posted praise for militant Islamists.