© 2023 Blaze Media LLC. All rights reserved.
"I have no idea where the shooter could have been."
UPDATE 9/15, 12:32 a.m.: Police say the suspected gunman is now dead after apparent self-inflicted gunshot wound.
UPDATE 7:48 p.m.: Dr. Shannon Lamb, the person of interest in the shooting death of a Delta State University professor, is also the suspect in the death of a woman he lived with.
GAUTIER, Miss. (@AP) — Man sought in professor's fatal shooting also suspect in death of woman he lived with.

— TheBlazeNOW (@TheBlazeNOW) September 14, 2015
The Clarion-Ledger reported that police have said they have been in contact with Lamb and have advised law enforcement agencies to "use extreme caution" because he has said he won't go to jail.
The Clarion-Ledger reported that the other victim has been identified by police as Amy Prentiss.
UPDATE 4:30 p.m.: According to a statement from Delta State University, police are looking for Dr. Shannon Lamb, an employee of the university. The statement said that police consider Lamb to be a "person of interest."
Cleveland Police Department Chief Buster Bingham said he does not believe the shooter to still be on campus, but police are still taking precautions to keep those on campus safe.
Classes have been cancelled for Monday and Tuesday.
"We want to say a special thanks to all of the law enforcement officials. As you've seen on our campus, they've come out from every aspect of this state – state, city and county," University Relations Vice President Michelle Roberts said in a statement. "We really appreciate everything they are doing to apprehend the person of interest, and we feel very confident with the work that they are doing."
Students who need to get car keys from buildings that were locked down should contact the officer outside the building for assistance.

— Delta State (@DeltaState) September 14, 2015
All other items will be secured for the night, and buildings will be locked. Students will not be allowed to take backpacks or bags.

— Delta State (@DeltaState) September 14, 2015
UPDATE 2:38 p.m.: Dr. Ethan Schmidt, an assistant professor of history, has been identified as the victim of the Delta State University shooting Monday. Schmidt, who had just published his second book, was shot and killed as he sat in his office, Boliver County Deputy Coroner Ted Ray confirmed to Fox News.
Officials do not believe the suspect is still on campus although it remains on lockdown. However, officials did not elaborate on their reasoning why they believe the suspect has fled campus.
A description of the suspect has not yet been released.
UPDATE 1:02 p.m.: An official has confirmed the death of one professor during the shooting at Delta State University.
CLEVELAND, Miss. (AP) - Official: Professor dead after shooting reported at Delta State University in Mississippi.

— TheBlazeNOW (@TheBlazeNOW) September 14, 2015
UPDATE 12:47 p.m.: Bolivar County Coroner Dr. Nate Brown has confirmed the Delta State professor was shot but declined to go into any details.
A spokeswoman for the university confirmed the fatality to TheBlaze and said the school is still on lockdown. She said they were unaware at this time if the shooter is still on campus.
Fox News reported that the professor is a male.
UPDATE 12:28 p.m.: Delta State has confirmed one fatality.
Delta State University has confirmed one fatality. Campus remains under lockdown. Please stay inside and away from windows.

— Delta State (@DeltaState) September 14, 2015
MHP, Cleveland Police and Bolivar Sheriff's Department are on campus. More information will be distributed as available.

— Delta State (@DeltaState) September 14, 2015
Original story below.
JACKSON, Miss. (TheBlaze/AP) -- Delta State University officials say they have locked down their campus after there were reports of an active shooter on campus.
University spokeswoman Jennifer Farish confirmed that the lock down began Monday morning and that students, faculty and staff are being advised to take shelter.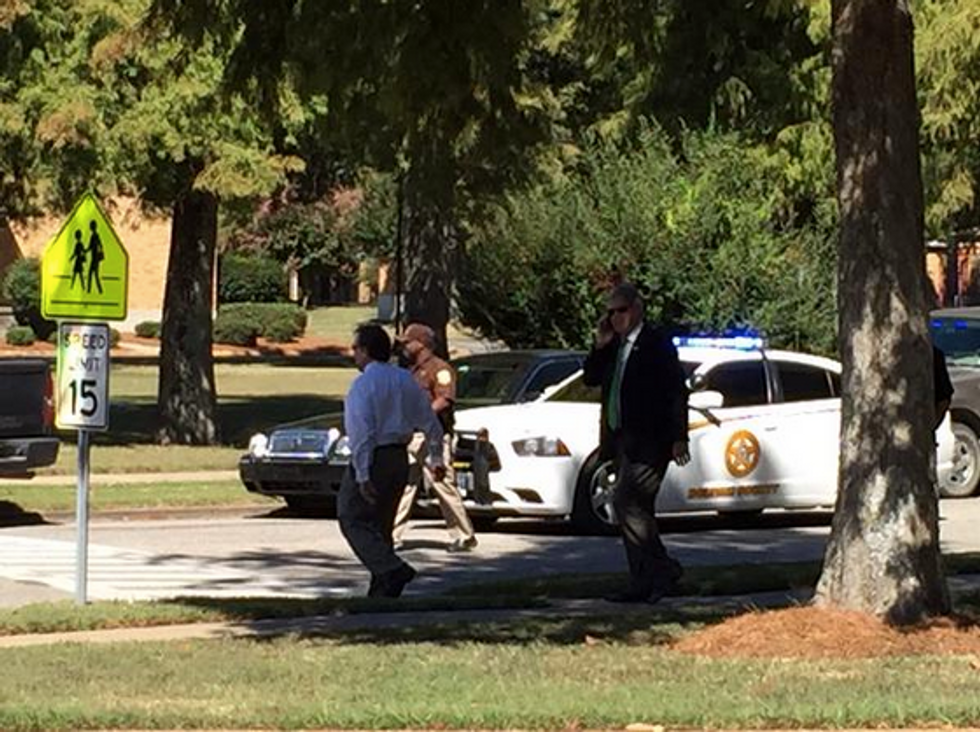 Image via Twitter @BolivarCam
WREG-TV reported that a professor had been shot, but the information had not been confirmed by authorities.
The university's Twitter account says the active shooter was spotted near Jobe Hall.
"I was just walking toward the building when I got the message, so I turned around and went back to my room," Delta State student Caleb Smith told the Clarion-Ledger. "I have no idea where the shooter could have been."
Smith said his roommate was in the building next to the shooting, and he has not heard from him.
Multiple law enforcement agencies are responding.
The 3,500-student university is in Cleveland, in Mississippi's Delta region near the Arkansas-Mississippi state line.
Please pray for Delta State University! We have shooters on campus! We are on lockdown!

— †T.I. Walker, Jr.† (@TI_Fired4CHRIST) September 14, 2015
Please pray for my alma mater, Delta State as there is an active shooter on campus. I still have friends there.

— Matt Allbritton (@m_allbritton) September 14, 2015
United in Green

— Declan (@DecHar) September 14, 2015
Thoughts and prayers to @DeltaState. Let's bring this shooter in before anyone else gets hurts.

— Oxford Police Dept (@OxfordPolice) September 14, 2015
Want to leave a tip?
We answer to you. Help keep our content free of advertisers and big tech censorship by leaving a tip today.
more stories
Sign up for the Blaze newsletter
By signing up, you agree to our
Privacy Policy
and
Terms of Use
, and agree to receive content that may sometimes include advertisements. You may opt out at any time.