© 2023 Blaze Media LLC. All rights reserved.
At Least 12 Tourists Killed — Including Two U.S. Citizens — After Egyptian Forces Mistakenly Open Fire on Tour
"They were not supposed to be there."
CAIRO (TheBlaze/AP) — Egyptian security forces hunting for militants in a remote area of the western desert mistakenly fired on a group of tourists on a safari, killing at least 12 people, including two Mexican nationals, officials said Monday.
A hospital spokeswoman said two of the Mexicans who were injured also hold American citizenship.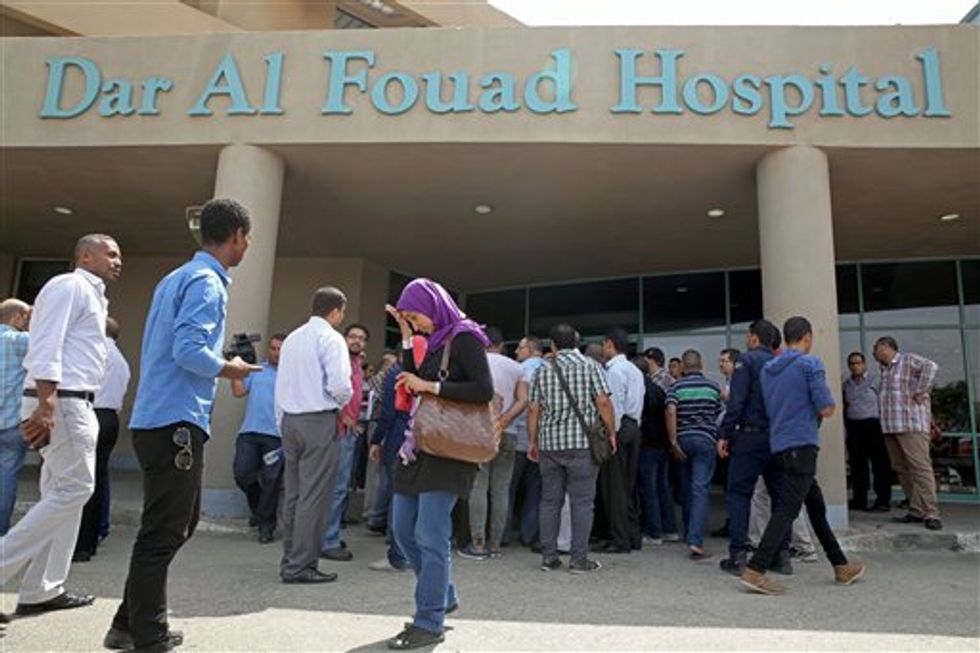 Egyptian journalists wait for information about tourists who were injured Sunday while on a desert safari trip, in front of the Dar Al Fouad Hospital in Cairo, Egypt, Monday, Sept. 14, 2015. At least 12 people were killed and 10 injured in Egypt's southwestern desert Sunday, Sept 13, 2015, when security forces mistakenly fired on a group of Mexican tourists, Egyptian officials said. The Mexican Foreign Ministry confirmed the incident and said at least two of the dead were Mexican nationals. (AP Photo/Nariman El-Mofty)
Egyptian officials said the safari group did not have permission to be in the area, but have not offered a full account of Sunday's incident, in which another 10 people were wounded. Mexico's President Enrique Pena Nieto condemned the attack and demanded a full investigation, and his foreign minister said survivors told officials they were fired upon by helicopters and other aircraft.
México condena estos hechos en contra de nuestros ciudadanos y ha exigido al gobierno de Egipto una exhaustiva investigación de lo ocurrido.

— Enrique Peña Nieto (@EPN) September 14, 2015
"Mexico condemns these acts against our citizens and to the Government of Egypt has called for a thorough investigation of what happened," Nieto said in a tweet late on Sunday.
En un trágico incidente en Egipto, turistas mexicanos fueron atacados. Lamento profundamente que connacionales hayan perdido la vida.

— Enrique Peña Nieto (@EPN) September 14, 2015
"I deeply regret that our countrymen lost their lives," Nieto added.
The incident, among the deadliest involving tourists in Egypt, was likely to deal another blow to the government's efforts to project stability and revive the tourism industry, a key earner that was hit hard by the years of turmoil following the 2011 uprising that toppled President Hosni Mubarak.
The Mexican Foreign Ministry confirmed that at least two of the dead were Mexican nationals and said victims were still being identified. Mexican Foreign Secretary Claudia Ruiz Massieu says Mexicans wounded in the attack told their ambassador they were fired upon by helicopters and aircraft. Ruiz Massieu has also demanded an investigation, as well as the support of Egyptian authorities for Mexican nationals being transported to Cairo.
Exigimos una investigación de fondo y una explicación de los hechos a las autoridades egipcias.

— Claudia Ruiz Massieu (@ruizmassieu) September 14, 2015
"We demand an investigation of Fund and an explanation of the facts to the Egyptian authorities," Massieu tweeted.
Mona el-Bakri, the spokeswoman for the Dar al-Fouad hospital where the wounded were being treated, said two of the seven Mexicans receiving treatment also hold American citizenship. U.S. Embassy spokesman Brian Shott said officials are looking into whether an American citizen was involved in the incident.
Egypt's Interior Ministry said in a statement that a joint military-police force was pursuing "terrorist elements" in the area and fired on four cars that turned out to be carrying tourists. The ministry said the victims were Egyptian and Mexican.
"A working group has been formed to examine the causes and circumstances of the incident as well as the justification for the presence of a tourist group in a region to which access is prohibited," the statement read, in part.
Egyptian officials claim the safari convoy had wandered into a restricted area. The tour company involved "did not have permits and did not inform authorities," Rasha Azazi, a spokeswoman for the Egyptian Ministry of Tourism, told The Associated Press, adding that any trips to that area must be cleared by officials. "They were not supposed to be there," she said, without providing further information about the incident.
Here is the circulating permit reportedly acquired by Windows Of Egypt Tours for the Mexican Tourists. pic.twitter.com/UjisoySSdF

— Sarah El Sirgany (@Ssirgany) September 14, 2015
Military spokesman Brig. Gen. Mohammed Samir said he was not authorized to speak on the matter, and Interior Ministry officials have not responded to numerous requests for comment.
Jorge Alvarez Fuentes, Mexico's ambassador to Egypt, and consular representatives visited the wounded at the Dar el-Fouad Hospital in suburban Cairo, and Fuentes interviewed five survivors, the Foreign Ministry said.
Egypt's western desert has long been a popular safari destination, with tourists flocking to its oases, unique rock formations and white sand dunes.
In recent years, however, it has been the subject of security concerns because of the long, porous border with Libya. Egypt has been flooded with weapons, mostly from Libya, since the 2011 uprising that toppled longtime Libyan dictator Moammar Gadhafi and plunged that country into turmoil. Egyptian security forces frequently target smugglers in the western desert, and in July 2014, gunmen armed with rocket-propelled grenades attacked a border guard post, killing 21 troops.
Egypt has been battling an increasingly powerful insurgency on the other side of the country, in the northern Sinai Peninsula.
In recent months a powerful Islamic State affiliate based there has carried out attacks on the mainland, including the bombing of the Italian Consulate in Cairo and the kidnapping and beheading of a Croat oil surveyor. On Sunday the militant group circulated photos purportedly showing clashes with security forces and a beheaded "spy" in the western desert, according to the SITE Intelligence Group, a U.S.-based group that monitors militant websites.
Editor's note: This post has been updated.
Want to leave a tip?
We answer to you. Help keep our content free of advertisers and big tech censorship by leaving a tip today.
more stories
Sign up for the Blaze newsletter
By signing up, you agree to our
Privacy Policy
and
Terms of Use
, and agree to receive content that may sometimes include advertisements. You may opt out at any time.