PLATTSBURGH, N.Y. (AP) -- The former New York prison employee who helped two killers escape from a maximum-security prison said in an interview that she was depressed at the time and the inmates took advantage of what she called her "weakness."
In the first of a two-part jailhouse interview aired Monday morning on NBC's "Today" show, Joyce Mitchell told host Matt Lauer that she cooperated with Richard Matt and David Sweat's demands for help because Matt had threatened members of her family.
"People need to know that I was only trying to save my family," said Mitchell, 51, who worked in the tailor shop at Clinton Correctional Facility in Dannemora, near the Canadian border in northern New York.
Mitchell gave Matt and Sweat chisels and other tools they used to break out of their adjacent cells on June 6. In a catwalk between the cellblock walls they found a tool box with power tools they used to cut through an underground steam pipe. They crawled through the pipe and reached the street through a manhole.
The escaped prompted a massive manhunt involving more than 1,000 law enforcement officers who scoured heavily wooded areas west of the prison. A federal border patrol officer fatally shot Matt on June 26, and a New York state trooper wounded Sweat two days later. He's incarcerated in another state prison.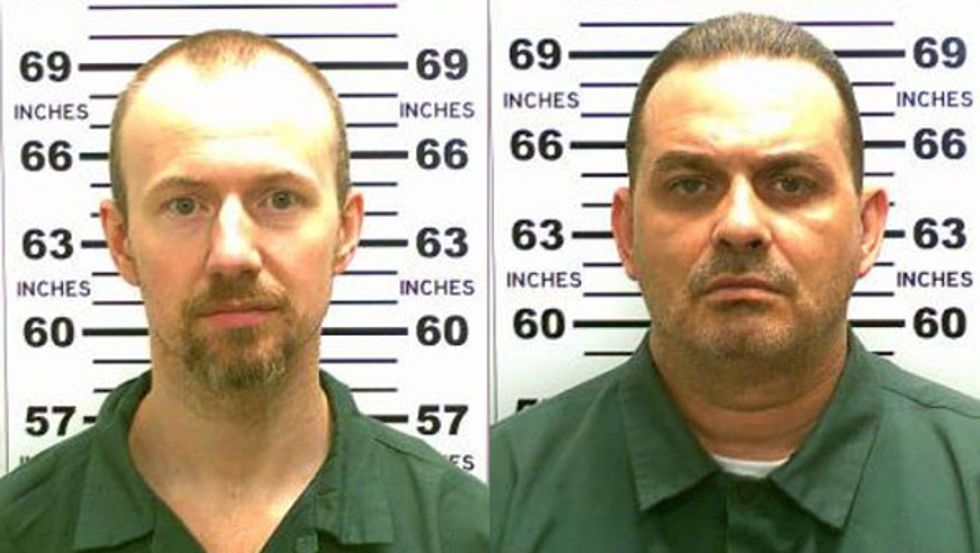 In this handout from New York State Police, convicted murderers David Sweat (L) and Richard Matt are shown in this composite image. Matt, 48, and Sweat, 34, escaped from a maximum security prison June 6, 2015 using power tools and going through a manhole. (Photo by New York State Police via Getty Images)
Mitchell pleaded guilty in July to promoting prison contraband. She faces 2-1/3 to seven years in prison under a plea deal when she's sentenced Sept. 28.
Her husband, Lyle, also works at the prison. Mitchell told "Today" that earlier this year she felt that her husband no longer loved her.
"I was going through depression and I guess they saw my weakness, and that's how it all started," she said during the interview at the Clinton County Jail.
Mitchell said she had befriended both men and brought them cookies and brownies. She eventually smuggled tools to them in bags that the prison staff failed to search.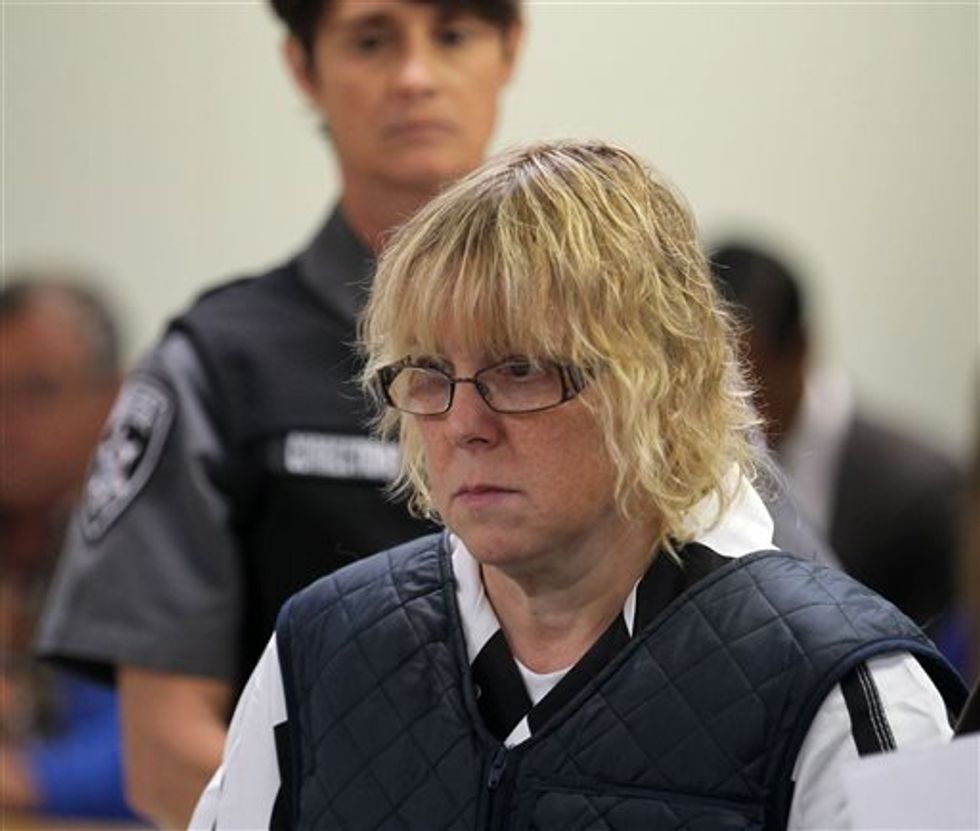 Joyce Mitchell appears before Judge Mark Rogers in Plattsburgh City Court, New York, for a hearing Monday, June 15, 2015. She is charged with helping Richard Matt and David Sweat escape from the Clinton Correctional Facility near the Canadian border on June 6. Mitchell, 51, was charged Friday with supplying hacksaw blades, chisels, a punch and a screwdriver. Her lawyer entered a not guilty plea on her behalf. (G.N. Miller/NY Post via AP, Pool)
The inmates' escape plot included Mitchell picking them up outside the prison after the breakout, but she suffered a panic attack, and her husband took her to a hospital. Mitchell said Matt and Sweat planned to kill her husband during their getaway.
Part two of the interview will be aired Friday morning.