Ben Carson is making serious gains on fellow Republican presidential candidate Donald Trump among primary voters, according to a new New York Times/CBS News poll.
As the candidates prepare for Wednesday's presidential debate, Carson's support has rapidly grown to 23 percent from the 6 percent he received in the same poll taken just before the August GOP debate. Trump's lead has also risen — although not by not quite as much — from 24 percent to 27 percent.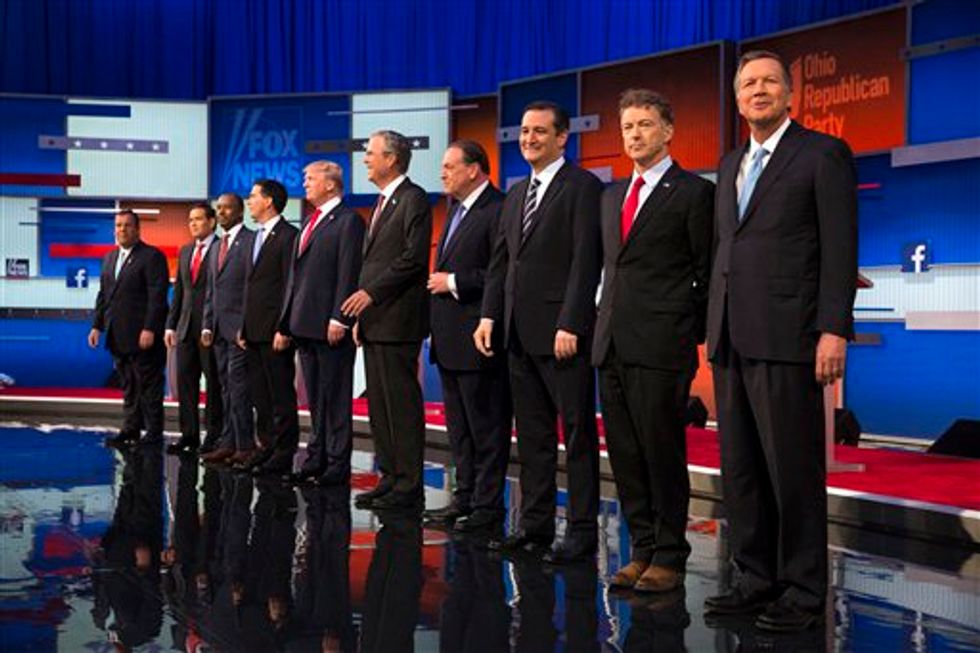 Republican presidential candidates from left, Chris Christie, Marco Rubio, Ben Carson, Scott Walker, Donald Trump, Jeb Bush, Mike Huckabee, Ted Cruz, Rand Paul, and John Kasich take the stage for the first Republican presidential debate at the Quicken Loans Arena Thursday, Aug. 6, 2015, in Cleveland. (AP Photo/John Minchillo)
The poll also reveals that college graduates were more likely to throw their support to the neurosurgeon Carson, while voters without a college degree were more likely to favor Trump.
The only other Republican candidate to see a significant positive change was former HP CEO Carly Fiorina, whose support jumped from less than 0.5 percent to 4 percent.
The survey found that former Florida Gov. Jeb Bush's support among Republican voters has fallen to 6 percent from 13 percent. Wisconsin Gov. Scott Walker's support has also slipped significantly, going from 10 percent in early August to just 2 percent. According to the New York Times, no other Republican candidate's support dropped as much as Bush and Walker, although Bush still remains in third place.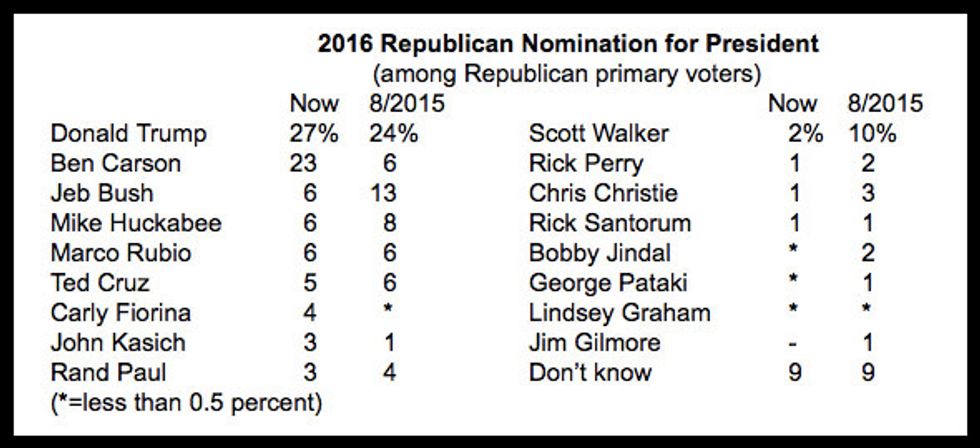 Image source: CBS News
Behind Bush are former Arkansas Gov. Mike Huckabee, Florida Sen. Marco Rubio, Texas Sen. Ted Cruz, Fiorina, Ohio Gov. John Kasich and Kentucky Sen. Rand Paul.
Sixty-three percent of Republican voters polled said it's still too soon to be able to discern who they will definitely support, but 37 percent of voters already know who they want in the White House.
The New York Times/CBS News poll was taken between Sept. 9 to Sept. 13 and has a margin of error of 6 points.