In his first interview with a Western journalist since the nuclear deal agreement in July, Iranian President Hassan Rouhani addressed his people's "death to America" chants and said Iranians have respect for Americans.
Speaking with the help of a translator, Rouhani discussed his country's sentiments toward the U.S. in an interview with CBS'  Steve Kroft on "60 Minutes."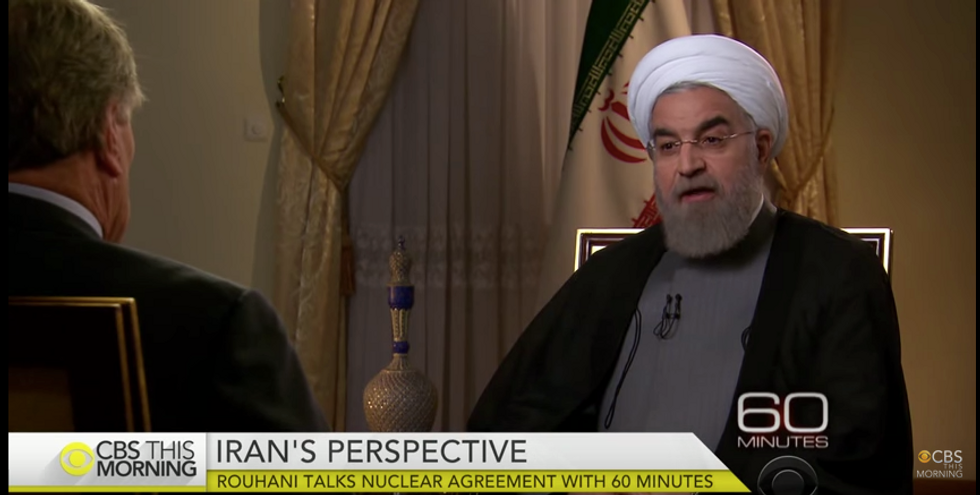 Image source: YouTube
"This slogan that is chanted is not a slogan against the American people. Our people respect the American people," Rouhani said through a translator. "The Iranian people are not looking for war with any country, but at the same time, the policies of the United States have been against the national interests of the Iranian people."
Rouhani said it was "understandable" that Iranians express "sensitivity" because of past disagreements between the Iranian government and the U.S. — notably the U.S.'s support for the shah as well as its support for Saddam Hussein during the war between Iraq and Iran in the 1980's.
"People will not forget these things. We cannot forget the past, but at the same time our gaze must be towards the future," Rouhani said.
The "60 Minutes" interview will air Sunday at 7 p.m. Watch a preview of the segment below.