A California fisherman was forced to fend off an aggressive hammerhead shark that he thinks was after more than his fish.
Mark McCracken, 33, was fishing off the coast of Santa Barbara, California, Saturday when the shark first came up to him. For approximately 15 minutes, the shark circled McCracken's kayak as the fisherman used his paddle to hit the shark in an attempt to prevent it from ramming into his boat.
McCracken told KSWB-TV that he couldn't tell if the shark was ramming into the kayak, biting it or doing something else entirely. He said he aimed for the shark's eyes and head to try to get the animal away.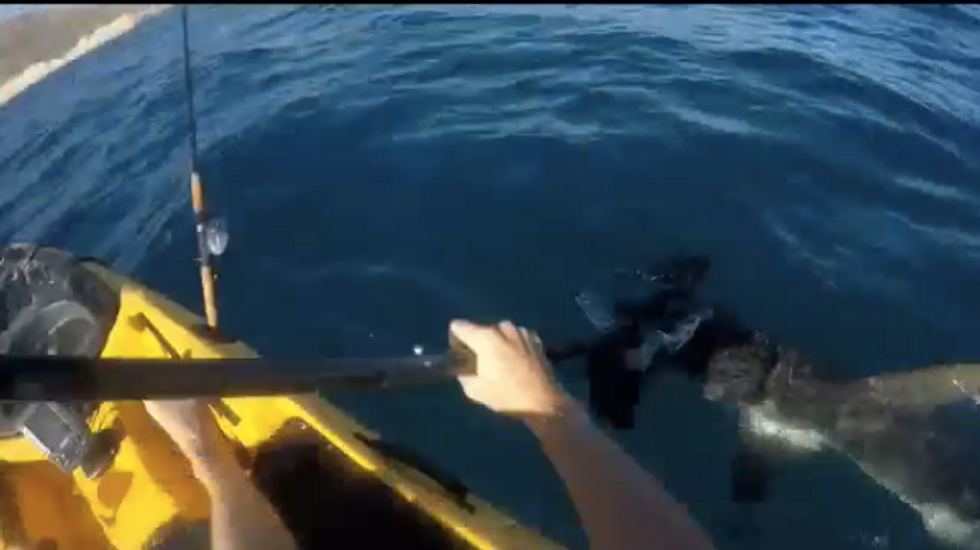 Image source: Instagram @mr_markus
"I had to hit him over 20 times before he finally gave me some space but still stalked me for a half mile all the way back to shore," McCracken said.
But when McCracken made it back onto the beach, he turned around and the shark was still there, lingering in the water.
"Even after I was on shore, he paced back and forth in about 3 feet of water like he was just waiting for me to come back out," McCracken wrote on his Instagram page. "Pretty bizarre and crazy experience to say the least."
McCracken had been fishing for bonito when he said the "tweaked out" shark began to ram into his kayak. According to KSWB, other kayakers have taken their own videos and photos of recent hammerhead shark sightings in the same area, and lifeguards closed a San Diego beach at the end of August after a shark had been spotted.
Lt. Andy Lerum of San Diego Lifeguards told the news station that warmer weather and southern currents have allowed sharks to come closer to the shore than normal.