Republican presidential hopeful Carly Fiorina defended the intelligence-gathering tactics used by government agencies following the 9/11 terrorist attacks.
In an interview with Yahoo News, Fiorina offered a defense for the CIA's tactics and said waterboarding was a technique that helped "to keep our nation safe" post 9/11.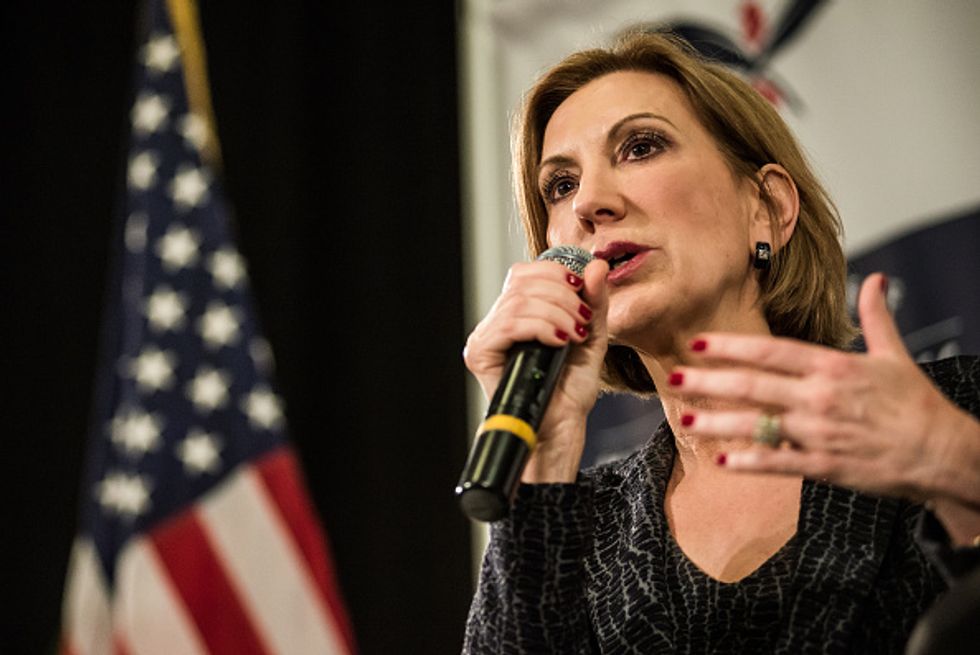 Republican presidential candidate Carly Fiorina speaks to voters during a town hall meeting in Myrtle Beach, South Carolina. (Sean Rayford/Getty Images)
"I believe that all of the evidence is very clear — that waterboarding was used in a very small handful of cases [and] was supervised by medical personnel in every one of those cases," Fiorina said. "And I also believe that waterboarding was used when there was no other way to get information that was necessary."
Yahoo News reported that Fiorina made the remarks while she was discussing relationships with U.S. intelligence officials that she cultivated while she was the CEO of Hewlett-Packard.
"It's outrageous for anybody to claim that torture was limited or that this is the way the U.S. should have conducted business after 9/11," Naureen Shah, director of the security and human rights program at Amnesty International USA, told Yahoo News in response to Fiorina's comments. "This is completely rewriting the history of what happened."
Shah's non-profit organization filed a complaint with the Justice Department last week and requested an investigation as to why prosecutors have not reopened a criminal probe of those responsible for what the organizations calls "torture" techniques such as waterboarding.  A Senate report released last year compared waterboarding to "near drownings."
As Yahoo reported, Fiorina has been setting herself apart from the vast field of other Republican presidential contenders when it comes to foreign policy — especially after the CNN GOP debate earlier this month. During the debate, Fiorina slammed business mogul and front-runner Donald Trump for saying he would meet with Russian President Vladimir Putin. Instead of meeting with Putin, she said she would implement things to get his attention, including "regular, aggressive military exercises in the Baltic states."
During her tenure at Hewlett-Packard, Fiorina says that she advised directors of the CIA and the National Security Agency to be "as transparent as possible about as much as possible."
"Intelligence agencies that engage in covert activity need to be very creative about how they can be transparent while not jeopardizing our personnel and sources and methods," Fiorina said.
She added that, while she supports the checks and balances system of the NSA that ended the bulk collection of phone records, she said she was "not aware of circumstances" when the agency "went too far."
(H/T: Yahoo News)