After two restaurants turned them away, dozens members of Michigan Open Carry and Michigan Gun Owners made their pizza meeting happen in an Ann Arbor park Tuesday evening — not far from where children were playing — and two mothers on hand reacted very differently to the gathering.
Michigan Open Carry brings its guns to Ann Arbor's Gallup Park for pizza party http://t.co/P5isVeXplvpic.twitter.com/h5LIcIV8cc

— MLive (@MLive) September 30, 2015
Mandy Liu of Salt Lake City was at Gallup Park with her husband Eddie and three kids — ages 3, 6 and 7.
"I feel like it's time to go," Liu told MLive of her reaction to seeing the open carry advocates, noting "motherly concern" had come over her. "With kids, with guns you never know what's going to happen."
Liu and her family were visiting Ann Arbor; her husband graduated with an advanced degree from the University of Michigan, MLive said.
For his part, Eddie told the outlet he has a concealed carry license and didn't mind the gun event in the park.
"I have no problem with it," he told MLive. "As long as they own it legally."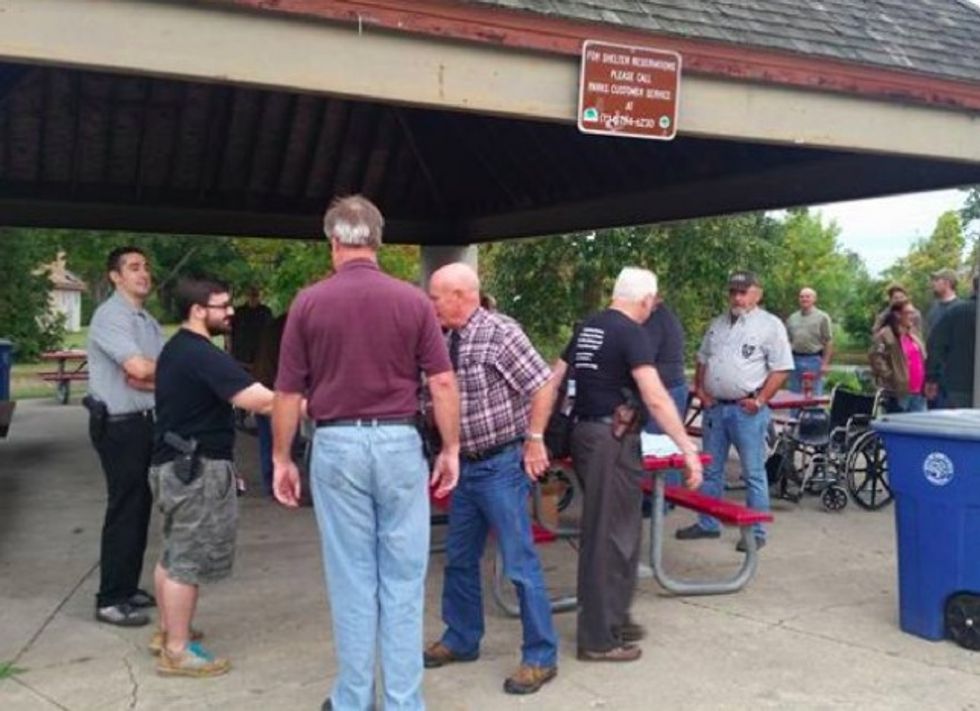 Image source: Facebook
Emily Tishhouse of Ann Arbor was at the same park with her husband and two kids — her 2-year-old daughter was hanging out at a picnic table and her 6-month-old was tucked against her body in a baby sling.
"I do feel safer here with all these people who have guns," Tishhouse told MLive. "Nobody would approach us."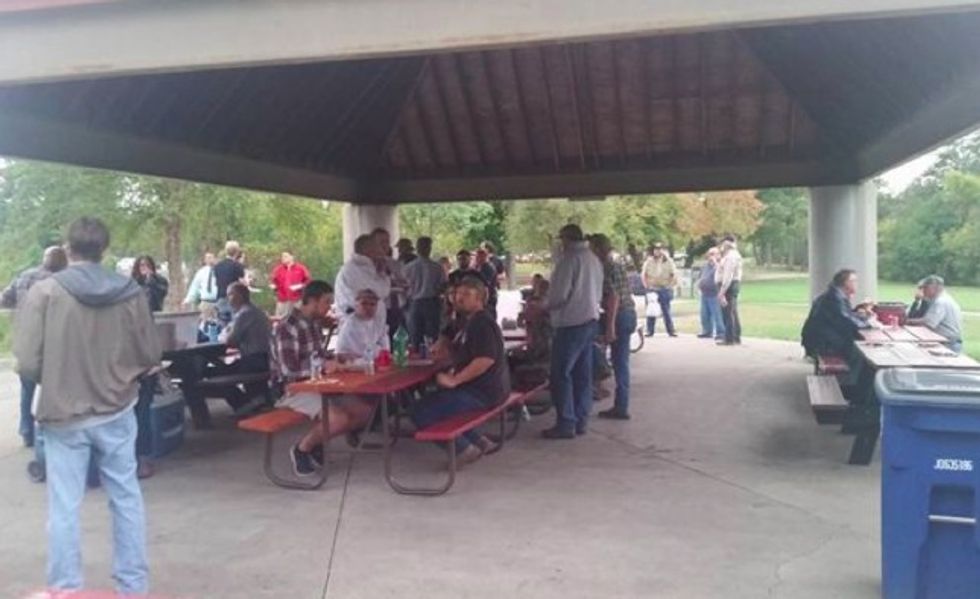 Image source: Facebook
Her husband Josh stood by them with a firearm strapped to his thigh, MLive reported.
Tishhouse told MLive she has a concealed carry license but rarely has a weapon with her given the juggling of her children day to day — but she's grateful to have guns at home.
"If someone were to break into our house, I'd feel much more comfortable knowing that there's a weapon I could use to protect my children," she told the outlet.
Josh told MLive his gun was in a retention holster, which prevents weapons from getting randomly pulled out.
"I'm not that concerned about carrying around kids," he told the outlet. "They've seen me carry before. They're not fazed by it."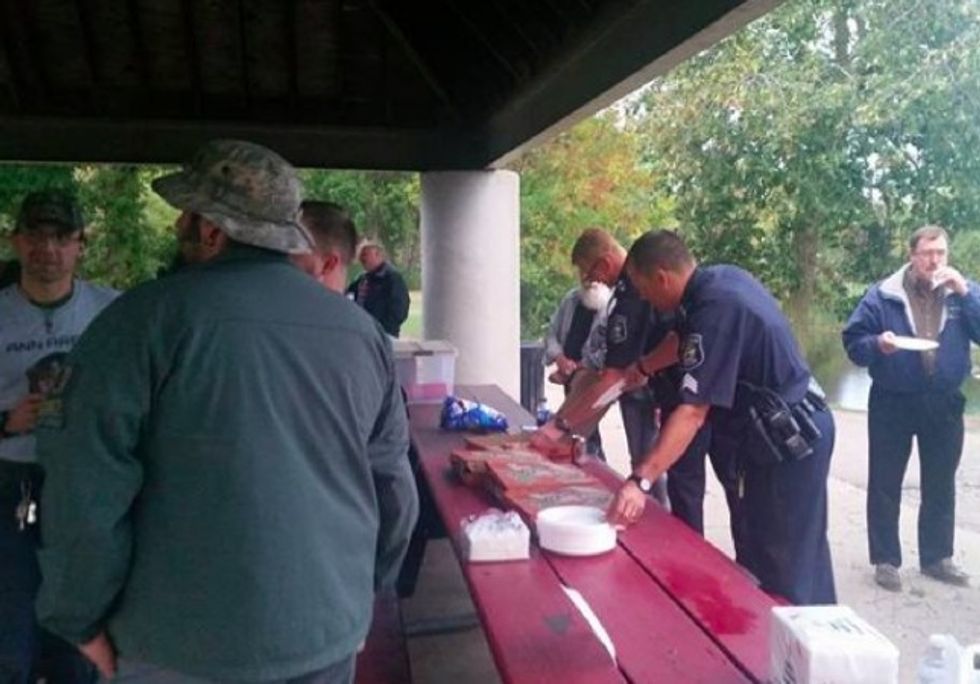 Two Ann Arbor police officers showed up to the gathering as well, Michigan Open Carry said. (Image source: Facebook)
More from MLive:
The perceived liberal politics of Ann Arbor — and Washtenaw County — are what prompted two restaurants to turn Michigan Open Carry away when they were trying to have a dinner, the group has claimed.

The Holiday Restaurant and Frank's Restaurant both told The News they'd received numerous calls once people found out they were thinking about hosting the group.
"Everybody was calling and complaining," Frank Zrvos, general manager at Frank's, told MLive. "We just thought it was a normal dinner. [But] it was too much controversy."
So the gun-rights groups booked their get-together at the park's pavilion instead.
"We don't take anything personally," Johnny Roehrig, vice president of Michigan Open Carry, told the outlet. "This has been great. The city's been fine with us coming down here. It's really just a great event. The biggest thing [is building] awareness down in the Ann Arbor area. It's a great event. There's plenty of people here. There's nobody running around screaming."
—
Follow Dave Urbanski (@DaveVUrbanski) on Twitter