© 2023 Blaze Media LLC. All rights reserved.
Hillary Clinton Sings and Jokes After She Pours Herself a Drink on 'SNL
"That's the first time I've ever heard that."
Hillary Clinton served herself — or rather her doppelgänger — a drink Saturday night as she made some light jokes at her own expense during an episode of "Saturday Night Live."
Clinton met her "SNL" counterpart Kate McKinnon who portrayed the Democratic presidential candidate "blowing off some steam" at a bar during the show's season premiere. Clinton played the bartender, Val, an "ordinary citizen who believes the Keystone Pipeline will destroy our environment."
As she's battling to appear more likable and genuine during her campaign, the real presidential candidate earned some laughs during Saturday's skit — especially for her impersonation of Republican presidential frontrunner Donald Trump.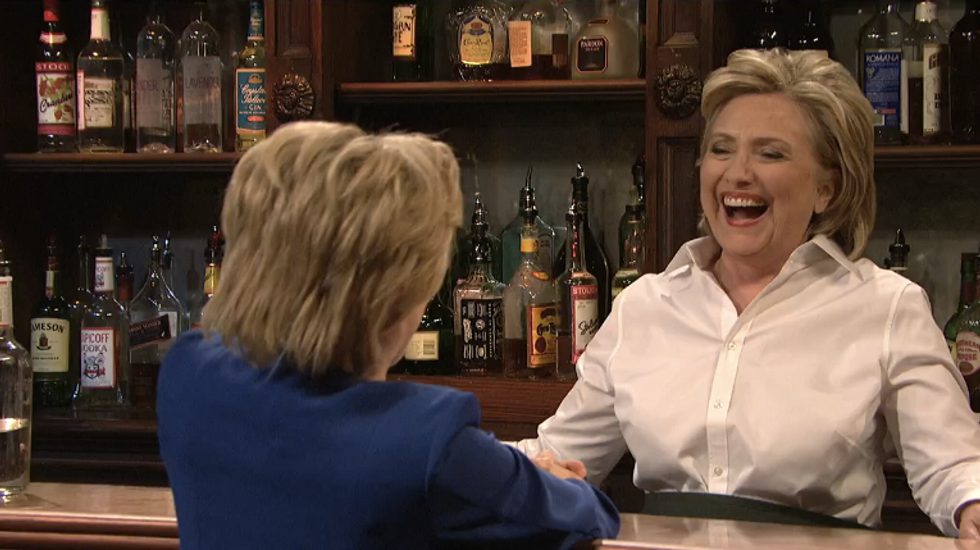 Image source: NBC
"Oh Val, I'm just so darn bummed," McKinnon's character said. "All anybody wants to talk about is Donald Trump."
"Donald Trump? Isn't he the one that's like, 'Uh, you're all losers?'" Clinton impersonated.
Clinton also joined McKinnon in a hearty rendition of "Lean on Me" as the two women put their arms around one another to sway and sing.
Darrell Hammond briefly appeared during the skit in a track jacket as Clinton and McKinnon discussed a vacation.
"Did somebody say a vacation?" Hammond quipped in his Bill Clinton voice before looking at the two women. "Oh my god, they're multiplying."
A vote for Hillary is a vote for four more years of Kate McKinnon's impression. #citizens pic.twitter.com/8WFlf1dy9n

— Hillary Clinton (@HillaryClinton) October 4, 2015
McKinnon's character admitted to Clinton that she should have supported gay marriage and opposed the Keystone Pipeline earlier than she did.
"This has been so nice. You are really easy to talk to, Val," McKinnon said.
"Oh, thanks. That's the first time I've ever heard that," Clinton responded.
Clinton appeared on the comedy show in lieu of an opportunity to give the keynote speech at at the Human Rights Campaign event, according to a report prior to her appearance. Saturday was her second cameo on the show — the first time during the 2008 presidential campaign.
Watch the 5 minute "SNL" skit below.
Want to leave a tip?
We answer to you. Help keep our content free of advertisers and big tech censorship by leaving a tip today.
more stories
Sign up for the Blaze newsletter
By signing up, you agree to our
Privacy Policy
and
Terms of Use
, and agree to receive content that may sometimes include advertisements. You may opt out at any time.