With South Carolina experiencing dangerous flooding unlike any it has ever seen, authorities have urged people to be extremely cautious and avoid driving in water of unknown depths.
It appears that one such semitruck driver did not receive or chose to not heed such a warning.
"What in the world?" a woman watching the scene on Highway 15 in Sumter said in disbelief as she saw the truck moving along engine deep in what looked like a river covering the road below.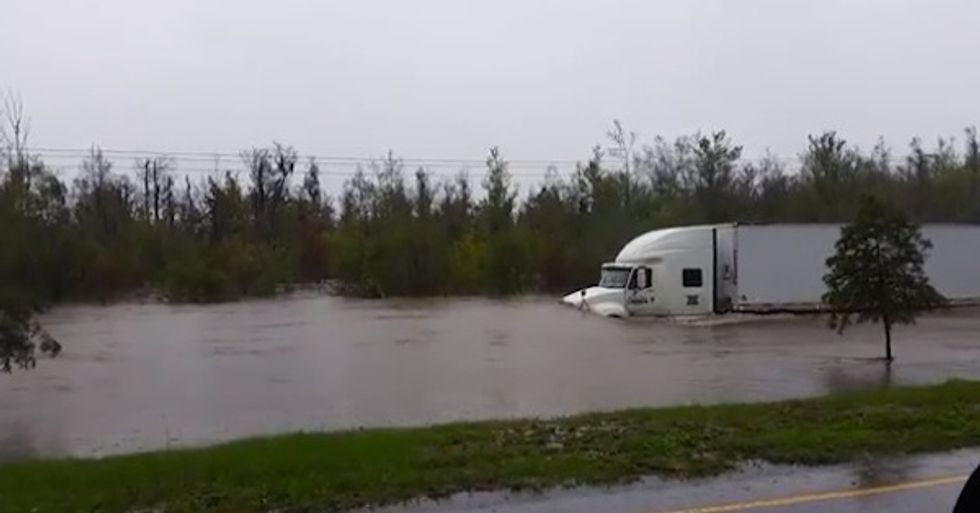 Image source: YouTube
"If he makes it, I give him all the credit in the world," she continued.
Chugging along, the truck began to enter slight shallower water and it started to seem as if the 18-wheeler was going to come out of the worst of it.
"I'll be damned, he made it," a man said in the video.
Watch the footage (Content warning: some strong language):
Other trucks have not fared so well:
Heavy rain continued in South Carolina Monday, adding to the already water-logged state's woes. There have been at least nine weather-related deaths in two states due to the rainstorm.
Sunday was the wettest day in the history of South Carolina's capital city Columbia, according to the National Weather Service. The rainfall total at the Columbia Metropolitan Airport was 6.87 inches, the most rain that's ever fallen there in one day. One weather station near downtown recorded 17 inches in as many hours on Sunday.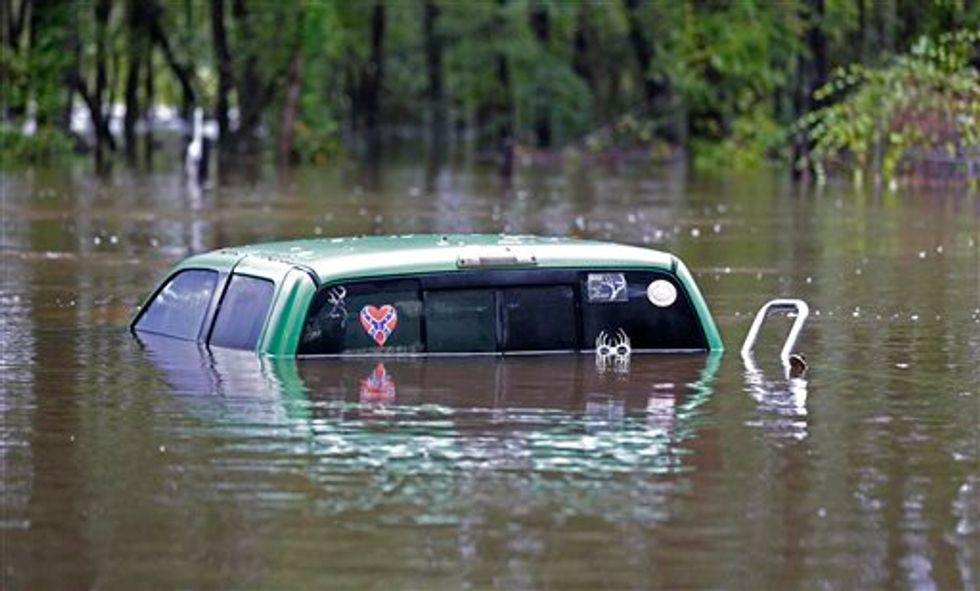 A vehicle is flooded following heavy rains and flash flooding along Black Creek in Florence, S.C., Monday, Oct. 5, 2015. Flooding continues throughout the state following record rainfall amounts over the last several days. (AP/Gerry Broome)
South Carolina Gov. Nikki Haley has said the deluge is the kind of storm seen only once in 1,000 years.
On Monday, she said 381 roads and 127 bridges were closed across the state, and 1,000 law enforcement officers and 1,000 transportation department personnel were working to make them safe. All roads and bridges will have to be checked for structural integrity, which could take weeks or longer.
The governor said most people are heeding her plea to stay off the roads.
"I think they get it. All you have to do is look out the window and see the flooding. It doesn't take long for you to get in your car and realize you've got to turn back around," Haley said in an interview on NBC's "Today" show.
—
The Associated Press contributed to this report.