Famed neurosurgeon and 2016 presidential contender Dr. Ben Carson faced-off against the women of "The View" on Tuesday after he decried abortion and said that "we're killing babies all over the place."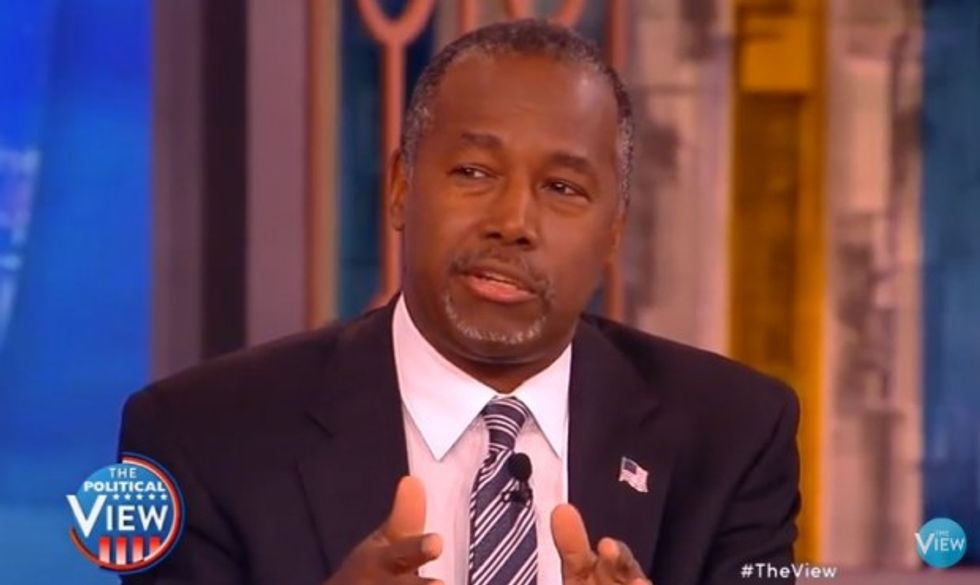 Dr. Ben Carson on "The View" ("The View"/YouTube)
"In my case, I spent my entire career trying to preserve life and give people quality of life," he said, explaining his past operations on premature babies and babies still in the womb. "There is no way you're going to convince me that they're not important, that they're just a mass of cells."
Host Whoopi Goldberg countered by asking whether Carson has "met with the women who have to make these horrendous decisions," and questioned whether the Republican candidate is empathetic — to which he said that he is.
Carson then explained his belief that the private sector must provide adequate daycare so that mothers who choose to have their babies can get GEDs and finish their education.
"You're assuming that these are mothers who aren't educated," Goldberg countered, with the crowd gasping and moaning when Carson said that most of them fit that description.
"A lot of those young girls who are having babies out of wedlock — when they have that first baby, they stop their education and that child is four times as likely to grow up in poverty," Carson said. "We, as a society, have an obligation to do what's necessary to stop that cycle."
That's when Joy Behar stepped in to defend Planned Parenthood against recent Republican attacks.
"So, how important is birth control then to the Republican Party?" she said. "They should be out there applauding Planned Parenthood for supplying birth control, mammograms and everything else."
It should be noted, as TheBlaze previously reported, that Planned Parenthood president Cecile Richards confirmed during a congressional hearing last week that none of her organization's 650 to 700 clinics across America has a mammogram machine.
Watch the segment below:
(H/T: Mediaite)
Follow the author of this story on Twitter and Facebook: