STOCKHOLM (TheBlaze/AP) -- A recent Nobel Prize winner in medicine revealed that he always carries a plastic baggie in his wallet. Why? To take soil samples.
Satoshi Omura, who was awarded the Nobel prize in this category with William Campbell and a third scientist on Monday, helped develop a drug that has lowered the incidence of river blindness and lymphatic filariasis, two diseases caused by parasitic worms.
A key substance in the drug ivermectin was found in a microbe taken from a soil sample collected while Omura was on a golf course near Tokyo.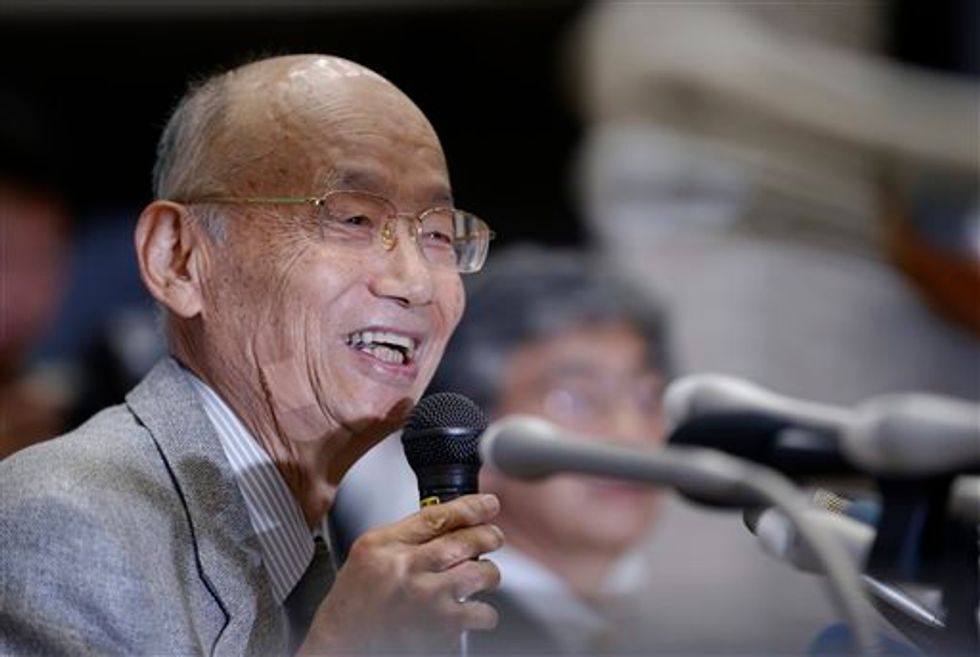 Kitasato University Prof. Emeritus Satoshi Omura smiles as he speaks during a press conference at the university in Tokyo, Monday, Oct. 5, 2015 after learning he and two other scientists from Ireland and China won the Nobel Prize in medicine. The Nobel judges in Stockholm awarded the prestigious prize to Omura, Irish-born William Campbell and Tu Youyou - the first-ever Chinese medicine laureate, for discovering drugs against malaria and other parasitic diseases that affect hundreds of millions of people every year. (AP/Shizuo Kambayashi)
Committee member Jan Anderson said these laureates were awarded for "the identification of the specific chemical compound within the traditional [medicine] — that's the uniqueness."
The Nobel Prize was also awarded to Tu Youyou, the first Chinese national to win a Nobel Prize in medicine, for creating a therapy for malaria patients.
"The whole world has changed its malaria policies to use artemisinin," Colin Sutherland, reader in parasitology at London School of Hygiene and Tropical Medicine, said.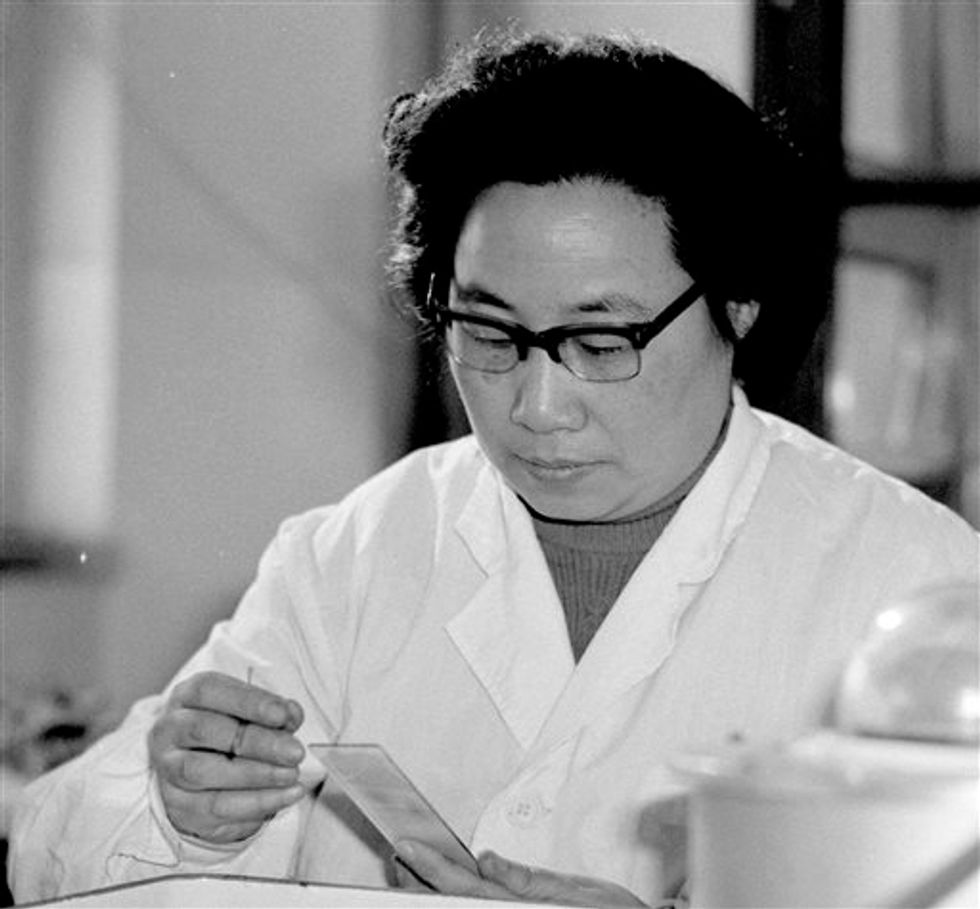 This photo taken in the 1980s released by Xinhua News Agency on Monday Oct. 5, 2015 shows Tu Youyou, a pharmacologist with the China Academy of Chinese Medical Sciences in Beijing, working on artemisinin, a drug therapy for malaria.  (Yang Wumin/Xinhua via AP)
Stephen Ward, deputy director of Liverpool School of Tropical Medicine, said that until artemisinin and combination therapies were available, "we faced an absolute catastrophe. The only drugs we had against malaria were failing rapidly."
The work of these Nobel laureates could eliminate diseases affecting up to 3.4 billion people. The World Health Organization already has a plan in place to eradicate river blindness in the 31 countries where the disease is endemic by 2025. WHO also hopes to eradicate elephantiasis in 61 of the 81 countries affected by 2020.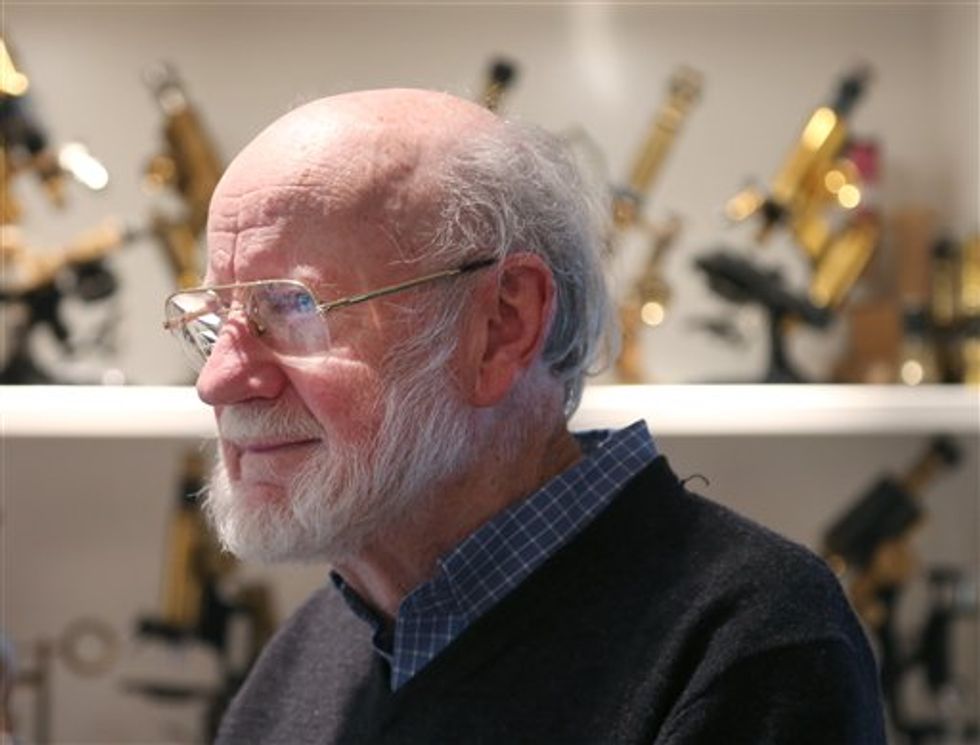 Scientist William C. Campbell sits in his home in North Andover, Mass., Monday, Oct. 5, 2015. Campbell is one of three scientists from the U.S., Japan and China who won the Nobel Prize in medicine on Monday for discovering drugs to fight malaria and other tropical diseases that affect hundreds of millions of people every year. (AP/Mary Schwalm)
Omura described the field of microorganism research as "kind of a low-profile research area," but said it was an "extremely important" one.
"I hope the area gets more attention because of the prize so that it can further contribute to human beings," he said, at one point adding in a televised interview on Japan's national broadcaster NHK that he would "much rather give the prize to microorganisms" that he's depended on for his research.
When asked if he enjoyed the game of golf that lead him to discover a key component in the antiparasitic drug, Omura grinned and said yes.