Sharafat Khan is homeless. Where he sleeps at night though is not on the streets but outside a million-dollar house — his million-dollar house.
Khan told KHOU-TV that his wife kicked him out the house in March with only the clothes on his back. Since then, he's been sleeping in the front yard of the home in an upscale neighborhood in Lakeview, Texas.
"I'm really weak, but otherwise OK," the 69-year-old man told the news station.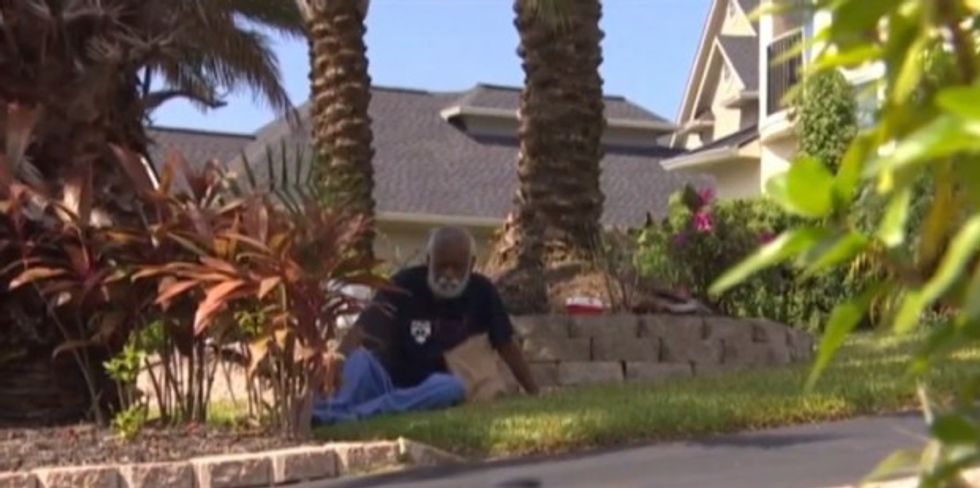 Khan has been living outside his own home for months after his wife kicked him out and changed the locks. Sources told KHOU Khan was verbally and physically abusive, leading the wife to get fed up. (Image source: KHOU-TV)
But some neighbors worry about him and bring him food, despite a sign on the front door telling them not to.
"If you want to feed him, take him to your house," the sign says, according to KHOU. "If you want to, you can keep him at your house. Thanks for your sympathy, but do not bring anything on this property."
Neighbor Laurel Stout told the news station "it seems inhumane to leave him stranded out there."
But there is another side to this story.
Though the wife refused to comment to local news stations, Khan told KHOU a typical argument led to the couple's separation, but Lakeview Police told the news station that they had been called to the house up to 30 times within the last six months due to arguments. A son of the couple told the news station his mother kicked Khan out due to verbal and physical abuse, and court records show an arrest for domestic violence in 2008 and a protective order granted for the wife in 2014.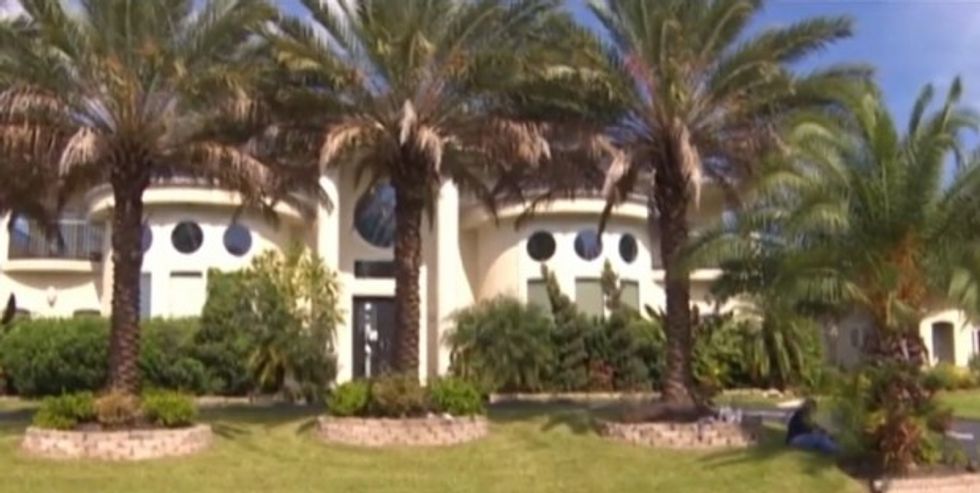 Police cannot force Khan off the property because he also owns the million-dollar home. (Image source: KHOU-TV)
KHOU reported that Khan's wife filed for divorce in June, but KPRC-TV reported that a source said she cannot file for divorce because they are Muslim and practice Sharia law. According to Sharia law, the right to divorce is left with the husband.
Khan disagreed, telling KPRC it has more to do with money than their religion.
"She doesn't want to hand over half her fortune," he told the news station, adding that he cannot afford to file for divorce.
Because the home is in both Khan and his wife's names, the police can't do anything about him camping in his own front yard.
Khan told KHOU he could live with friends or in a hotel but he prefers to stay "on my own property." KPRC reported that family members have tried to get Khan help, fearing for his medical state and mental health, but he refuses.
Khan told KHOU he hopes that his wife will "realize whatever she is doing she's doing bad," adding that he thinks people seeing his state on the front lawn will cause them to question her and "put her down."
Watch KHOU-TV's report: