A Florida woman was outside in her garage putting clothing in a dryer when she heard hissing.
Calling animal control, the sound was confirmed to be from a a snake that would eventually be identified as the 8-foot-long venomous king cobra that has been on the loose in Ocoee, Florida, since early September.
Billy Ledford with Orange County Animal Services said the snake "didn't give us an easy time catching him, let's just say that," he told WFTV-TV.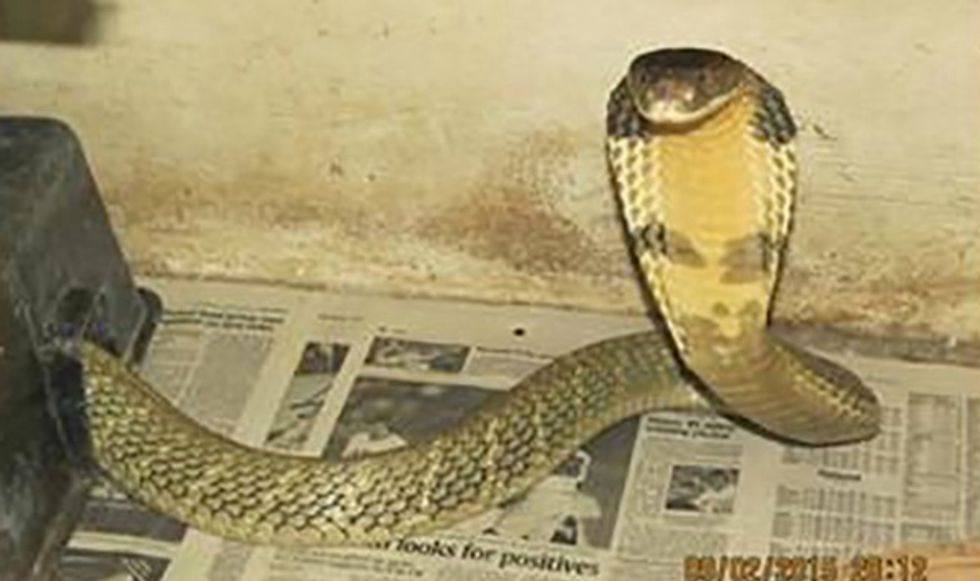 Image source: WFTV-TV
The snake, named Elvis, was returned to Mike and Valerie Kennedy, who live about a half a mile from where it was found and who rescue exotic animals.
"We thought he would probably just stay in the woods. I'm glad he surfaced," Valerie Kennedy told WFTV. "He's an endangered animal, he's a shy animal and he's been through a lot. The community has been through a lot. Our family has been through a lot, so I'm just thankful it's ended up positive."
According to WKMG-TV, a microchip confirmed this king cobra was in fact the Kennedy's snake.
Watch the snake's owners talk about its recovery:
For some time during the early search for the snake, children at a nearby elementary school were not allowed to play outside.
The Kennedys are being fined $366 for waiting to report the snake's escape, according to WFTV.
Watch the news station's report: