Officials in Irving, Texas, released about 14 pages of threatening, vulgar emails from people fuming over the incident involving local teen Ahmed Mohamed, who was put in handcuffs last month when his homemade clock was treated as a possible hoax bomb.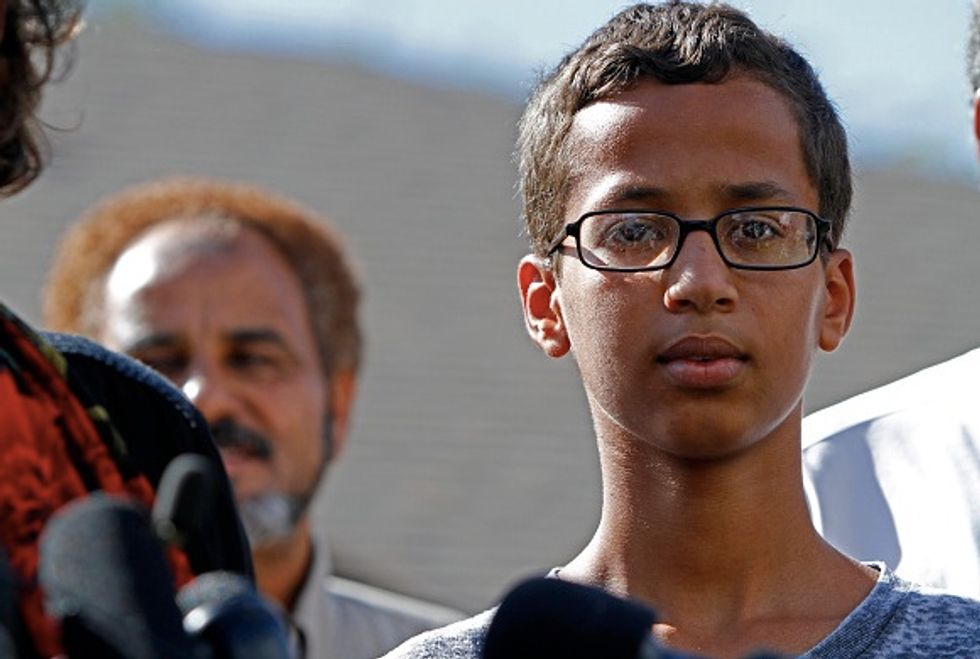 14-year-old Ahmed Ahmed Mohamed speaks during a news conference on Sept. 16, 2015 in Irving, Texas. (Ben Torres/Getty Images)
One man who claimed to be with a group that provides emergency air transportation wrote, "All employees of Irving ISD and the Irving PD and their immediate family members are banned from our aircraft," adding that instead "our members will watch your child die bleeding and convulsing on the Love Field tarmac."
KTVT-TV said Irving police have stepped up patrols over the chilling emails, and Mayor Beth Van Duyne told the station off camera that the messages released Thursday aren't the worst of them.
Irving Police also got a note from the hacking collective Anonymous.
"Where was the bomb squad? Where was the evacuation? What if it had been a real bomb and not just a clock?" the group asked. "...We do not forgive. We do not forget. Expect us."
Police also heard from an emailer who threatened to detain cops: "If you do not stand down and back away from your position, I'll be detaining police officers in your jurisdiction who possess any suspicious looking objects."
Van Duyne was targeted as well. KTVT didn't read most of the following message because it was so explicit.
"YOU ARE A [expletive] IDIOT ... Thankfully I can say this because of the Constitution. Really, you redneck [expletive]s are afraid of a clock? WHAT A BUNCH OF DUMB [expletive]s!!"
—
Follow Dave Urbanski (@DaveVUrbanski) on Twitter