LONDON (AP) -- The U.S. is abandoning its goal of training a new force of moderate Syrian rebels and will focus on equipping, arming and supporting established rebels groups already fighting against the Islamic State group inside Syria, officials said Friday.
The change reflects the failure of the current approach, which has produced only a handful of combat-ready moderate rebels and drawn widespread criticism in Congress.
Officials briefed on the new approach said it would focus heavily on equipping and enabling established Kurdish and Arab rebel groups rather than recruiting and vetting a new cadre of moderate rebels, training them at camps in Turkey and Jordan and re-inserting them as an infantry force into Syria. The $500 million Congress provided last year for the program will be used more for equipping select rebel groups inside Syria, with limited training activity.
The officials spoke on condition of anonymity because they weren't authorized to discuss the change publicly.
The CIA runs a separate, covert program run that began in 2013 to arm, fund and train a moderate opposition to Syrian President Bashar Assad. U.S. officials say that effort is having more success with its goals, than the one run by the military, which only trained militants willing to promise to take on the Islamic State exclusively.
Pentagon press secretary Peter Cook said the new approach is aimed at improving U.S. support for partners on the ground in Syria. He did not spell out details but said Defense Secretary Ash Carter had directed that "equipment packages and weapons" be provided to "a select group of vetted leaders and their units."
FILE - In this Dec. 17, 2012 file photo, Syrian rebels attend a training session in Maaret Ikhwan near Idlib, Syria. For Syria's banned Muslim Brotherhood, the uprising against President Bashar Assad that erupted amid Arab Spring revolts in 2011 provided a long-sought opportunity to stage a comeback after decades spent in exile. Credit: AP
The aim, Cook said, is to work with these unspecified units "so that over time they can make a concerted push into territory still controlled by ISIL," using an acronym for the Islamic State.
Under the new approach, the U.S. would provide small arms and ammunition, as well as communications gear and limited training of rebel leaders, to enable established rebel groups to coordinate U.S. airstrikes in support of their ground operation, the officials said. The officials spoke on condition of anonymity because details of the shift in approach had not yet been announced.
The overhaul keeps the effort in line with the administration's basic formula of leveraging U.S. airpower to enhance the efforts of Syrian rebels on the ground. The U.S. already has had some success working, for example, with Syrian Arab rebel groups.
Cook said the new U.S. focus on equipping and enabling rebels, rather than building a new rebel force, will allow the U.S. to "reinforce the progress already made" in countering ISIL.
"I remain convinced that a lasting defeat of ISIL in Syria will depend in part on the success of local, motivated, and capable ground forces," Carter said in a written statement. "I believe the changes we are instituting today will, over time, increase the combat power of counter-ISIL forces in Syria and ultimately help our campaign achieve a lasting defeat of ISIL."
The original program was beset with a series of embarrassing setbacks. The first group of trainees largely disbanded soon after they were sent into combat; some were captured or killed, while others fled. A second class yielded only a small number of new fighters, drawing criticism from U.S. lawmakers who condemned the program as a joke and a failure. A Syrian rebel commander leading the trainees last week handed over a half-dozen vehicles to extremist militants.
U.S. officials have said the new effort would focus more on embedding recruits with established Kurdish and Arab units, rather than sending them directly into front-line combat.
"The work we've done with the Kurds in northern Syria is an example of an effective approach," U.S. Defense Secretary Ash Carter told a news conference in London without providing any details of the new program. "That's exactly the kind of example that we would like to pursue with other groups in other parts of Syria going forward."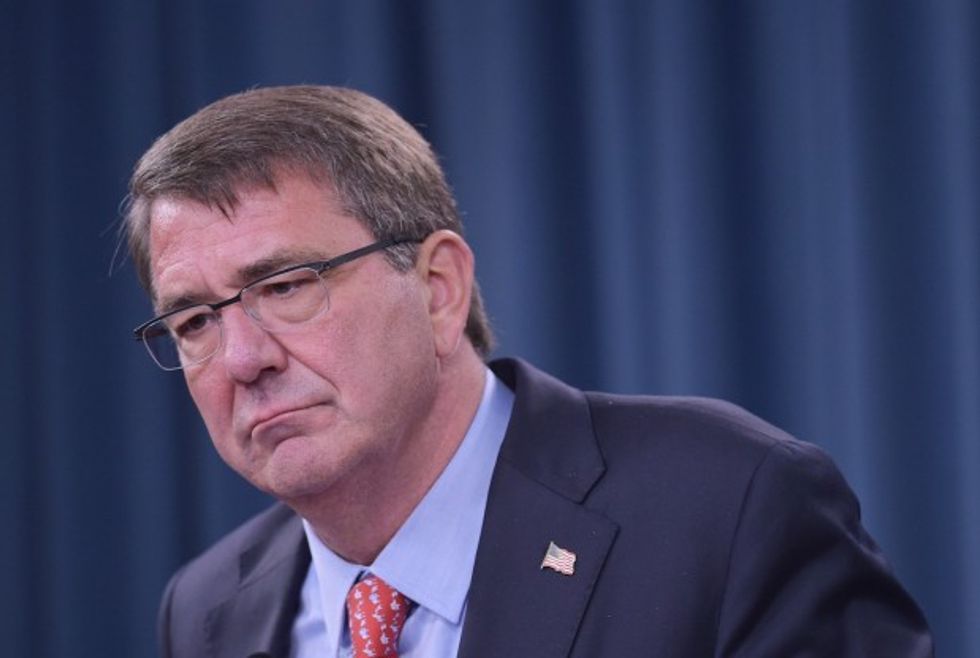 U.S. Defense Secretary Ashton Carter during a press conference at the Pentagon on July 6, 2015 in Washington, D.C. (MANDEL NGAN/AFP/Getty Images)
He called it a "more strategic approach" than what the U.S. has been doing from the beginning. "We have been looking for now several weeks at ways to improve that program," Carter said. "I wasn't satisfied with the early efforts in that regard."
Instead of fighting IS in small units, the U.S.-trained rebels would be attached to larger existing Kurdish and Arab forces. They would be equipped with U.S. communications gear and trained to provide intelligence and to designate Islamic State targets for airstrikes in coordination with U.S. troops outside of Syria, the officials said.
The top U.S. commander in the Middle East, Gen. Lloyd Austin, acknowledged that the program got off "to a slow start" and he told Congress that he looking at options that would best employ the moderate forces.
Officials have also said the new plan also scales back the number of rebels the U.S. expects to train from the initial 5,400 per year to a much smaller total. It also would streamline the vetting process designed to weed out terrorist infiltrators.
---